Inspired GRTR! reviewer in frantic search for doublet and hose...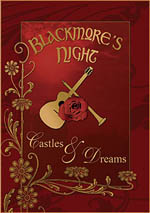 My last visual experience of Ritchie Blackmore being on stage was on the Deep Purple live video "Come Hell or High Water" which I sadly purchased back in 1994. I say sadly because all I remember is a very agitated Blackmore throwing a glass of water at a camera man and leaving the stage moments after "Highway Star" kicked off. The reasons for such behaviour are many and obviously not worth mentioning in this specific review. What is important to mention, though, is that this was a very decisive point in this great guitarist's career, which gradually led to a new musical direction – that, which he later followed with Balckmore's Night.
After a short break which led to the release of Rainbow's 1995 album "Stranger in Us All" and which featured the vocals of the young and very talented female artist Candice Night in the song "Ariel", Blackmore decided to dedicate himself to writing and performing Renaissance music. The idea was not that alien to him, since he always added elements of this unique style to his music, especially with Rainbow – the difficult part was to find a musical partner that would help him bring this dream to life.
That is when Candice Night came once again into the picture and the band Blackmore's Night was born. In 1998, "Shadow of The Moon", the band's debut album, was released and since then the duet of Blackmore/Night have been providing us with good quality Renaissance-influenced music and touring around Europe performing in medieval castles – footage from all of which can be seen in the band's first ever double DVD, entitled "Castles & Dreams".
I cannot claim to be one of the lucky ones who have been to a Blackmore's Night concert, seeing them wearing their long feathered hats and traditional medieval costumes, but in my mind I have always pictured this to be a unique experience. What "Castles & Dreams" did was to verify that this is indeed the case.
Another thing that this DVD did was to prove that Ritchie Blackmore is not the obnoxious and difficult person that many people used to believe, but a man with a strong musical vision and devotion in his work. Not only while performing in Burg Neuhaus, but also during the interviews and the "family" moments with the rest of the members of the band, Ritchie looks more relaxed than ever. Yes, I think that Mr.Blackmore is finally having fun performing his music, and much credit should go to Candice Night.
Candice is what you could refer to as someone more than just a musical talent –she is a natural entertainer. She has a very strong stage presence, and her chemistry with Ritchie is phenomenal. There were many occasions where the German crowd which attended the featured performance would either sing or dance to the sounds of classic Blackmore's Night's tunes, and their contribution helped shape the unique atmosphere of this DVD.
As for the track list of this concert, the audience had the opportunity to listen to twenty two songs which covered not only the band's full back catalogue – classics such as "Under a Violet Moon", "Renaissance Faire", "Minstrel Hall" and the amazing ballad "Ghost of A Rose", but also a few Deep Purple classics such as "Soldier Of Fortune" (great vocal performance by Candice Night), "Child in Time" (medley version) and "Black Night".
The second DVD features the band's five promo videos, acoustic performances of classic songs like "Shadow of the Moon" & "Queen For the Day" (among others), a few documentaries and other extras like interviews and TV appearances that will satisfy Ritchie's and Candice's admirers worldwide.
I will be very straightforward to say that this DVD is an essential purchase for every music fan. Why? Because it is one of the most professionally made and rich DVDs that have been released so far and it is a collection of songs with great artistic value.
When you finally get your hands on "Castles & Dreams" and see these musicians performing live, you will probably start wondering when was the last time you've seen a real music concert and most, importantly, when was the last time you managed to have such a good time watching a DVD! My other half and I are constantly checking out the band's tour schedule and we are on a mission to figure out where we need to go in order to rent our nice medieval costumes…
*****
Review by John Stefanis