BAL SAGOTH The Chronic Chronicles
Nuclear Blast (2006)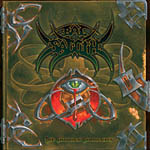 It is really amazing how inventive human beings can become when they're feeling bored. During my short but very rewarding time as a salesman in a record shop, my colleagues and I have often found ourselves with plenty of free time to kill (I really hope that my ex-boss is not reading this review!). One of the games that we used to play, was to name some of the weirdest titles for songs and albums that we can find in the store - the one who came up with the most unusual title was the winner! I have often won this game, and it is indeed bands like Bal Sagoth that I have to thank for it!
But apart from the top ace up my sleeve when knowledge games like these were played, the music of this British outfit had remained a mystery to me. Was it the weird looking album covers or the unbelievably long song titles (see: "And Lo, When The Imperium Marches Against Gul-Kothoth, Then Dark Sorceries Shall Enshroud The Citadel Of The Obsidian Crown") that were to blame? I really can't tell - the thing is that I had to wait for the band's sixth studio album in order to finally say that I have come across one of the most crazy and innovative bands in recent years.
Bal Sagoth are classified by some as Symphonic Metal and by others as Baroque Black Metal, and even though both terms seems to approach the band's style, I find them both to be quite limiting and unimaginative. The music of Bal Sagoth is, to me, the perfect Heavy Metal soundtrack for a very obscure and spaced out movie, whose storyline could vary from Epic creations like "Conan" to futuristic ones like "Star Wars". When you first listen to songs like "The Hammer Of the Emperor" you may find it difficult to accept that blastbeats, Euro Power riffs and 70's sounding progressive guitar solos can co-exist in the same composition, but a couple of spins later, any defence that you may put will seem useless against such sweet poisonous melodies.
You really cannot claim that this quintet is using a specific formula when creating their compositions. Keyboards and heavy guitars are very important and predominant instruments in the band's music, but the Brits go as far as using classical instruments and choirs in order to create the unique atmosphere that can be found on this album. I urge you to listen to the great riffs of "Six Score and Ten Oblations to a Malefic Avatar", or the amazing classical arrangements on either "The Fallen Kingdoms of the Abyssal Plain" or "To Storm The Cyclopean Gates of Byzantium" and see why I sound so excited.
"The Chthonic Chronicles" is not simply a concept album, but also part of a trilogy which began in 1999, with the release of "The Power Cosmic", so any attempt of mine to understand what the story line was, proved to be useless. Judging it simply as another musical excursion may be unfair to the band, yet it is enough to give this album a really high mark. You don't get to listen to bands like this very often, so I suggest that you all take advantage of it. Now, let me go and check their previous releases.
****½
Review by John Stefanis