20th anniversary special from melodic rock heavyweights
Fans will lap this up, a DVD release for Asia's October 2002 USA gig as part of a Classic Rock Festival and to celebrate twenty years. Accompanying it is a double-CD with additional tracks.
This incarnation of the band gels well, founder member Geoff Downes is joined by bass player/vocalist and songwriting partner John Payne with Chris Slade (drums) and the genial Guthrie Govan (guitar). It has to be said that this line-up is a goodie, easily interpreting the earlier material whilst stamping their mark with then current album 'Aura' (evaluated elsewhere).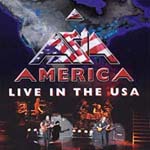 I can remember that the band got a bit of a drubbing in Classic Rock magazine last autumn which is a shame, there was talk of "cabaret" and going through the motions. With a player like Guthrie Govan adding the biggest musical kick up their corporate backside since Pat Thrall, there is no chance they will become complacent. Indeed Guthrie's solo 'Bad Asteroid' was one of the highlights of their show in 2002. John Payne's vocals are powerful and with Geoff Downes stylish keyboard colourings this is classic Asia. The quality of sound is a treat, too.
*****

Bad Asteroid
© 2003 Classic Rock Productions. All rights reserved.
Review by David Randall
Related>>Ultimate Anthology (DVD)