Just witnessed your best live gig?..send us a review!
ARNOCORPS
Dublin Castle,London, Friday 30 June 2006
Review by Amanda Hyne
It is difficult to review ARNOCORPS' live performance without giving too much away. Their obviously staged antics should not be listed because that would spoil the surprise. However they still maintain a freshness to their live show that negates the pre-arranged feeling of some of their high jinks. What I can tell you is this: the band told me (or, should that be, warned me) that their intent is to get an audience going, and that is just what they do.
Their camaraderie is infectious and, like a Slayer gig, the audience is soon moving, although perhaps less frenetically so - Arnocorps showed us how to have fun without ripping of your neighbour's arm and hitting them with the soggy end.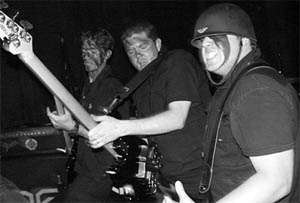 Photo: www.arnocorps.com
For sure, there's a bit of a pit and the band themselves join in with the stage-diving and crowd-surfing.
Around all this Arnocorps actually manage to provide a musically sound (excuse the pun) set too, delivering the twin harmonies and smoking solos of their Austrian folk-metal (or Action-Adventure Hardcore Rock and Roll as they would have it) with precision.
They play a set of tracks from their debut album, 'The Greatest Band Of All Time', including such anthemic smackeroos as 'Predator', 'Total Recall' and 'Running Man'.
If you haven't heard of Arnocorps before, you'll notice a trend: yes, a lot of their tracks are based on Arnie films - or rather, the Hollywood bastardisation of traditional Austrian folklore.
If you do get the chance to see these guys, I recommend you do - guaranteed fun.