APIARY Lost In Focus Metal Blade (2006)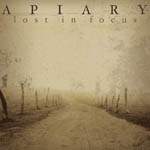 Apiary are a five-piece from the USA and 'Lost In Focus' is their first offering.
They say first impressions count but I donít believe it is always true in the case of music. When I first listened to Apiaryís 'Lost In Focus', I really didnít like it very much and could hardly bear to listen to it. However I donít give in easily so I kept trying and I began to change my mind.
I think the reason that 'Lost In Focus' had such a powerful initial reaction for me is for two reasons - it is intense, and it is different. Anything which is different arouses suspicion in me at first.
Apiary have an almost conventional musical structure overlaid by a unique guitar sound. A little like Crowbar, 'Lost In Focus' also sounds how I would imagine a progression of Panteraís post-'Far Beyond Driven' work would sound, when they started experimenting with their sound a lot more. Apiary are similarly messy, experimental and weird. It shouldnít work, but it does, partly because of the solid backing provided by the rhythm section.
Their music is intense because it is heavy and fluid. It cascades through a great many changes and you never know where you will end up - a bit like white water rafting. There are few opportunities to draw breath on the album and it is very much a discrete piece of work, almost a concept album. Although there is no huge variation between tracks, because of Apiaryís musical style this is not a concern because one is too involved in listening to the detail throughout the whole album to think about the differences between thirteen individual tracks. It also means that there are no weak tracks.
'Lost In Focus' is an intense, heavy, punishing album. Apiary are a band that can provide something a little different to the hardcore fans out there, which is no mean feat. If this is just their first offering, I wonder what the future holds for Apiary?
In truth I am still not overly sure about 'Lost In Focus'. This is because I donít like too many guitar effects and it is too complex and noisy for me. I appreciate their ingenuity and ability but I usually prefer something a little simpler. Having said that I think Iíll be coming back to listen to this one again, it is one of those albums that intrigues me because it is so different and I canít quite make up my mind about it.
Apiary are:Jason Ingram - vocals, Peter Layman - guitars, Mike McClatchey - guitars, Dave Small - bass, Adam Elliott - drums.
****
Review by Amanda Hyne