ANNA PHOEBE Gypsy www.annaphoebe.com (2006)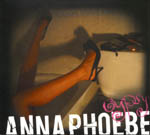 What is it with girlies and violins? We've had Vanessa Mae whipping up a storm, Playboy girl Linda Brava, Bond (high "O(h)-O(h)" quotient), er, Sharon Corr, and Nigel Kennedy (big girl's blouse) - and now the latest contender, Anna Phoebe.
As you may expect this CD is a showcase for Anna's talent and flags up her skills in advance of a high-profile tour in March with Jethro Tull.
When I saw Tull last year, they made great use of violinist Lucia Micarelli but Anna's got the gig this time, and she certainly has the musical credentials.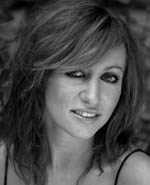 Born in Germany, now London-based, she's worked numerous sessions. Most recently she's toured in the USA with the rock collective Trans-Siberian Orchestra as their string conductor.
The opener and title track 'Gypsy' is the most instant on this CD but - to these ears - the polite metal accompaniment could have been pumped up a bit.
Not to worry, Anna steals the show and goes on to demonstrate a variety of styles, from the eastern-flavoured '99 Lives' to 'Revenge' which builds slowly with Led Zep Kashmir flavours. And all hell breaks loose for 'Phoenix Hotel' where Anna sounds like a four string Satriani.
Anna is going to be a bonus for Tull in March, and she'll make the old rockers (including those in the audience) very happy. But a solo tour with some set-piece cover versions would, I am sure, go down a storm too.
***½
Review by David Randall
Anna will be doing a GRTR! Blog for the duration of the Tull tour - get to hear the inside stories!
Gypsy
© 2006 Anna Phoebe. All rights reserved.
---
| | |
| --- | --- |
| | Print this page in printer-friendly format |
| | Tell a friend about this page |