AMON AMARTH With Oden On Our Side
Metal Blade Records (2006)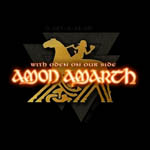 'With Oden On Our Side' is the sixth album from melodic death metallers Amon Amarth.
The album kicks off with the stunning 'Valhall Awaits Me' which is every bit the instant classic as 'Bleed For Ancient Gods' from 'The Avenger'. It draws you in from the first listen and once its got you this album won't let go.
Sometimes when bands become full-time professional musicians they go downhill, as though they lose their passion. Also other bands in the genre seem to have lost their way. Not so Amon Amarth - they just go from strength to strength.
Comparing 'With Oden On Our Side' to their earlier albums, I would say that this latest release harks back to their earlier work, particularly 'The Avenger' since that is the album with which I am most familiar.
'Fate Of Norns' is a great album but it hasn't captured my imagination in the same way that 'The Avenger' does and 'With Oden On Our Side' has that same infectious quality.
The production is perhaps smoother and clearer than their previous efforts but it's still as brutal, ballsy and full of their trademark hooks and riffs
The band have nothing to prove and this has left them free to create a fresh, well-rounded album. 'With Oden On Our Side' is still full of fire and one of the best releases of 2006.
*****
Review by Amanda Hyne
Interview
---
| | |
| --- | --- |
| | Print this page in printer-friendly format |
| | Tell a friend about this page |