AMON AMARTH 'Fate Of Norns' (Metal Blade) (2004)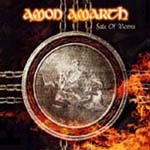 Amon Amarth have astonished me with their progressive new sound and prolific use of 80-s style keyboards - No, don't worry, that was just to get your attention.
I do indeed hold in my hands the new release of these Viking Warriors and must say that I am, once more, greatly impressed.
A very good album this is, one that will be appreciated by all existing fans of the band and that is sure to win over an ever-increasing number of Metalheads.
The modern-day Wagners first hit home the first time I saw them last year at the Death Fest at the Camden Palace in London. I believe they had a few converts that day (judging by the speed at which their merchandise was selling) and probably even more from their excellent performance at Wacken back in August, which, despite the late hour, still managed to attract a large audience.
The new album, 'Fate of Norns, released on the 6th September 2004, continues the traditional sound that has now become the Amon Amarth 'signature' - heavy, measured, epic Death Metal, fit for sailing the cold North Sea and sacking countless villages and cities to.
Some of the songs on this album are of a faster pace, such as the opening track, but, on the whole, this is more of the same aggressive, powerful and, I hasten to add, very good, Viking Metal. The lyrics also continue along the same vein - inspired by Norse legend and the excellent ability of the band's giant frontman, Johan Hegg, to recall the barbaric history of Northern Europe's most feared people, they paint a colourful picture of the times when everyone who was not Viking was in very deep trouble.
Due to the overall quality of this album (neither production nor presentation can be faulted), it is difficult to choose any track that stands out - they are all excellent and it really boils down to a matter of preference.
I have read some reviews in which people single out 'The Fate of Norns' as their favourite, but for me, 'An Ancient Sign of Coming Storm', 'Where Death Seems to Dwell' and 'Pursuit of Vikings' are the highlights.
This release comes out in a limited edition pack, which, as all those who bought the Viking Edition of 'Versus the World' know, is sure to be a veritable visual feast and it also comes with a bonus DVD.
This is definitely an obligatory purchase for all followers of the band and for those fans of Death Metal who are just testing the water and discovering the more melodic side of it.
****
Review by Emily Dgebuadze
Related>>Interviews