All Shall PERISH 'Hate,Malice,Revenge' Nuclear Blast (2005)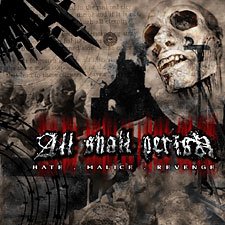 My introduction to this Californian extreme Metal quartet took place on a Saturday evening, while I was on my way to Oxford. I was going to visit a very good friend that day, and knowing that I would have to remain seated for the next one and a half hours, I decided to listen to one of the promos recently sent to me by Nuclear Blast. I didn't even notice what the album cover looked like before I pushed the play button, but seconds later I was desperately trying to find it. Well, the name is Hate.Malice.Revenge', and it is the debut album of the US extreme Metal outfit All Shall Perish.
All Shall Perish have been around for only two years, and so far they seem to have lady luck on their side. The band's sound is a mixture of many different extreme Metal styles – from old-school Swedish Death Metal (Entombed, Dismember) to classic American Hard Core (Agnostic Front), and from brutal Death Metal (Cannibal Corpse, Nile) to US Thrash Metal (Slayer). If you are in doubt as to whether you can have a successful mixture of all these different styles of music, I suggest that you get hold of this album and judge for yourselves. For the time being, let me try to explain why I mentioned lady luck.
'Hate.Malice.Revenge' was originally released back in 2003, by an Underground Japanese label called Amputated Vein Records. The eight tracks which are also featured in this release brought much attention to the band, as well as interest from Nuclear Blast. Right before the end of 2004, the four Californians signed a contract with the German label, and decided that 'Hate.Malice.Revenge' must be re-released so as to become accessible to many more people – a wise choice indeed.
OK, let's see how this eight track album managed to easily draw my attention. 'Hate.Malice.Revenge' is a multi-speed, riff based album. That means that not only do the four musicians flirt with fast guitar rhythms as in 'The Spreading Disease', 'For Far Too Long…' and 'Herding the Brainwashed', but they also invested in mid-tempo compositions like 'Our Own Grave', 'Sever the Memory' (sounds a lot like Dark Tranquillity in parts) and 'Never Ending War'. Things are not always black or white though. The one song that I'll vote as my personal favourite is 'Laid to Rest', simply because it can be as fast and at the same time as slow as all the previously-mentioned compositions…confused? Well, maybe you do need to listen to this album after all!
The production is strong and clear, and it adds to the very positive vibe that 'flows' from every single composition on this album. Then you have the band's frontman Craig Betit. When the compositions are fast and furious, his voice will remind you of that of Chris Barnes (ex-Cannibal Corpse, Six Feet Under), and when the rhythmical guitar riffs take over and the Swedish influences are more apparent, he sounds more like Peter Dolving of The Haunted.
I am not trying to present 'Hate.Malice.Revenge' as the next best thing in the extreme Metal scene. It is true that there are many things that the four musicians will have to do before they reach that crucial point. The one thing that has to be mentioned though is that you don't easily get such impressive debut albums nowadays, and that is an omen of the many great things we can expect to hear from this band in the future, if the right buttons are pushed. All Shall Perish will be releasing their second studio album in 2006, so it looks like we will not have to wait that long in order to find out.
Review by John Stefanis
***½