ALICE COOPER Dirty Diamonds Spitfire (2005)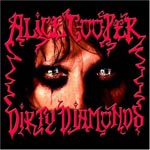 One things for sure Alice Cooper certainly isn't content to trade on past glories by releasing endless live albums and 'Best Of's. This new album follows the 'Eyes Of Alice Cooper', an album that saw a stripped down sound and some cracking tunes contained within. Longtime guitarist Ryan Roxie is still in place with ex-Brother Cane guitarist Damon Johnson also on board.
Basically it carries on where 'The Eyes Of…' left off with opener 'Woman Of Mass Destruction' showing what a master of lyrical wordplay Mr Cooper is. The garage rock of 'Steal That Car' cracks along, whilst the ballad of 'Pretty Ballerina' has Alice Cooper deliver his usual twisted vocals. Not so keen on the country tinged 'Ballad Of Jesse Jayne' and the bonus track of 'Stand' will surprise a few fans as it features rapping! MC Alice Copper anyone?
Another solid and enjoyable effort although in the future I for one would really like another Alice theatrical piece in the style of 'Welcome To My Nightmare'.
***½
Review by Jason Ritchie
***** Out of this world | **** Pretty damn fine |
*** OK, approach with caution unless you are a fan |
** Instant bargain bin fodder | * Ugly. Just ugly