AGATHODAIMON 'Serpent's Embrace'
(Nuclear Blast) (2004)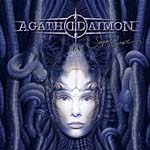 I think that every Metal fan is happy from the fact that Heavy Metal music is becoming stronger day by day. There are so many bands out there with plenty of good ideas which are fighting to become known to a bigger audience. One of these bands is Agathodaimon. The band was originally formed in 1995 by Matthias Rodig (drums) and Sathonys (guitars, clear vocals). Two months after they placed their very first ad asking for the assistance of additional musicians, they recruited Marko (bass) and Vlad (vocals, keyboards) with whom they released their first demo "Carpe Noctem".
The band attracted the attention of many labels, one of which was Century Media. Touring with acts such as Desaster, Impending Doom and Ancient Ceremony was important in order to gain both experience and confidence, both of which were achieved in a short space of time. Less than a year later, a second demo called "Near Dark" was distributed to the underground Metal circles, which managed to increase the already high interest for the band. Century Media got in touch once again with the band. For some reason, the negotiation process took too much time, something that allowed Nuclear Blast to step in and sign a long-term contract with Agathodaimon...
That was the beginning of a collaboration, which led to the release of three very interesting albums, the first being "Blackened The Angel" in 1998. Even though the foundations of Agathodaimon's music are based on Black Metal, you could also detect many gothic and symphonic elements in the music which would evolve and become more visible in the next two releases "Higher Art of Rebellion" (1999) and "Chapter III"(2001).
Now, three years later, the band returned with their latest effort "Serpent's Embrace". The album was recorded at Kohlekeller Studios, the same place where Crematory recorded their latest album "Revolution". That means that Agathodaimon managed to achieve an equally strong and clear production, the combination of which with the quite heavy and rhythmical riffs that both Sathonys and Akaias provided, gave all the character that this album needed in order to stand out from every other similar release this year.
This album is a very interesting collection of different styles, which all manage to somehow combine and unite under the band's logo. Fast and heavy songs like "Cellos For The Insatiable" and "Limbs of a Stare" co-exist with more melodic compositions like "Light Reborn" and "The Darkness Inside", which approach the style and sound of the Swedish Metal bands. The songs that I enjoyed the most are "Bitter End", the guitarwork of which resembles that of my fellow-countrymen Rotting Christ, and also the amazing piano-based ballad "Solitude" which is enriched by Ophelia's beautiful voice.
Sathonys has many times stated that Agathodaimon is not the kind of band that's willing to get trapped by either trends or closed-mindedness. The band has a vision, and that is to created good music. I will be more than happy to become their ally in this very difficult quest that they chose to follow. Seprent's Embrace is a very interesting and honest effort that deserves to be appreciated equally. Give it a go – you won't be disappointed.
****
Review by John Stefanis
Related>>Interview