AFFINITY Origins 65-67 Angel Air SJPCD167 (2004)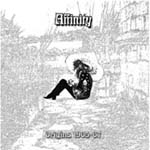 Angel Air have done us all a great service by excavating the recorded history of this little jazz to rock band.
They've really dug deep here, because 'Origins 65-67' does exactly what it says on the tin. It discovers a nascent Affinity, gigging at Sussex University in the swinging sixties when they were known as US Jazz Trio.
Not surprisingly, the trio featured a set of jazz standards rather than original compositions. However, the recording made 'in the debating chamber and various noisy bars' is unintentionally atmospheric. With the clatter of student pint-pots in the background it gives classic Sloopy period Ramsey Lewis a run for his money. It's the sort of stuff that Louis Balfour (of Fast Show fame) would have trembled over.
Indeed you can almost smell the hairy armpits and unshaven faces of the assembled multitude - and that's not just the band we're talking about. It is a superb period piece and adds a little to our understanding of this rather special jazz-rock band who strangely might achieve more notoriety now - thanks to Angel Air's practised archaeology - than in the good old days.
The genial Mo Foster (to whom we have to thank for helping dust off the tape reels) plays drums whilst a bonus track features the great Linda Hoyle on vocals in 1980. Hey, Mo, how about a reunion?
Website
****
Review by David Randall


£12.99
Dat Dere
© 2004 Angel Air Records. All rights reserved.