POWER QUEST Far Away
from the album, Wings Of Forever (2003)
The quest for power prog metal...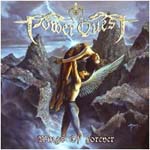 Power Quest was conceived in March 2001 by keyboardist Steve Williams as an outlet for his melodic power metal compositions, influenced by the likes of Stratovarius, Rhapsody and Freedom Call. The name was chosen for two reasons. Firstly "Power" obviously suggests "Power Metal", secondly, "Quest" conjures up images of warriors or pilgrims travelling in search of truth and destiny.
Having recently left London power metal heroes "DragonHeart" it was time to start recruiting musicians to "join the Quest". Steve Scott (ex-Shadowkeep and ex-DragonHeart) was approached regarding bass duties. Steve was keen to work with his former colleague and duly accepted the offer. The next additions to the band were guitarists Adam Bickers and Sam Totman. In 2002 vocalist Alessio Garavello and a third guitarist Andrea Martongelli were added and they started laying down tracks for the band's first album, 'Wings Of Forever'.
In January 2003 drummer Andre Bargmann was recruited into the Power Quest ranks. In April that year, the band signed a worldwide deal with Now And Then Records. Writing and rehearsing material for the second album is now well under way. Seven songs are currently being worked on with another three in the pipeline. Recording is scheduled for June 2003.
MP3 © Power Quest 2003 All rights reserved. Used with permission