For anyone not already familiar with Now & Then Records the label was founded in the Autumn of 1992 by Mark Ashton, Bruce Mee and Peter Sims who had all previously been responsible for the fanzine Boulevard. The intention of the label was to release the sort of music that the partners loved, namely AOR and Melodic Rock. Since that time the label has steadily built up a roster of strong releases and a reputation for the highest quality of its award winning artists. At Now & Then we believe in quality not quantity.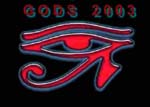 The label then took the next step which was to put together a showcase event for it's artists. And so, The Gods was born. Every year the label puts on an event over one or two days to showcase mainly it`s own acts, but also a selection of top class special guests from other companies. This year the event is to be held on May 24th/25th and will feature Dare, Stan Bush, Bob Catley, Ken Tamplin, Talisman, Danny Vaughn and many others.
"At Now & Then we believe in quality not quantity"
In 1997 Now & Then signed a European licensing agreement with Italian company Frontiers Records, which meant that Now & Then product was then to be handled all over Europe by Frontiers Records. This enabled Now & Then to concentrate on its work as a production company with their Italian partners Frontiers releasing the finished albums. The co-operation resulted in the formation of by far the most successful specialist AOR/Melodic Rock label in Europe, if not the world.

At the start of 2003 it was decided to resurrect the Now And Then label in order to work more closely with some of the new talent that the label strongly believed in whilst still working in conjunction with Frontiers for the more established titles.