Formed in 2003, Jaded Sun went through the paces as most other bands do, gigging and saving to enable them to record and self produce their critically acclaimed debut EP "RAW" in 2004.
The EP title track "Raw" launched their rock profile to a national stage becoming the most downloadable track on Ireland's premier download charts. The track broke all download records in Ireland, staying at the top of the charts for almost 30 weeks.
In May 2005, the band went back into the studio, but this time with Ireland's top rock producers Chris O'Brien and Graham Murphy, with Chris being known for his work with Aslan, Hothouse Flowers, Adam Clayton, Human League and Something Happens. This lead to the "Falling On The Fears" EP, which was tipped for number 1 by 2fm's Larry Gogan in late 2005.
"John (lead singer) is arguably one of the best lead vocalists I have ever worked with or ever seen" Chris O'Brien
The band started 2006 running with a plethora of gigs, topping the year with their amazing performance supporting Bon Jovi & Nickelback in Croke Park, showing them as Ireland's hottest new rock band for years. (Jaded Sun are the third Irish Band to ever play in Ireland's largest premier music stadium).
Jaded Sun spent most of 2007 writing for their debut album, and with all concentration on the record, the band played only a few gigs in 2007 including an outdoor headline gig in Zagreb's Main Square, Croatia and the Hennessy Artistry, Ireland.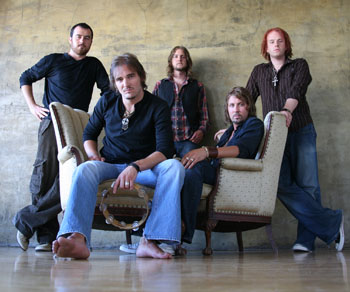 Gypsy Trip was recorded in the summer of 2007 in The Mousehouse in LA under the watchful eyes of producer Richard Mouse and co-Producer Jimmy Coup.
On the European release of their debut album "Gypsy Trip" in February 2008 the band received an extremely positive response from the rock writers, across Europe and even from a number of American writers, even though the album has had no release in the USA, showing the strength of the internet and the positive word of mouth.
With the positive response from the media to the album came European touring, to Germany & Holland in 2008. Touring continued in 2009, with the band heading to the UK, France, Holland and of course a number of Irish dates.
2009 touring finished, with an 11 date stint in Spain, 2 dates in France where they spent a week recording their up and coming EP and live DVD before heading to Gran Canaria for a show and then to India to headline a rock festival.
Currently writing for their next album, with a number of shows planned for the months ahead!

What the press have been saying:

"The newest messiahs of rock ní roll"
(All Access Magazine, USA)

"This album is stunning"
(Live For Metal, UK)

"...this is an album of top notch blues based hard rock turn it up and enjoy" 4.5/5
(Get Ready To ROCK!, UK)

"Assuming we actually get a summer this year, Jaded Sun ought to be part of the sound track in a very big way."
(Classic Rock Magazine, UK)
"The best debut album Iíve ever heard"
(Nicky Horne on Planet Rock, UK)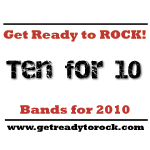 ---
---