FOCUS
Prog rockers Focus emerged out of the trio that classically-trained Thijs Van Leer had formed in 1969, backing Dutch pop acts and with a residency for Dutch cabaret artist Ramses Shaffy.

When, in late-1969, the renowned Dutch guitarist Jan Akkerman (ex-Johnny & the Cellar Rockers, The Hunters) auditioned it was plainly evident that here was a spark to ignite a flickering flame.

Akkerman joined Van Leer's trio for a six-month stint as part of the pit band for the Dutch version of 'Hair'. As Van Leer later recounted, in between the shows the band was able to rehearse their own material for their debut album.

The band's first album came out in Holland as 'Focus Plays Focus' in June 1970 (It was later released as 'In And Out of Focus') and demonstrated the strength of musicianship, even if some of the songs suffered from the "foreigner sings in English" syndrome and the lyrics were a little trite.

The instrumental passages were, of course, quite wonderful with an early outing for 'Anonymus' (later developed on 'Focus III') and the inimitable 'House Of The King'.

1971's 'Moving Waves' is a prog rock classic, with one side of the then vinyl taken up with the piece 'Eruption'. Van Leer was keen to write a longer work inspired by 'classical' composers, chiefly Bela Bartok, Bach and Monteverdi. What emerged was a magnum opus, showing off the band's musical brilliance, not least on 'Tommy', a showcase for Jan Akkerman's soaring guitar figures.

This album also includes the full length version of 'Hocus Pocus', conceived as a reaction to the band's more classically minded pretentions. It became a staple in their live gigs, as well as on classic rock radio.

An appearance at the Reading Festival in August 1972, followed by a spot on the national TV rock show 'The Old Grey Whistle Test' (OGWT) cemented their impact with more discerning rock fans, and their early success was consolidated with a UK college/theatre tour in late 1972, early 1973 when they tasted Top 5 chart success with a glorious piece 'Sylvia'.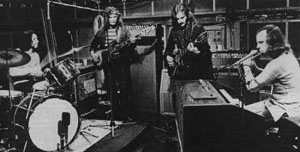 With the November 1972 release of the double album 'Focus III' the band hit their creative peak. 'Anonymus II' developed an earlier theme, and highlighted the band's free-form qualities melding mediaeval, jazz and rock influences whilst 'Elspeth of Nottingham' displayed Akkerman's infatuation with an earlier age and the Renaissance Lute.

In 1973 Akkerman was cited as 'best international guitarist' in a Melody Maker poll and tours of the USA and Japan widened their appeal in those markets. A live album 'At The Rainbow' showed the band at their peak, the concert was also televised on the OGWT.

Focus' subsequent albums never quite captured their early originality and constant touring in late 1973/4 led to creative burn-out. 'Hamburger Concerto' was a solid if sometimes meandering work in 1974, 'Mother Focus' (1975) followed a funky transatlantic vibe and the material was decidedly under-par.

Akkerman quit the band in 1976 to follow a solo career and the 1978 swansong 'Focus Con Proby' somewhat bizarrely included veteran sixties singer PJ Proby. Highly-regarded Belgian guitarist Philip Catherine replaced Akkerman for a UK tour but the band soon imploded.


Whilst Focus fans will find merit in all of the band's output, as even the later patchy offerings held up some gems, there is no doubt that 'Focus III' is a good starting point for newcomers. It also includes 'Sylvia' and 'House of the King'. On the original vinyl, there was a break in the long piece 'Anonymus' so the CD version restores the track's continuity.

And once hooked, the salivating listener will want to explore in more depth the parallel solo careers of both Akkerman and Van Leer, the latter via his semi-classical and highly successful 'Introspection' series.

Akkerman's solo work can be patchy but 'Tabernakel' (1974), 'Heartware' (1980) and 'Focus In Time' (1996) show the guitarist's musical range utilising lute, synth-guitar and compositional skills respectively.

Focus reformed in 2001, with the great Jan Dumee on guitar and latterly Pierre van der Linden on drums. Van der Linden remains in the line-up but 'Focus 9' (2007) was re-recorded with new guitarist Niels van der Steenhoven. And before you ask, it is highly unlikely that Van Leer and Akkerman will appear together on stage again, or in the studio.

Akkerman continues to tour and make solo albums, but sometimes with a reticence about playing the 'Focus' tunes which first brought him international acclaim. His gigs are frequently a case of "will he, won't he?" when it comes to his Focus past and a tangible sigh of relief when he relents. The results, though, are usually spectacular especially when older material is reworked.

© 2007 David Randall/GRTR! All rights reserved.