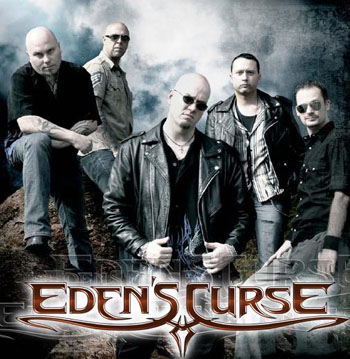 Eden's Curse release their second album in October 2008, produced by Pink Cream 69 bassist Dennis Ward (Krokus, Silent Force, Debauchery, Angra).

Assisting Michael Eden (Vocals), Thorsten Koehne (Guitar), Paul Logue (Bass), Pete Newdeck (Drums) and Ferdy Doernberg (Keys) is none other than the voice of TNT, Starbreaker, Westworld and now a solo artist - Tony Harnell who sings backing vocals on the entire record.

Doogie White (Rainbow, Yngwie Malmsteen, Cornerstone, Empire) once again returns to the aid the 'Curse Choir' along with Carsten Schulz (Evidence One, Midnite Club, Roger Staffelbach's Angel Of Eden) .

Also featured is vocalist Pamela Moore best known for her performance as Sister Mary on Queensr˙che's 1988 epic release "Operation: Mindcrime" and 2006's sequel "Operation: Mindcrime II", who duets with Michael Eden on the incredible Power Metal Anthem "Angels & Demons".

In late August 2007 the Rock and Metal world witnessed the birth of Eden's Curse, a multi-national Melodic Metal group with its members spanning four countries and two continents.
Formed in January 2006 by chief songwriter and bassist and Scotsman Paul Logue and United States born and bred vocalist Michael Eden, these two musicians hatched a plan to form a group utilizing the wonders of modern technology and in particular the world wide web.
Armed with nothing but passion, spirit and an uncompromising batch of hyper rock songs they found guitar virtuoso Thorsten Koehne and drummer Pete Newdeck, before experienced Keyboard player Ferdy Doernberg completed the lineup in June 2006.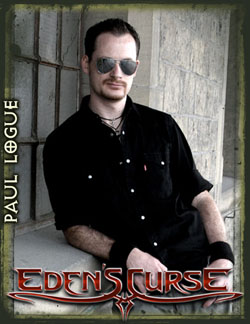 Your new album is out and the production is again top notch. How do you achieve this?

Paul Logue (PL): Making records is an expensive business, they are not cheap. We do spend an awful lot of money but the first album did so well and the royalties there were invested on this new album. We take great pride in our sound and there is another way we can do it that doesn't cost as much but it isn't any good. We choose to do things the way we do because we care about our product .

Michael Eden (ME): We care about the way it is heard, we care about the way it is visualized and the way it is sold. Will it be treated with the respect it deserves or will it be thrown away.

I am not flying halfway round the world for jollies, I've got better things to do than sit on a plane for thirteen hours. Or to get stopped in Dublin because they think I am a terrorist. Leather jacket in 80 degree weather, shaved head - might look a little odd but if they didn't charge $90 surcharge then I wouldn't have to wear all this stuff! They think he's gonna blow up the plane.
They stopped me at the gate after everyone else was onboard and said 'Put your hands up and put everything in your pockets on the table', to which I replied 'What do you want me to do first? Put my hands up or empty my pockets?'. They thought my IPod was a triggering device. But I had a quite night in Dublin at EC's expense. Champagne taste but hardly enough money to afford a beer (laughs).
AFM Records seem to be doing a good job in that they kept plugging your debut album for many months after its release unlike say some labels who release a couple of albums per month and after a month or two the album sadly disappears without a trace.

PL: AFM have been great. Record contracts are a complicated business but we have a great relationship with the label and their promotion team. They work their socks off four us - the press campaign runs for three months solid. We do interviews and we do appreciated everyone who wants to talk about the record as I guess that's the sign everything is going well for us.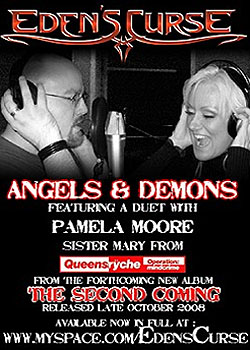 How did you hook-up with Pamela Moore (Sister Mary on 'Operation Mindcrime' by Queensryche) on the album?

ME: We hooked up with Pamela Moore the same way we did with Tony Harnell (TNT/Starbreaker/Morning Wood/Westworld) by writing to them via their My Space pages. Basically saying we are EC this is what we do and get back to us if you want to work with us. Pamela lives about a half hour away from me. I called her up and she was getting ready to start a European tour with Queensryche. Paul winged the track over via the internet and she was really happy, genuinely pleased to be involved. Pamela Moore is Sister Mary man, a real honour to have her involved.


Michael Eden on Mike Portnoy:
Nice guy but its all money, cash motivated. Mike is a whore, a nice whore - I love whores man as they get paid!

Would you like to do any more covers at all?

ME: We did a cover on the first album and I always wanted to do 'Walk In The Shadows' with Geoff Tate would be awesome. It would be like whose gonna sing the first line? Or 'Another Rainy Night' from 'Empire' or anything of 'Mindcrime' - so many killer tracks. Paul and I both love the Ryche. I have seen them dozens of times. I have been seeing bands since I was nine so that's back in 1977, I am forty this December. I had an older brother who used to take to me to see all the great bands. I had tickets to see Zeppelin in 1980 but of course Bonham died and I never got to see them. Everybody was crushed.

I was thinking recently how many bands I have seen compared to Paul seeing as I am some six, seven years older plus living here in the US I got to see bands who don't normally tour Scotland. He would have been ten years old and had no-one to go with.
I have seen Black Sabbath and Van Halen in 1978. I remember Van Halen did an in store, they never did in stores much. I was ten years old and meeting this guy Eddie Van Halen and I had no idea who he was. He had the leather pants, the whole rock 'n' roll stereotype. I am thinking who are these guys? I can't believe my parents let me go with my brother as he was a wack job (laughs). He smoked more weed than anything but that steered me away and I have never done drugs.
I am a rock 'n' roll reject like Ted Nugent. I get high on the music. I have never talked about drug use before (laughs). I got to do some cool shit. I wish we had done this twenty years ago man when Eden's Curse would have had one helluva chance within the scene. We woulda crushed with bands like Warrant out there we could have toured with Queensryche. When guys like you like it it's a big plus.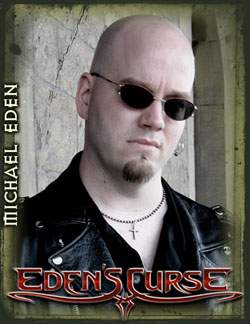 You could have been the next Dream Theater or Queensryche?

I saw them (Dream Theater) just before the 'Pull Me Under' video. I never saw them with their original singer Charlie but I saw them when they were doing 'Images And Words'. I have seen them several times after and met Mike Portnoy. Nice guy but its all money , cash motivated. Mike is a whore, a nice whore - I love whore's man as they get paid!
Mike Portnoy will play with different musicians and they are all very talented. What a great man and a killer band. They are a band for musicians. I am not sure how well their music would go on regular classic rock radio. But Eden's Curse on a different level, we could sit on many radio stations with songs like 'Sail On', as AOR as we get to something heavier like 'Just Like Judas' or 'Masquerade Ball'. We can lightin' it up to, Dream Theater doesn't lighten its just prog.

Someone asked us about a week ago the direction of the next album and I am trying to tell Paul let's not go heavier. Let's go back to the first album. This guy called me yesterday and has been following me from my previous band. He said I love your new album but the first album had a lot of hooks and the new album in that you guys were not trying to write radio friendly tunes. To me it sounds like the same band but some people have said they don't like it as much or prefer it more.
When we play live we will pull a lot of material of the debut album as we never toured it. Hopefully people will like the albums equal. This is like a crazy interview we are having as I am not normally like this. This is one of the more laidback interviews we have done. It feels like sitting and talking in your front room with someone who have known for the past twenty years.

When there are websites and radio stations that truly believe in the band they will work hard for your music and that's the best. They will talk up the band and that's when we get the best treatment as you are doing not because you have to but because you want to. You guys are the ones we remember when we do finally tour.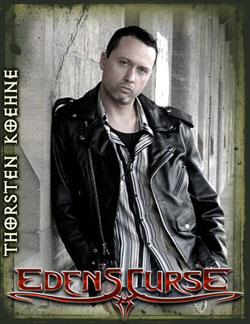 How will you replicate the Curse Choir on the next album?

PL: We have had friends and fans say you have outdone yourselves and that's just the kind of inspiration I need to take it to the next level.
This time we have Tony Harnell and Pamela Moore. It's not higher level of quality in terms of names it's the performance. We don't bring them in just to sell records but of course they will help. We didn't realize how much Pamela Moore would bring in via 'Angels & Demons' on My Space, it is heading towards 30,000 plays.

ME: 2,500 hits in one day yesterday.
PL: We are not looking at Ronnie Dio say but we have guys in our camp like Doogie White, Carsten Schulz and David Readman will be in album number three, having missed this one, in fact I can almost guarantee his participation at this stage. We could bring in Tony Harnell or people we talked with last time like DC Cooper.

Having watched Edguy and Avantasia bring in other vocalists I thought, hmmm that works why not try it?
ME: Pamela Moore is about to work with a German band, can't remember their name.


Michael Eden on Paul Logue:
He is a workaholic. His wife will put a plastic bag on his head and tell him cut down on the songwriting.

What sort of live dates are you looking at - a tour or festivals?

PL: A tour is a preference, it has to be the right package and we were sounded out about six months ago by AFM about going out with Ross The Boss and Sinner. Ross The Boss will bring in Manowar fans and it might work adversely for us. But bands like Pretty Maids, Bonfire, Pink Cream 69 anything like that.
We are talking to various booking agents throughout Europe for 2009 tour dates. We would love to do festivals and to be honest we don't have to do Firefest as the debut album did so well. Without sounding like an arrogant twat we don't need them to sell the main amount of records again. We are going to play where we are wanted.
As a fan I get frustrated at times with the politics in festivals as you just want to see you favourite band playing!

ME: We have an election here soon and I used to think the President of the US was the most powerful person in the world. But not anymore as we have homeless, the job rate is for shit. One thing for sure to get me going is to say how great the US is. The only thing it does have is a land of opportunity for people who don't have much in their life.
People from say Mexico can come and earn a decent wage doing work. The job market is bad, a lot of negatives. Same in the music business rather than focus on the negatives, I mean AC/DC have had 600,000 illegal downloads which is music they won't earn money off. They can afford it but newer bands can't. Go back to the eighties you sold CD's and had now downloads.

PL: We do pick up 80's influences from Queensryche and Dokken. The 80's had the best players, there is no singer out there now like Michael.

ME: Ah how sweet.

Paul Logue on Eden's Curse:
I think we remind people of what they loved about all those 80's greats like Queensryche.


PL: The scene is dominated by middle of the tone singers but Michael is different. We have a great guitar player. I think we remind people of what they loved about all those 80's greats like Queensryche. I write songs purely from the heart and only songs I would like to hear. I don't have to force my style at all.

ME: We are not a project we are a band. How we would live together on tour is another thing. I know Paul well but (Pete) Newdeck is a certifiable madman. I have to think about it!
We wouldn't go out for more than fourteen days. We can't leave our regular lives as Eden's Curse doesn't pay our bills. For a longer tour it would have to be financially viable. We will record a live DVD and live record. We have supportive labels that will be open to ideas we bring them.

We brought them a twenty page booklet which costs a lot of money but they did it. Nobody tells us we can't go over twelve pages. I was an arts major and this twenty page book is a big part of us. Next time hopefully a Digipak. We want that kickass package that Udo, the Accept singer got for his 'Thunderball' album. Bigger is better.

Do we think we can outdo the new album? We will both tell you absolutely. Any artist who says they have done their best work than go home, you shouldn't be in the game. Could you imagine Kiss giving up after their first album if people asked then how could they top that? I aspire, this may sound a little ballsy, to be 1% of what Kiss is and was. We will have been doping pretty damn well.

There have been all sorts of rumours about Eden's Curse, like I am leaving and there is a new singer and new record in the making. I have been trying to find out who the hell started this one off. People will start any shit especially when they see a band having success.

PL: You just have to get on with it and do your best.

ME: I am not sure how much longer I can keep singing at this vocal level, hopefully for many years to come like Dio. I never told anyone this but I can't do the low stuff like Geoff Tate. I don't smoke cigarettes so don't have the low, raspy end, like Jeff Keith in Tesla. In my opinion I sound better now than ten or fifteen years ago. Robert Plant does not have the same screaming voice he had back in the early days. I love Plant's vocals but it is not the same power now.

I got into trouble on the album's recording by doing some ends top each line like James Hetfield. I do this rough ending and Dennis Ward (producer) says 'Don't do it every line'. I don't always agree but Dennis is the producer and he is helping the band's sound overall.

ME: I love this new album in terms of commercialism its slightly different than the debut. It's still Eden's Curse and we will have a little bit of everything for everyone. We have started work on the next album.

PL: I was working on the new album last night actually.

ME: He is a workaholic. His wife will put a plastic bag on his head and tell him cut down on the song writing.
(At this point Paul Logue brings on his wife Pamela who says 'You just continue with the song writing').

ME: See what I mean? Paul gets people to do and say things they wouldn't normally.
Some reviews have been mixed. One guy said we did a Survivor cover 'Man Against The World' on this album.

PL: It's a song about my brother! I never knew Jim Peterik knew my brother. When I read that review I though, hmm they must only get internet access on a Wednesday in the asylum. How do you type with a straight jacket on?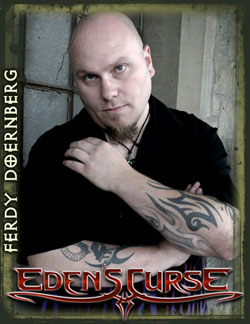 There are more keyboards on this album?

PL: Ferdy joined very late for the debut at which point most of the keys were recorded. So on this album we let him have a freer reign and there are keyboard solos and some lovely Hammond riffs. In fact Ferdy joked that most of his keyboards he plays are older than he is.

Finally, a message for you fans

Thanks to sites like Get Ready To Rock! And other music websites that don't always get the recognition they deserve, so thank you from Eden's Curse. Thanks to all the fans for their support and the wonderful emails/letters we get from them. We are looking forward to finally getting out there and playing live in 2009.

Eden Curse's album 'The Second Coming' is released on AFM Records on October 27.
The first single from the album - 'Angels And Demons' - is available for free download in full at the band's myspace page www.myspace.com/edenscurse.
---
Interview © 2008 Jason Ritchie. All rights reserved.
Band website
---
| | |
| --- | --- |
| | Print this page in printer-friendly format |
| | Tell a friend about this page |