Will Smith is one of the most in-demand stand-up comedians and comedy writers in the UK today. In 2003 he performed his first solo show at the Edinburgh Fringe, WILL SMITH IS MUCH OBLIGED, which proved to be such a hit that he was invited to perform a run in London's West End at the Soho Theatre and was also asked to co-present WIFE FOR WILLIAM for Channel 4.
Will's latest show MISPLACED CHILDHOOD, (which uses the 20th anniversary of the Marillion album by the same name as a springboard to examine how childhoods have changed), was another smash hit in Edinburgh.
The 2006 tour kicked off with the 6 night run at the Soho Theatre selling out almost as soon as it went on sale. It has also made him a bit of a cult hero amongst Marillion fans!


Why did you want to become a stand-up comic and how did your first show go?
I first wanted to be a comedian when I was six or seven and my dad showed me Laurel and Hardy's "Perfect Day" on tv. I did stuff at school assemblies that was kind of like stand-up, but my first proper stand-up gig to a paying audience was at the Joiners Arms in Southampton, and it went really well - I know it's a better story if it was terrible!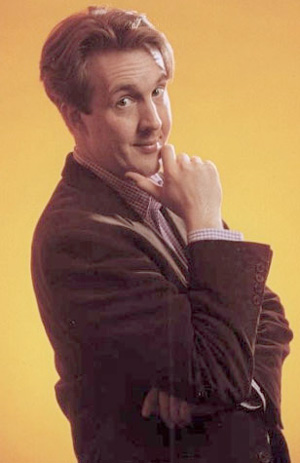 How did the recent Misplaced Childhood tour go? Were you pleased with the reaction you have had so far?
Well the tour's about to start on Easter Monday. I did three weeks in Edinburgh last August and a run at the Soho Theatre in London in February, and it's gone great. It gets a good reaction from Fish and Marillion fans as well as from people born to late to have even heard of them!
How did you first come up with the idea to actually use Fish in the show and what was it like filming the sequences for the show with him?
I'm a huge fan of Fish and have followed his career for years, so I knew he's been getting into acting, plus anyone who's seen him live will know he's very very funny himself. He basically does stand-up in between the songs, so I thought he'd be up for it. I got him to come and see my last show "10 Arguments I Should Have Won" to see what he thought and he not only loved it, but invited me to come and stay and film at his place. We had a great time doing it. I had a rough idea of what I wanted the arc to be, but he came up with great ideas and we kind of busked it up together. It turned out better than I could have dreamt, he's got a real flair for comedy and impro.
Which Marillion gig has been your favourate and why?
That would have to be when they played the Gloucester Hall in Jersey in 1988 - one of the last Fish-era gigs and it was in my hometown. When you grow up somewhere where hardly any bands play and then your favourite band roll up and you're on the front row, it's pretty awesome. It's still one of the best gigs I've ever seen anyone play.
Do you listen to Steve Hogarth era Marillion much and would you like to see Fish reunite with Marillion for a one-off show? Or is best left in the past now?
I must admit I went into this show as a lapsed Marillion fan - I only had Season's End and Afraid of Sunlight, but I'm now back on board. I went to see them at the Forum at Christmas and they were just great. And Marbles is a brilliant album. The band and their manager Lucy Jordache have been so supportive of the show, they love it which thrills me, I'd have hated it if they thought I was taking the piss, whichI'm really not. As for a reunion, I'm proud to say that at the last date of my London run Fish, Steve Rothery, Ian Mosely and Mark Kelly were all in the audience and we went for a drink afterwards. I think that's as close to a reunion as we're going to get.
What happened to the members of your band you were in your teenage years?
The other members of Songvolution are still doing music on some level - James Bell the drummer has a great band called Velofax who have just moved to London and seem to be making an impact. Guitarist singer and songwriter Patrick Sheil did a Philosophy Phd at Cambridge and is still writing and recording fantastic music. He's a wonderful man and supremely talented. And bassist Danny Lloyd is living in California so he's the one I'm least in touch with and the only one who hasn't seen the show, but I know for a fact he'll still be playing guitar and knocking around in bands.
Have you noticed your taste in music changing down the years? Any band/album you raved about in the past that you cant believe you liked in hindsight?
If I like something I tend to like it forever and I have no shame gene that makes me embarrassed to say so. I still think Crockett's Theme is a great piece of music.
Who are your musical/comedy heroes and why?
My comedy heroes are Laurel and Hardy because they are the best, John Cleese for Fawlty Towers, and Stephen Fry for making me realise the most important thing is to be yourself - get that right and you can do pretty much anything on stage. My musical heroes, aside from Fish and Marillion are Bob Dylan because he's the best, a wonderful Canadian singer songwriter called Bruce Cockburn, Django Reinhardt for the sound of pure joy, and Mark Knopfler - I think he's an amazing musician and a truly great songwriter and anyone who disagrees can kiss my white ass.
What have been the best bands you have seen live and why?
Marillion and Fish solo for the passion they give on stage and the passion of the audience - everyone knows all the words, it's an amazing atmosphere. U2 are phenomemnal, they're either totally in the moment or they can make it look like their totally in the moment, either way they blow me away. And I love the staging and theatricality of what they do, and how they can achieve intimacy on an enormous scale, which should be a contradiction. The other person I've seen do that is Springsteen, who is absolutely awesome. Everyone should see him once, even if they're not a fan, it's the closest you'll get to seeing Elvis. Like Elvis he's gives it everything he's got, and can switch from joking around to utter sincerity within a couple of bars of a song and you never question him.
What have been the highlight(s) so far? Anything else you still want to achieve?
Working with Fish and getting to know him has been fantastic - my teenage self would explode if I'd have known this would happen. And a real thrill recently has been working with Armando Iannucci - a genius and a gentleman. I just want to keep doing more of the same to more and more people - sitcoms, films, books, all of it.
Your top five albums of all time and why?
I'm going to pick albums I listen to all the way through, of which there aren't many, especially now I've got an ipod I dart around, but here we go -
Marillion, Clutching At Straws - beautiful songs that mean so much to me and evoke so many adolescent memories.
Tom Petty and the Heartbreakers, Into The Great Wide Open - a great album of melodic rock, it has its melancholic moments but always makes me feel summery and optimistic.
Bruce Springsteen, Lucky Town - great ballsy songs of redemption and love knocked out in two weeks. "If I Should Fall Behind" and "My Beautiful Reward" are just gorgeous and "Living Proof" thumps.
U2, The Unforgettable Fire - reminds me of a lot of things that mean a lot to me, people and places I grew up with in Jersey. It's their first masterpiece.
Bob Dylan, Bringing It All Back Home - his voice is so sweet on this album and Love Minus Zero/No Limit is my favourite love song ever - "My love she speaks like silence, without ideals or violence, she doesn't have to say she'd faithful, yet she's true like ice, like fire."
Any good rock 'n' roll tales to tell?
Sadly no, I'm pretty tame. I did get drunk with Fish and aire drum to the live version of "Close To The Edge" on "Yessongs".
Who has been the biggest influence on your career?
Creatively it's my Holy Trinity of Laurel and Hardy, John Cleese and Stephen Fry. In practical terms I've had a lot of support and gigs from Lee Hurst, he's been great to me since he saw me at my fourth or fifth gig, so thanks Lee!
Interview © 2006 Jason Ritchie
Related>>Fish interview