RON GEESIN
Ron Geesin is one of the UK's leading avant-garde composers, best known for his work with Pink Floyd (Atom Heart Mother) and Music From The Body ith Roger Waters.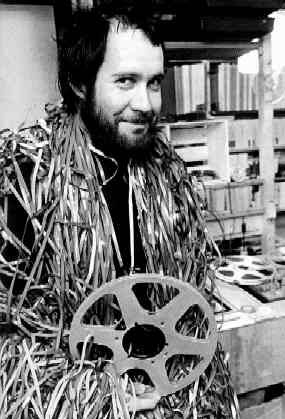 Geesin's first solo album was released in 1967: A Raise Of Eyebrows and in the seventies he was often featured on the John Peel and Bob Harris shows on Radio 1.
He has created audio installations around the world including the 'Tune Tube' in Glasgow (1990) and in Japan for Expo 70.
Commissions for BBC Radio and TV include Splashpast (BBC Radio 4,1993) was broadcast on and 'fantasy for Purcell' Mask (BBC Radio 3, 1995), a Sony award nomination.
Music for film includes The Body, Sunday Bloody Sunday, Ghost Story, Sword Of The Valiant, and The Girl In The Picture.

He is now Senior Research Fellow in Sound at the University of Portsmouth.
Ron Geesin has been described as "an accomplished composer and musician, an experimenter on the free form edge, poet, and a comedian with a taste for the absurd". Robin Denselow, The Guardian.
What are you currently up to (e.g. recording, gigs etc.)?


I have taken a year to assemble, sensitively clean up quality-wise, write about and clear permissions for a double-CD issue of all my earliest BBC radio broadcasts. The result 'Biting The Hand' will be out in a month or so from now on Hux Records HUX098.
Some glowing moments include comments from John Peel and Bob Harris and wild eruptions on a show called 'Country Meets Folk' in which I rushed about so fast etherially that I met neither.
After the success of Glo-Spot's vinyl reissue of a KPM Music Library album by the electronic composer Delia Derbyshire, that label is reissuing my first KPM album Electrosound, also out in a month or so.
The big gig news is that I'm opening the Chelsea Festival this year, 14th and 15th June, with a concert which culminates in Atom Heart Mother, delivered by 10 brass from the Royal College of Music, cellist Caroline Dale who just recently played on the film soundtrack for Atonement and has worked with David Gilmour, the 40 strong choir Cantecum and the Italian Mun Floyd, all conducted by Mark Forkgen. I am writing new pieces separately for the brass, cello and choir. I will also perform some improvised eruptions.


What got you into music in the first place?

A mouthorgan and a banjo, combined with a sense of the absurdity of endeavour. Later, at age seventeen-and-a-half, I chanced upon a jazzband called the Original Downtown Syncopators that played (copied) the oldest known recorded jazz music and joined it 6 days later, on piano which I'd been playing for all of 6 months!

Have you noticed your taste in music changing down the years? Any band/album you raved about in the past that you can't believe you liked in hindsight?

Not much. I've always been a great fan of the American black big bands of the mid to late 1920s, some of whom continued through to about 1940. I once owned one Elvis Presley 78 and a couple of Beatles albums – I don't have them now.

Who are your musical heroes and why?


John Cage because he was a musical comedian; Joni Mitchell because she is passionate and original; Richard Wagner because he strove for a complete integration of sound and vision, and took as long as he dared to lay out a musical structure.
Edward Elgar because he created deeply moving melodies and, in trying to shake them off or round them off, could not help but create another.
Coleman Hawkins because he 'invented' the jazz tenor saxophone, didn't listen to much jazz, preferring classical music including Pablo Casals playing Bach on the cello, and wove structures almost Elgarian.
Edgard Varčse because he said "Artists are never ahead of their time, but most people are far behind theirs.", and created the most wonderful anarchic sound structures; Hariprasad Chaurasia, the Indian flautist, because he expresses the most complex visions using a piece of bamboo with some holes burned in it; and Lionel Hampton, the vibraphonist, who showed that the piano can be played with one finger on each hand.


How did you first come into contact with Pink Floyd and how easy/hard was it for you to get the band to take on your ideas/production on the 'Atom Heart Mother' album?


[Now this really has been documented! Have you done your homework?] I was introduced to Nick Mason by a Notting Hill resident called Sam Cutler. Then I soon met Roger Waters, with whom I was a close friend – for a time. I did not 'get the band to take on' my ideas – it came to get the ideas. At that time, it was rather exhausted creatively, being pushed by EMI and its heavy manager Steve O'Rourke to 'be famous'.

The late 60's/early 70's was seen as a very free and creative period for music. Do you think any bands now have the same approach to music and/or have the musical influences?

I have no idea – I don't listen to, or compare, any.

Do you still keep in contact with the members of Pink Floyd? Any chance in the future of you working with Roger Waters again?

I have seen David Gilmour recently. I would see Nick Mason if he inhabited a similar universe to mine, and I will not see Roger Waters.

How do you approach the songwriting process for your own music? Do you find yourself in a position to be totally free to compose what you like given that you don't have record label and/or band pressures on yourself?


I have never been guilty of writing a song. I compose sound structures: some are musical and some are not. I have created interactive environments and would continue to do so, if the commissioning bodies raised the proper funding. Yes, I'm totally free to compose what I like, which often means I do nothing. Pressure should come from inside, but all too often we modern folk have to incite external pressures. I think I'm coming into a new phase.

Is there any artist(s)/bands in an ideal world you would love to work with?

Joni Mitchell, and Peter Gabriel.


What have been the best bands you have seen live and why?

I don't see bands. I see individuals: Hariprasad Chaurasia is a solo orchestra

What have been the highlight(s) so far? Anything else you still want to achieve?


Knowing in a few live performances that I had created a particular improvisation that expressed my feelings and was well-structured; creating certain melodies, like 'Song Of The Wire' on Electrosound and 'Mr. Peugeot's Trot' on As He Stands that really work – it's that structure thing again. I want to finish 'The Big Work' that I started in 1986.

What in your view makes for a good band and what attracts you to a particular band/artist?

I was greatly attracted to a band once: waiting to go on at a gig in London in the 1960s and some 'electric bleating group' was going on far too long, I noticed that their power supply was joined at one line plug and socket, so I placed my feet on either side of that junction and, with no more than a 30mm pivot on each heel, silenced it!

What has been your most embarrassing moment?

Being almost sorry for saying "Fuck!" on a BBC Radio London show in the early 1970s where the guests were choosing popular recordings of a very low order and eulogising about them.

Any good rock 'n' roll tales to tell?

Rowing with Peter Gabriel on a Sheffield canal during our 1974 tour and fishing a little boy's football out of the fluorescently green water; being ill, or jealous, at the sight of and attitude to wadges of notes being brandished in a railway carriage after a Floyd gig.

Who has been the biggest influence on your career?


My Mum, who has said, "Now Ronald, you won't be going on the stage at Chelsea in those awful black tights, will you?" Alternatively, since my 'career' is more 'chance careering', Taoism, since it points towards the balance of all things which I interpret to be the wave theory of life. "Daddy, wave!" SPLASH!!!
Ron Geesin - Biting The Hand BBC Radio Broadcasts 1969-1975 is released by Hux Records on 12 May 2008.
---
Interview © 2008 Jason Ritchie. All rights reserved.
---
| | |
| --- | --- |
| | Print this page in printer-friendly format |
| | Tell a friend about this page |