VOODOO VEGAS
Voodoo Vegas are our Featured Artist in June 2011 and support Chris Jericho's band Fozzy on tour in June and July. Here the band's singer Lawrence Case talks to Reviews Editor Jason Ritchie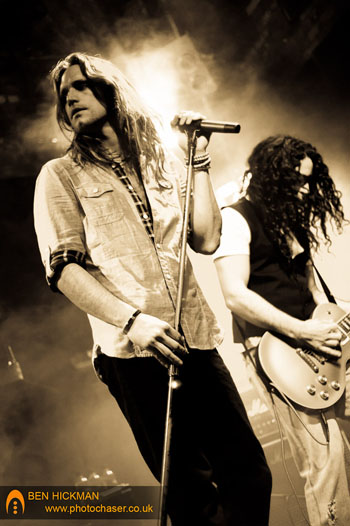 What are you currently up to?
Hello Get Ready to Rock, how are you? Over the last year we have been playing shows all over the UK and Europe building up our fan base and having a great time doing it.
Last month we played some shows in Italy, as well as supporting Glenn Hughes. We have got a UK tour booked up supporting Fozzy, and then when we get back from that we will be hitting the studio to record our debut studio album.

Brief history of Voodoo Vegas...
We have been together for 4 years now playing all over the UK and some shows in Europe, but in the last 2 years we have hit it hard working on a set of songs that people love when they see us play live.
We have gone from strength to strength and have been endorsed by major companies including P.R.S guitars, Daisy Rock Guitars, Vintage Guitars and Audio Technica Microphones.
Malcolm Dome of Classic Rock Magazine and Total Rock Radio says "Finally, an unsigned band worth checking out if you enjoy The Answer. Voodoo Vegas are local rock heroes and their self-released Live album suggests they've the ability to take their Guns N' Roses and AC/DC influences into their own territory. Keep an eye on 'em. This band is not for the timid and it is fair to say they have been making a very big impression for themselves all over the UK."

The band are supporting Fozzy on their UK tour. How did you get the support slot and what sort of set can fans expect?
Last year we supported Fozzy as local support in Southampton and Yeovil, both shows were a great success. Fozzy's management got in contact with us after the shows and said the band loved us, after a few emails back and forth we were offered the slot as main support for Fozzy's 2011 summer tour.
We are playing four shows in the UK, and one show in Paris, fans can expect to get themselves pumped up, and ready to rock for when Fozzy come on. We will be playing songs from our forthcoming album which will be out later in the year.


How did the recent gig supporting Glenn Hughes go?

It was a real honour to support Glenn Hughes, last time we toured France we were watching Deep Purple at California Jam DVD, but let's just say Rock 'n' Roll politics ruled.
When the show was booked up we were told we could play plugged in, but when we turned up to the venue we were told we had to play acoustic because Glenn doesn't like noise before he plays. It kind of knocked us for six, we had to drive home and get our acoustic gear, and put together a reworked acoustic set in 30mins that we would be playing in front of a 400 strong sold out Mr Kyps in Poole.
The crowd were very pumped up and accepting of our acoustic set, Glenn was very complimentary of the band and also my voice, to hear from the Voice of Rock that my voice is excellent that's a real buzz, he also apologised about the mix up with us having to play acoustic so that was cool. All in all it was a bit of a crazy show, but like I said it was a real honour to support the Legendary Glenn Hughes.


How important are social networking sites like Twitter, Facebook etc in getting the band known?

Facebook and Twitter are very important these days; we constantly push our Facebook fan page. I think fans want to be in the know about what you are up to. With technology being how it is these days a band can tell fans what they are up to wherever they are in the world.

Any good rock 'n' roll tales to tell...

We have got a few, I think I'll tell you about the crazy Hells Angels venue we played earlier in the year.
We were booked as support act for a show some months back but the headline band pulled out so we were asked to headline and be the only band on the night. We all knew the rumours about Hells Angels so we went into the show with a little trepidation.
When we turned up we were told to go to the back of the venue where there was a big metal gate that the closed behind us, when we got out of our van a massive rotweiler came up to the van and was sniffing about, I went into the venue to see what's what, as I was going into the venue I noticed the rotweiler was sniffing around the sound man's van.
When I came back out I heard a big yelp from the rotweiler, I guess the hells angels heard the yelp also because they came out and questioned the sound man about what happened, it turned out the sound man had closed the Dog's nose in the van door, when the dogs owner who was the biggest hells angel found out he beat the sh*t out of the sound guy.
At this time we were pretty scared, we realised we were locked in the venue, we were the only band playing, and there were 50 pissed off hells angles expecting us to play. It all turned out fine in the end, but it was one of the craziest moments ever turning up to a gig.

How easy/hard is it to get a decent run of live dates?Ideally which bands would you like to tour with and why?
I think when your starting out its really hard to book up a run of dates, especially out of your home town, we made good friends with UK Guns 'n' Roses, a kick ass Guns 'n' Roses tribute.
Last year we played 20 shows with them,that really built up our fan base which had lead to us being booked at the venues and towns we played with them last year. This last year it has been much easier booking up our own shows all over the UK.

We would love to go out on tour with The Answer, or Black Stone Cherry, or Airborne, I think we would be a be a excellent support for any of these bands, they are the new breed of rock bands, and I would love to see our selves share the stage with them one day.

If you could create a fantasy band line-up who would be in it and why?

Steven Tyler on Vocals, he is my influence and in my view he just keeps getting better and better, although is does kind of suck that he is doing American Idol,

Richie Sambora on Guitar, Richie kicks ass, I would love to see him go out on tour doing a solo tour rather than being tied up doing the Bon Jovi stuff.

Glenn Hughes on Bass, then I could email him and ask if we could do the support after he liked us so much. Although it would be good if we could play plugged in this time.

Animal from the Muppets, he is a crazy fool, he is no ones puppet he just does what he wants when he wants.

What do you enjoy doing in your spare time away from music?

I'm a host on the Ministry Of Slam, the UK's number 1 pro wrestling radio show, we are a weekly show that's talks all things wrestling and lots of other things, including Voodoo Vegas stories from the road. Even if you don't like wrestling it's a good listen and really funny, we are live every Sunday from 8:00pm UK time at www.ministryofslam.com
I also enjoy reading comic books, I really like the DC Universe, Superman, Batman, The Flash Etc, and I also do a bit of gaming with my friends. So I'm a bit of a rock 'n' roll geek. LOL!!

Message for your fans...

We will see you on the road during the Fozzy tour, after the tour we WILL be recording our album, I know a lot of people have been waiting a long time for it but its coming, and it will blow your mind.
We all can't wait for all the VV fans we have met over the last few years and the future VV fans we will meet in the on the road to enjoy seeing us play live and listening to our up coming album.
---
Interview by Jason Ritchie, June 2011