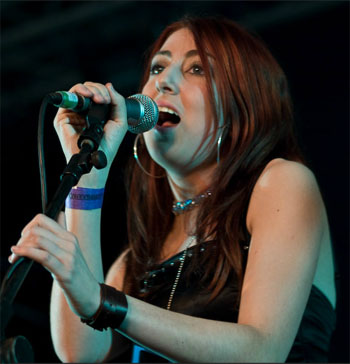 What are you currently up to?
We have just finished our last live commitment for the summer festivals by performing to around 2000+ as headliner of the Rock Night at the Peterborough Beer Festival.
Now we are all making plans for the October tour and working out the set and starting to rehearse the new album tracks.
We are planning some new things for the live shows that we have not done before so we are working on getting all the technology right.
On recording, we are starting to think about the basis for album four and in the New Year writing will start while promoting The City Sleeps. Also some live and promo video releases are planned and being formulated, together with planning for potential European and US gigs.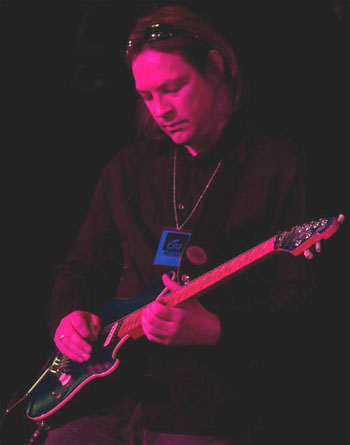 Could you take us through the songs on the new album 'The City Sleeps'?

In terms of the way we work - Rob and Adam, who have been driving Touchstone forward some eight years together - tend to present their ideas to the band from riffs to even complete demos with lyrics/guide vox done.
The band then work up the song. When the song has taken shape more, then Rob and Kim work on the vocal arrangements and some of the female/male vocal 'yin and yang'!
Without Moo's bass work and keen ear for arrangements and Henry's drumming ideas being input, you would not get that overall 'Touchstone sound' - so what you hear really is the result of a tremendous band team effort.

Corridors - is broadly about one's battle with internal demons, but has a hopeful ending, with music written by Adam, and words by Kim and Rob.
When Shadows Fall - is a sequel to Shadow off the band's first album, Discordant Dreams - and catches up some twenty or so years later with the little girl from the original song.
In a kind of 'Marrakesh' type market, she spots the assassin from the first song, who she believes killed her father since then (after the assassin walked away in the first song) and seeks retribution...does she get it, though? Well you have to listen!
Music and words for this track penned by Rob, and he is planning a follow up for the next album - as there is a twist...
These Walls is all about the glamour world and the impact of the false imagery on people's lives, which can be something of a 'cage' - music by Adam and words by Kim.
Throw Them To The Sky relates to the kind of pressures we all work under when working for someone else, where 'profit is king' and reminds people to step back and see the wood for the trees - also to value those you so often take for granted.... Music by Adam and Rob, with words by Rob.
Sleeping Giants is a song about the existing issues we have in the world, so often self-imposed - and the hope we should still have - in the 'sleeping giants'... Music and words by Rob.
Good Boy Psycho is for the listener to work out and is somewhat creepy ...but then Adam likes his horror movies - music by Adam and words by Kim and Rob.
Horizons is about - well - wanting to explore new horizons! A song for any age?! Music and words penned by Rob.
Half Moon Meadow is about someone wanting to help others without realising that they need help themselves first...and makes good use of the joint vocals to impart the message. Music by Adam and words by Kim and Rob.
The City Sleeps is the next part of the Wintercoast trilogy. Where in Wintercoast the story was of an escape from a hellish place and journey to a new place of sanctuary passing the ruined city of Archangel - The City Sleeps is about a return to the ruined city to find a lost life.
In Part Three, even more hell will be released - watch this space - Music by Adam and Rob - lyrics by Rob; narrative by Adam.
---
Our goal has always been to challenge ourselves and the listener but at the same time be able to be accessible and produce songs with great pulse and hooks...and always try to progress ourselves in the song writing and sound.
---
For someone new to the band how would you describe the Touchstone sound?

We are a hard rock band with progressive tendencies. We like to write melodic, hard-edged rock tunes with great hooks and big epic progressive twists...from ultra heavy, grinding riffs...to light delicate and simple refrains.
Our goal has always been to challenge ourselves and the listener but at the same time be able to be accessible and produce songs with great pulse and hooks...and always try to progress ourselves in the song writing and sound.

How did you hook-up with SPV?

We were approached last November - we think they wanted to sign the best prog band in the UK and they got them...! ; ) In all seriousness, we were approached, and discussions started in November 2010.
We thought the time was right to move up a level, as we had reached a ceiling with what we had achieved as a purely independent/cottage-industry band.
We have had amazing success with our music, and especially Wintercoast, but felt that with the help and backing of a long-established, well-recognised label that we could get so much more exposure and really try and get the Touchstone music out there in the world.
Ultimately, though, we know that success will depend upon how much our next release is embraced by our fans and the public at large.

The band have played lots of live dates. How easy/hard is to get a decent run of gigs together and do you hope to land more European dates now you're signed to SPV?

It is hard to get a tour sorted - as we know full well as most of our live outings have been sorted by ourselves.
Now we are a little bigger we are getting help from agents who can deal with the promoters, however we are still organising some of the tours ourselves.
We are also trying to get decent support slots, supporting bigger bands and again the label we hope will open more doors in that respect.
Europe is, from our perspective, a massively untapped market. This has to and will happen next year and plans are being considered for the US in 2012, also.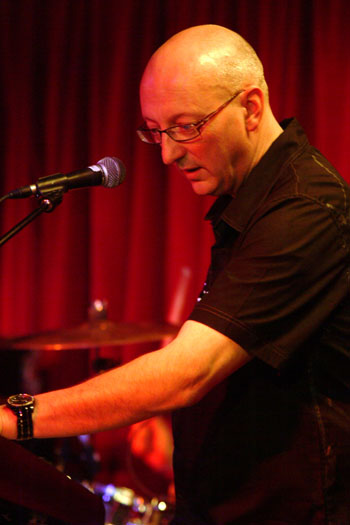 ---
we are lucky that we have got our chops together in this time when 'prog' is not a dirty word and big/epic rock is back on the agenda...!!!

---
Is rock music in a healthier state now than ten years ago? How important has it been to have a specialist magazines in the High Street stores like 'Classic Rock', 'CR Presents Prog', 'Fireworks', raising the profile of the music?

We think rock music is a load better than ten to fifteen years ago...for our kind of rock we think Classic Rock and other mags that have been available on the High Street have sparked interest.
Classic Rock and the journalists have been so supportive of us and their help in getting us 'out there' has been fantastic.
Also, the total lack of decent new music getting out there beyond the X-Factor dross has given a huge amount of people the appetite for something better. With the internet also, bands are so much more accessible and fluid talking to their fans and able to promote music to a mass audience.

What we have achieved as a band would not have been possible fifteen years ago. We have been able to get CD's in HMV, Amazon, and Play.com; downloads set up via iTunes; interviews in major mags; getting big festivals...it's all there if you can put the hours and hard slog in.

Most important - the music has to be there and right for that time...we are lucky that we have got our chops together in this time when 'prog' is not a dirty word and big/epic rock is back on the agenda...!!! - (as it should be!)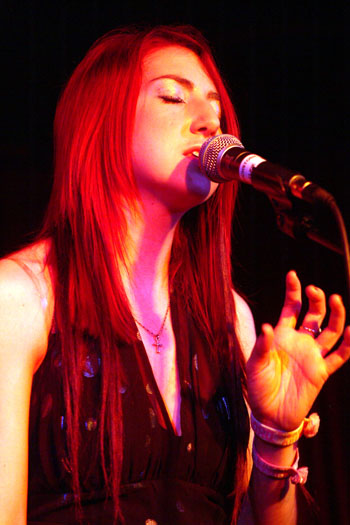 In an ideal world which bands/artists would you like to tour with and why?

We think the beauty of Touchstone is that we could tour with various types of bands of different degrees of 'heaviness' and 'commercial-ness'.
We would love to be able to open for Yes as we think we can appeal to the true proggers and also with a band like ASIA as we do have more commercial tracks in there also.
However, we would love to be able to open for more rocky acts like Faith No More or say Iron Maiden as we think the more rocky audience we can appeal to also...but also to the likes of contemporary acts like Muse, and Our Lady Peace - to name but a few.

What have been the live highlights so far and why?

Being the first band to play at the first ever High Voltage Festival in front of some 6000+ people was an amazing experience and we met so many amazing people over that weekend. We are planning to release this performance in the next 12 months.

Having Sky News come to our rehearsal studio and interview us on the resurgence of Prog was another fantastic experience and to have emails from all over the world after that article was crazy...but good!

We were also asked to open for Joe Elliott from Def Leppard - as it happened we could only play an acoustic set so Kim and Adam did a special thirty minute set. This was an amazing highpoint - to be opening for Joe Elliott and have Ian Hunter to the side of the stage, other greats in the crowd...amazing night to remember...

Playing in the USA - this was also a fantastic highlight for the band in 2009. We all love US rock music and to be able to play there twice to a superb reception was a dream come true and something we want to continue...
We were able to record both dates and later released a double live album called 'Live In The USA: East Coast West Coast' - available on our website. Oh yes - and we organized a stretch limo to pick us up from the airport. That was definitely rock n roll!

For Adam, one highpoint was being able to fly to New York and meet Jeremy Irons to record the narration for Wintercoast. To have that kind of gravitas to the start of the album was amazing...and that was simply because Jeremy really liked our music!

But the most amazing highlights have been to hear from real people and to hear how they have been affected by our music.
Rob was approached by one guy at a gig in the O2 London Academy who said that the track Dignity, which Rob penned, saw him through a very difficult and painful time in his life.
For Adam, one of the most humbling things for him was being in the USA after a show, signing some CD's then this wonderful guy went to him and said he had had a real terrible time personally over the last year and one of the things that helped him was listening to our CD. Adam was nearly in pieces but he managed to hold it together!

All this hard work really is worth it...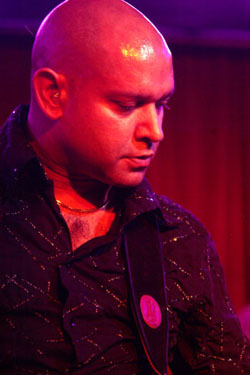 In this age of downloads and declining CD sales has the internet helped you get your music out there or has it in some ways hindered it by websites offering free downloads etc.

As talked about before, although music sales have suffered, we think the internet has been one of the main reasons we have been able to grow like we have - we are able to contact and keep up to speed all our fans, inform of gigs and new products in an instant...
We are lucky to a certain degree that a lot of our fan base are true rock fans and want to support the band. Nicking the music is not going to help us survive, so they are very supportive in buying the product - they also like to have a physical product in their hand and enjoy the package and artwork.
Our online sales are also very healthy. It does cost us a lot of money to produce an album / product and we really do appreciate the support from our fans more than we can possibly say.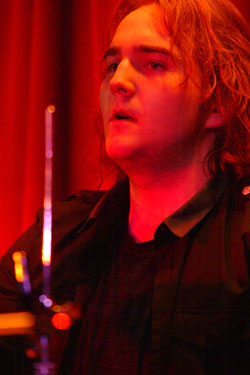 What do you enjoy doing in your spare time away from music?

Adam enjoys photography, mainly architecture and landscapes, which also gives him inspiration for future album covers...also watching and reading about movies.
Rob likes to go spend time with his kids; go to gigs; go running (clears the head!); take in a movie and - well write more music and lyrics! As he says: 'inspiration is all around!' If he didn't play keys - he would love to learn the bass...(but Moo has no worries!).
Moo loves time with his family - and beer, bass and curry!
Kim is interested in, and studying, psychology and especially enjoys the counselling side - plus going to gigs and schmoozing at the Crobar!
Hen - well he just drums for other bands in his spare time and teaches others drums!. Basically, if Hen was not a drummer - he would be a drum, because he loves them so much!

Anything else to add and a message for your fans...

We just want to say a BIG THANKS for all the fantastic support so far from everyone worldwide!
To know that our music has given pleasure to people means so much to us all - and makes us feel very privileged.

Rob, Adam, Moo, Kim and Hen are absolutely bristling with energy and ideas - so look forward to this next very exciting chapter in the progress of Touchstone!!


---
Interview by Jason Ritchie, August 2011
Photos by Noel Buckley and Ian Pollard/GRTR!