TONY MILLS (Shy)
Tony Mills, one of the UK's top vocalists (in my humble opinion...) who has sung with Shy, Siam and has released his own solo CD 'Cruiser'.
Shy made a big splash in the 80's, along with fellow Brit hopefuls FM. Check out 'Brave the Storm' and 'Access All Areas', great melodic rock albums - the acclaimed 'Sunset & Vine was released in early 2005 and a new anthology is due via Sanctuary Records.
1. What are you currently up to?
Current projects in studio are an album with Eric Ragno (vox tempus) and Michael Riesenbeck , a superb guitarist and producer from Holland.
Greg Bisonnette will be on drums and other US Based musicians. This is an AOR album, a project specifically constructed to bring together musicians from across the globe to co-write and collude and generally enjoy what we do in the markets that are important to us.
Also co-writing tracks with Tor Talle from norway for his second 'Northern Light' album.
Contracted for a third solo album for Z records, which I will also be co-writing with various keys and guitar players from round the globe, this is underway and is due for spring release.
Shy are about to undergo full live shows in support of Sunset and Vine and the forthcoming Sanctuary release 'Reflections - the anthology 1983-2005'. Only nine shows are booked at present, including Firefest at Rock City, although further shows will be announced.
2. Could you take us through your new (and very good!) solo album 'Freeway To The Afterlife' please eg ideas behind the songs
This was an album two years in the making, incorporating local Midlands musicians. The intentional departure from rock gave me a rest from the heavy guitars etc., and indulged a personal love for soul and the saxophone.
The album was primarily a medium to voice whatever thoughts I had on God and the afterlife and was an adventure into a realm of music I had never before attempted.
Never having been a religious man, I had no side on me, but drew on experience I have had in life and the many deaths in my family over the years.
In the end it stands up on its own as a piece of work that diversifies greatly from what I would normally write on a day to day basis.
The Bowie track 'Somebody Up There' was covered and gave great inspiration. The session players on the album were superb and indeed through this, Joe Basketts eventually joined Shy full time.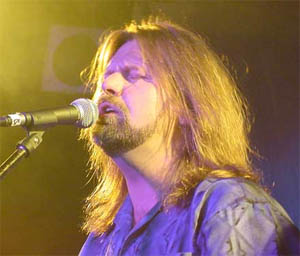 © 2005 www.tony.mills.net
3. Have to ask this...How come you have hooked-up with Z Records again? Is this a one-off deal or a longer term deal?
Purely a logistical decision at the outset, packaging up my first solo album 'Cruiser' with 'Freeway to the Afterlife' as a twin pack and releasing it worldwide, rather than just selling product through a website.
However, what differences I have ever had with Z records have been resolved and I have re-signed as a solo artist to write a third album for the label.
4. It's few months after the release of the excellent new Shy 'Sunset & Vine'. How has it been going and what are the band's future touring plans? Is it easier/harder to get a series of gigs together now than back in the 90's?
I think the use of agents/ promoters can be greatly condusive to the successful booking of concerts and to an extent this has been utilised recently.
I fully intend to secure an agency deal for shy to be represented in the coming year to secure bigger tours etc.
The press for Sunset and Vine has been no less than superb and the songs play live well. It is a great album for the band and has been received well.
Only nine live performances are currently booked, although I have every intention of increasing that dramatically in the coming months.
5. Sanctuary are releasing a big Shy retrospective in November. What will be on it and will there be re-reorded tracks?
No tracks have specifically been recorded, although there are previously unheard renditions of tracks from misspent youth and acoustic versions of songs from excess all areas.
The full track list is as follows:-
Disc One:
Give Me A Chance (3.56) 1
Deep Water (4.34) 1
Think Of Me (4.11) 1
Chained By Desire (4.10) 1
All On You (4.40) [1 - bonus song]
Once Bitten, Twice Shy (3.48) 1
Hold On (To Your Love) (3.38) 2
Reflections (5.44) 2
Keep The Fires Burning (4.54) 2
The Hunter (4.24) 2
Brave The Storm (6.53) 2
Emergency (3.36) 3
When The Love Is Over (4.22) 3
Can't Fight The Nights (3.59) 3
Just Love Me (3.58) 3
Break Down The Walls (5.21) 3

Total: 72.18
Disc Two
Telephone (4.12) 3
Don't Wanna Lose Your Love (4.12) [3 – bonus song]
Young Heart (3.54) 3
Devil Woman (3.32) 3
Talk To Me (3.51) 3
Give It All You Got (Demo) (5.15) 4
Burnin' Up (Demo) (4.42) 4
Love On The Line (Demo) (3.40) 4
Money (3.23) 5
What Love Can Make You Do (Demo) (4.54) 6
Crazy Crazy (4.32) 7
Parasite (4.09) 7
Young Heart (Acoustic) (3.36) 8
Skydiving (5.54) 9
Breakaway (5.40) 9
High Time (6.27) 10
Soul Searching (5.33) 10

Total: 74.26
Sources:
1 from 'Once Bitten… Twice Shy', 1983
2 from 'Brave The Storm', 1985
3 from 'Excess All Areas', 1987
4 from 'Misspent Youth' demos, 1989
5 from 'Misspent Youth', 1989
6 from demo with John Francis, 1991
7 from 'Welcome To The Madhouse', 1993
8 from Acoustic Session – year?
9 from 'Unfinished Business', 2002
10 from 'Sunset And Vine', 2005
6. How do you view the current music scene? Has the evolution of downloading and the wide use of the Internet helped spread the word more about your music?
I think the current music scene is very bouyant, lots of product being released, not too many bands getting signed, and the live scene is hopeful.
From a personal perspective I am quietly confident that the live scene for Shy will be a great benefit to the bands profile and we will be playing as many live concerts as we can throughout the next eighteen months, as I don't expect to record more material until the beginning of 2007.
I don't think that the Internet has been detrimental at all to anything I've personally been involved in.
The downloading of material can always be limited to edits and things like that, you don't have to present full versions of material if you dont want to, and if people do post full tracks on the net for download, they will never be full quality anyway.
Real fans of music and they artist's they love will always buy the original product.
7. What have been the most memorable gigs and why?
Touring with Ian Hunter and Mick Ronson for me was a highlight, having been a fan of their music for 20 years previous to that.
Sadly Mick died shortly after the tour, nothing will replace that experience for me now.
Some shows with Gary Moore were unforgettable, probably Hannover, Michael Schenker applauding all night from sidestage was a surprise.
The old Marquee sell outs were great memories, too.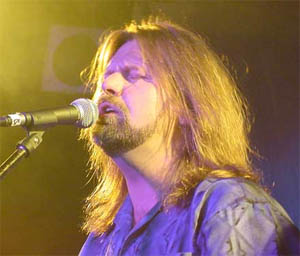 © 2005 www.tony.mills.net
8. Where do you get your songwriting ideas from and who musically is an influence on you?
Well Mr. Bowie and Iggy Pop used to be a great influence on me in the eighties, and to an extent on the recent solo album.
Apart from that I pretty much draw on my own experiences in life.
With regard to songwriting, if I haven't got a complete song idea, then sometimes the title alone can be a great source of inspiration. I work from titles a lot.
9. What do you enjoy doing in your spare time?
Well, I'm pretty much a family man these days, I spend a lot of time with my daughter, Holly who is nearly twelve months old.
Put the time that takes together with recording writing rehearsing and playing live, I dont get any other spare time !!
10. Message to your fans...
I have been approached so many times over the past few years for Shy to play live. I'd like to say I'm looking foward to meeting a lot of you guys in the coming months. Sorry it's taken so long !
---
Related>> Album review (Anthology) Album review (Sunset & Vine)
Interview © 2005 Jason Ritchie/
Format and edit: The Music Index.
All rights reserved.