1. What are you currently up to?
We are at the moment mixing the audio for the DVD that was recorded in June 2005. I think it`s due for release around November 2005. We hope.
2. How did the two 'On A Storyteller's Night' shows go and how did the idea come about? (I thought the Astoria gig was superb!) When is the planned DVD out and will there be a 20th anniversary show for 'Vigilante' next year at all?
The shows went brill. The idea came from a friend of ours called Melvyn Phillips. I was not too sure about it but everyone seem to think it was a good idea and Melvyn was proved right.
3. You have a new live DVD, 'Live at Birmingham' out soon via Classic Pictures. What are your memories of that particular show and do you still get the buzz playing live all these years later?
Yes I still enjoy playing very much. I have fond memories of the gig as it is our home town Hall. I think Classic Pictures have done a great job with this issue.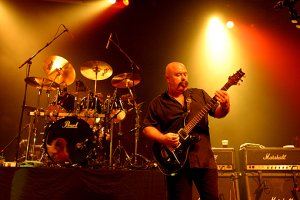 Photo courtesy of Classic Pictures

4. Did adding Al Barrow and Harry James to the line-up give you all a new sense of purpose? How do you compare this line-up with the late 80's/early 90's that featured Mickey Barker and Wally Lowe?
The band as it is at the moment is the best Magnum has ever been in my opinion. But then I would say wouldn't I.
5. As you are the main songwriter in the band have you ever wanted more songwriting input form the band or are you quite happy to take the lead role on songwriting? What tunes(so) would you say sum up what Magnum is all about?
Im quite happy to be the main songwriter, I find it easier to write on my own.
6. Why do you think Hard Rain never got going? Would you like to record more songs outside of Magnum at some stage or did Hard Rain meet that need?
Hard Rain did meet that need and I don't really have time to do anything other than Magnum if I want to do it properly.
7. Have you seen an upswing in interest in rock music in the past few years? Do you find that you do better touring wise than you do from album sales?
Yes it seem that there is more interest in rock music these days (thank heaven). The record sales are still very respectable.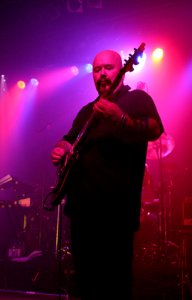 Photo courtesy of Classic Pictures

8. What do you enjoy doing in your spare time?
Looking at daft movies on Al`s mobile phone.
9. Message to your fans?
Thanks for following the band for all these years. Cheers Tony Clarkin.