1. Brief history of how the band met and your style of music...
Well, we were the only four guys in the alley that day - we grew up together. These are the guys I cut my musical teeth with as a young lad. You know...guitars, bikinis and fast cars...you get the picture.
We started out as a guitar sling'n power pop band. Over time, Sequel evolved as most bands do.
The 2nd album, Daylight Fright, found the band clearly riding the melodic rock air waves. Today's Sequel reveals a more seasoned scrappy rag tag lot.
The new 'BACK' CD is nothing but straight up guitars, anthems and vocal swagger. It really showcases the bands history...melody, guitars and attitude adjustment.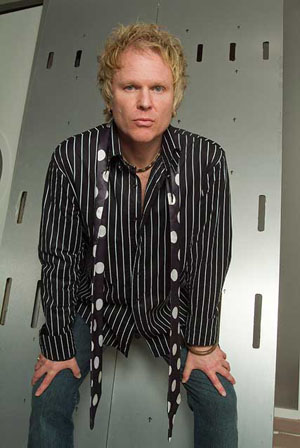 2. Could you take us through the songs on your new CD 'Back'...
All Right All Right: This is a 'turn-it-up', in your face, Saturday night, guitar anthem. (Todd on lead vocal)
Cherry Wine: Riffy and Rock'n, this ball breaker is about a hot little number down at the local strip joint! (Todd on lead vocal)
Good Stuff: This is another big anthem with big guitars built for radio. (Greg on lead vocal)
Rock'n Roll Girl: This track comes the closest to capturing all of the elements that have influenced Sequel over the years. (Todd on lead vocal)
Best I Can: This is a power ballad...the only ballad we have ever released. (Greg on lead vocal)
You Don't See Me: This track is truly vintage style power pop Sequel..it could have been on our 1st CD. (Greg on lead vocal)
What's Wrong With You: This track is our nod to the Faces & Stones...once it's in your blood there's no turn 'n back. (Todd on lead vocal)
Lie To Me: This is another look back at vintage Sequel and earlier days of power pop. (Greg on lead vocal)
Hard Love: This is a no excuses, get out of the way rocker. Buckle up! (Todd on lead vocal)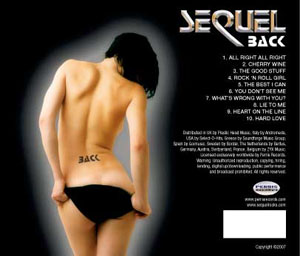 3. What have been the highlight(s) and low point(s) so far?
We're amped about our signing with Perris Records. It's been great having a record company that's behind us 100%.
The band's following has really grown in the last few years...it's been amazing. No matter whom I'm touring with or where I may be on the globe, it seems like someone is always asking me 'what's up with your band Sequel'?
4. What is the live scene like now in the US? How easy/hard have you found it to get gigs?
It's always a challenge booking live shows with Sequel. I typically tour with David Lee Roth about 6 months out of the year. Greg has an ongoing touring gig with Tommy TuTone as well. None the less, we hope to play some shows in 2007 if scheduling allows. I know there are a lot of fans that would love the opportunity to see the band live so hang in there...we'll see what we can put together.
5. What was it like working with Dave Lee Roth? What do you make of the recent Van Halen reunion and its wake?
Working with David Lee Roth is awesome and The DLR Band is rock'n like never before. I've been in The DLR Band, off and on, for 17 years now and I'm looking forward to many more years ahead on the road with Dave. We're like a crew of sailors out at sea. We've travelled to all corners of the globe and back playing Dave's solo hits as well as the DLR era Van Halen hits.
Playing those songs everynight...it's a rush...I grew up on that stuff!
Regarding the Van Halen Reunion Tour ...how cool would that be! I'm a fan so I'm as excited as anyone at the possibility. I'm very happy for Dave and I am hopeful that a Van Halen reunion tour is in his future.
6. Your take on the current music scene (both rock & in general terms)...
Rock is back...bigger than ever! Not that it ever disappeared, but the stagnant years are behind us. The last few years have seen the fans and the crowds grow noticeably.
The energy rolling off the audiences can hit you like a freight train ..it'll kick your ass so you better be ready!
7. Which new musicians/bands do you think have impressed you? Who would you like to work with in the future?
Most recently I've been listening to 'Army of Anyone'. They're friends of mine and their new CD rocks hard. Great song writing and the performances as well as the production work are wicked cool!
8. What would you like to achieve ideally by this time next year?
I'm hoping that by this time next year the new SEQUEL CD has reached thousands of new fans all over the world.
9. Message to your fans...
I want to thank all the fans that have rocked me over the years. Without the fans there is no show, no vibe & no rock …. You drive the machine! I hope you'll check out the SEQUEL website at www.SequelRocks.com where you'll find info on our new CD "BACK". You can also find us at www.PerrisRecordscom . Thanks for all the years and all the memories. Long Live Rock My Friends!
Interview © 2007 Jason Ritchie. All rights reserved.