STEVE TILSTON
Steve Tilston is one of Britain's finest songwriters. His career (detailed in our feature) has spanned three decades and he has worked with many of the best-known names in folk, including John Renbourn and Fairport Convention.
Most recently, he has released the critically-acclaimed album 'Such And Such' and completed a promotional tour in November 2003.
1. What are you currently up to?
At this very moment I'm just enjoying having a wind down after a pretty successful band tour. Although somewhere in the back of my brain box are countless little unfinished tasks that will soon need attention.
2. What has been the highlight(s) and lowpoints(s) of your career to date?
Having my song 'The Slipjigs and Reels,' as one of the most requested songs on the Radio 2 folk prog, also having over 30 cover versions of it made.
In the US this year I was told that my song 'Here's to Tom Paine,' has been chosen by the TP society of America as their theme tune. No low points spring to mind other than my career being moribund for periods, but so far I've always managed to keep going my own sweet way.
3. How did you first get into the music business? Who have been your main influences on your career to date?
In my early years it was Elvis,Scotty Moore, Buddy Holly, Chuck Berry, Josh White, Big Bill Broonzy, Skip James, John Hurt, Charlie Byrd, Julian Bream, Segovia, Bob Dylan, Davey Graham, Bert Jansch, Martin Carthy, Robin Williamson and loads more. For the last 20 or so years it's been more musical genres rather than specific artists.
4. 'Such And Such' marks a slight departure from your usual album. It's mainstream and with a band. Did you make the conscious decision to write a band album?
Not at first, for me music is never quite that convenient. Having said that the album I made a few years back 'Solorubato,' was as the title suggests pretty much a solo effort-me and guitar, but most of the songs could have been recorded in a band format. Conversely, most of these new songs work fine just me and my old guitar.
Whatever the format, a song has to swing!
5. How easy was it to come up with all the songs for the album? Were they the result of ideas you had over a longer period or did they all come together quickly and specifically for the album?
About a quarter of the songs on the new album were started quite a while ago, but about a year ago I knew that I wanted to make a band album, so the songs became slightly tailored to that end. Although I'll add that once I got on a roll and became focused the ideas came pretty thick and fast.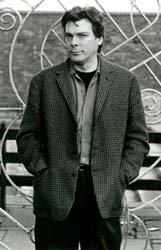 6. What is your favourite song on the album and what inspired you to write it?
When I first finished the recording it was a toss up between Mirror Dance and Waterhole. Mirror Dance not least because it was a hard song to write and pull off in the studio. Waterhole because I thought it was going to be a pig to record, but turned out a delight, I'm really pleased with the vibe of the song, I think it captures the significance of place ie the desert landscape in the arrangement.
Last time I listened though it was 'The Sniper's Tale, for pretty much the same reasons, I think Andy Sheppard's sax really adds to the song's inherent tension.
7. Do you think you will follow this album with another featuring a band, or will you revert to solo again? Or are you seeing what the response is to Such And Such before making that decision?
I think that without out a doubt I will do another band format album, until I've got the songs together I won't know exactly what instrumentation to use. Whatever musical course I take it will be less rather than more. You still have to be able to hear me plucking and warbling up front.
8. How have the recent live dates gone? How did you hook up with Maartin Alcock (ex-Jethro Tull/Fairport Convention) & Clive Bunker (ex-Jethro Tull)?
I really loved the live dates, working with Maart, Clive and Anna Ryder. Pretty much right from the word go the band was a cohesive unit and we all knew it would work.
I've worked with Maart lots of times in the last decade, I was conscripted to the band WAZ! that he helped start. He's a good mate of mine. This was the first time I'd worked with Clive, he was just great, knew instinctively what was required, couldn't have been better.
Anna is worth her weight in gold-and some. She plunks keyboards, squeezes accordians and blows down bugle type things (French Horn & Trumpet). I honestly can't praise them high enough as both people and players.
9. What do you do in your spare time outside of music?
Archery is my big passion. Traditional Longbow, just a bent stick really, I make all my own arrows and brake a lot of them too. Targets though, not furry or feathered animals!
I like walking. Up here in Yorkshire there's some great walks This summer though I did a good stretch of the Cornish coast path, it was breathtaking, I must do some more of it.
I also swim reguarly, half a mile (32 lengths)3 times a week. It all helps balance out the wine I love to drink.
10. Message to your fans...
Sincerest thanks, especially to those who have supported me over the years, it means a lot to see familiar faces in what are quite often unfamiliar surroundings. I have made some great friends over the years both in Britain and all over the world especially the States, it makes what can often be a solitary existence a really pleasurable experience. I honestly can't think of anything I'd rather be than a nomadic musician, it's the fans that make this still a viable possibility. God bless you all, and tell your friends!
Steve Tilston website
Related>> Album Review
Related>> Gig Review
Related>> Special feature
---
Interview © 2003 Jason Ritchie/
Format and edit: The Music Index.
All rights reserved.