A legend! Rick Wakeman, keyboard wizard with Yes (he is now in his third spell with the band!) but he has also had a string of successful solo albums, was a member of respected folk-rockers the Strawbs and is a regular on UK TV screens.
1. What are you currently up to?
I've just finished the first leg of the North American tour with "Yes" and the second leg commences in the middle of October . I have a new prog rock album entitled "Out There" that will be released in January worldwide . I also have an unusual album due out soon entitled "The Wizard and the Forest of all Dreams" this is a classically based work that I recorded with just piano and the English Chamber Choir . It is likely to become a ballet some time next year premiering in Milan . I also have an album just out with Dave Cousins from Strawbs, entitled Hummingbird. All three projects have really turned out very well indeed and that will pretty much be all the recording I will do now until I go into the studio with Yes later next year .
2. Who was/is your biggest influence on your career?
There is no one person . I listened , learned and gained knowledge from a lot of people . To name three........my father , David Bowie and Serge Prokofiev.
3.Which band would you like to see reform?
If you could reincarnate the wonderful Viv Stanshall...then it would have to be the Bonzo Dog Doo Dah Band
4.Which style of performance do you prefer - solo or as part of a band?
As long as I'm playing and making music, I really don't care!! Variety is the spice of life.
5.Any chance of some European/UK Yes dates at all?
Probably summer next year . I know the management are looking at some offers that have come in from some European festivals.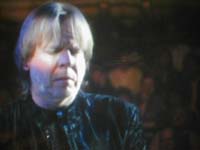 6.Do you enjoy your TV work? I enjoy your appearances on 'Never Mind...' - is Mark Lamarr as big a prat as he seems on TV?
I love it. I love variety in both life and work. I'm still managing to fit in a few Countdowns a year and even some after dinner speaking!!!! I like Mark a lot. He's very quick and very knowledgable. Certainly not in the prat category at all!!!!
7.Who would you like to work with in the future (or would have liked to in regards to dead rock stars)?
There are a lot ....but here goes with just four from the long list "Alive" list: Pete Townsend. Paul Mccartney. "Dead" list: George Harrison, Jimi Hendrix.
8.What do you think about the state of rock music at the moment? It seems classic rock/ 'hair' band music is big news again but only as a touring veichle (eg all the classic rock bands touring the US - Styx, REO, Scorpions, Poison - but no new albums in many band's cases)?
There is nothing wrong with the state of rock music at the moment. The problems lie within the way the industry is now run. I could go on for hours about this and the joke is that it is easy to put right. Well , yes are doing a new album next year . But you are right.Touring is the thing. We're selling out everywhere. The Who for example did four nights at Madison Square Garden. Record companies don't know what to do with us anymore.
The executives are mostly in nappies and the experience within the music industry has been put out to grass. Hence vastly reduced CD sales everywhere, which the industry hates to admit . Easy to solve though as I mentioned earlier....how ? Well as I understand it's the potential subject of a major television network investigation at the moment I'm saying nothing, but all should be revealed within a year or so.
9.What was the last thing you read?
A Richard Rankin book . In fact his were the last three books I read !!!! Chris Squire turned me on to him during the tour and that started me off. I read three of them during the tour . Hilarious and a great read.
10. Message for your fans...
Without you all there is no home for the music I love to make, so God bless you all.