POWER QUEST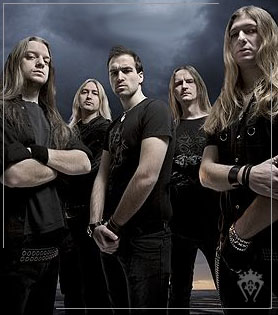 What are you currently up to?

Hi Jason. We are currently awaiting the European release (April 23, 25 and 28th depending where you are) of our new album "Master of Illusion". It's already out in Japan and has reached #8 in the HMV rock and metal charts out there. Personally I'm in the middle of the interview phase of the album promotion, and it's one of the bits I really enjoy.

I'm also just starting to work with DSG, but more of that later on.

Could you take us through your excellent new album 'Master Of Illusion' (e.g. story behind the song, song writing process)...

Well, we did a lot of things differently with this album. At the songwriting stage I made a conscious decision to try and bring the guitars to the fore, without diminishing the keyboards. I decided that a new arsenal of keyboard sounds would help with this balance and so there are some quite different things going on in places, compared to previous records.

Another major change was not recording at Thin Ice studios. Instead, we recorded vocals, guitars, bass and drums at Remaster Studios in Vicenza, Italy. Production duties were handled by Richard West (vocals, keyboards, post-production), Nick Savio (guitars, bass and drums) and myself. Keyboards and post-production took place at Western Drive studios in London, while some additional vocal took place at Mercury studios in Bristol.

Lyrically, I found myself being inspired by a lot of real life issues and events for this record. For example, the song "Civilised" is questioning what kind of world we live in if children can be shot dead on our streets. "I don't believe in friends forever" was based on an experience I had a couple of years ago and it proved to me that sometimes you think you know someone, but the reality is quite the opposite when it comes to the crunch.

The new album sees a whole host of guest musicians. How did you pick which musicians to use and will any be joining you on stage when you tour?

The idea behind this was I thought it would be a really cool thing for the fans if we asked a bunch of guys who we have toured with if they would like to participate in the album. As a result I approached Bob Katsionis (Firewind), Jorn Viggo Lofstad (Pagan's Mind), Richard West (Threshold) and Chris Neighbour (FourwayKill) to take part. The remaining guest appearance is an exception as we haven't shared a stage with him but he is a very good friend of mine, namely Bill Hudson (Coldera, ex-Cellador).

There may be a chance of some of the guys appearing with us at some point in the future. It would be pretty cool! The problem is that everyone is so busy that it may turn out to be a logistical nightmare to organise.

How did you hook up with up with Napalm Records and what promotion plans have they got lined up for this album?

I started talking to Napalm about 12 months ago when we came off the Angra tour and the discussions led to us recording a 3 track demo which the guys at Napalm really liked and so, after a couple of months further discussion, we eventually inked the deal which led to us entering the studio in October to record what has become "Master of Illusion".

Already I see so much evidence of all the good things Napalm are doing for us. Interviews, adverts, reviews etc it's all looking really good. I know they are very keen for us to tour the album as much as possible and I can't wait for that phase of the process to begin either!

What have been the live highlights so far for the band and who ideally would you like to tour with & why?

I think the 3 week European tour with Angra and Firewind in 2007 has to be the highlight of our live performances so far. 2 great bands and 2 great sets of guys, we really couldn't have been part of a better package both musically and personally.
Other than that I would say the UK tour we did with Helloween in 2006 is up there as well. Helloween were one of my favourite bands in the late eighties so it was really something, almost 20 years later, to actually share a stage with them for 3 nights.

There are so many bands it would be great to tour with, I don't know where to start. I guess Firewind, Edguy, Sonata Arctica, Iron Maiden would be pretty near the top of the list though.

You have had a different record label for each album so far. Do you think this may have hindered the band in getting your music known as a couple did have financial difficulties just as your albums were getting released?

There is absolutely no doubt in my mind that label problems have been an albatross round our necks for the past few years. There is nothing quite as disheartening as hearing from fans that they have been unable to buy your album because they just can't find them. I noticed this as a real issue both in Europe and over here.
However, these things are now a thing of the past and we shouldn't really dwell on them in all honesty. Let's look forward instead!

How do you view the internet and downloads? How has the internet helped get your music out there?

The internet has been an incredibly valuable tool for Power Quest as it has been for some many bands and artists in recent years.
Specifically sites like Myspace and Facebook have brought a whole new audience to the band, and before them mp3.com was where it all started for us with our demo tracks 6 or 7 years ago.
It is certainly a lot easier to get yourself heard than it was 20 years ago, that's for sure. Having said that, getting heard is one thing but capitalising on it is an entirely different thing altogether.

How did you get your first break into the music business? What piece of advice would you pass onto budding musicians?

Interesting question. I guess my time in DragonHeart (now Dragonforce) was the first time I was part of a band that I really felt had something. Despite me choosing that the "something" wasn't quite for me, it gave me the confidence to step out and form Power Quest.

In terms of advice, I would say practice hard and play with as many musicians as you possibly can. There's always something to be learned from jamming with other guys.
For those in bands it's a case of perseverance if you don't get that instant success. Get out and play some dates, organise them yourselves if that's what it takes. It's the approach we always took for a number of years. If you can't get on tours….book your own small shows!

What do you like doing with your spare time outside of music?

Spare time? I can only dream! Lol! Of course, music doesn't provide a living for me so I have to work a full time day job to the pay the bills.
In addition, I am also now a member of the David Shankle Group (DSG) based in Chicago. You may remember David as the guitarist in Manowar on the "Triumph of Steel" album. We've got Carlos Zema (ex-Outworld) on vocals and Mike McCarron (Lydian Sea, George Bellas) on drums and the awesome Jeff Kylloe on bass.
David contacted me a couple of months ago via Myspace and after talking with him for a couple of weeks he invited me to join the new incarnation of DSG.

When I do get the chance I'm a huge rugby union fan (Ospreys and Wales) and am a keen follower of Liverpool and Wrexham football clubs.

Message for your fans...

I'd like to thank everyone for sticking with us these past 7 years. Our profile has been rather low in the UK for the past couple of years but we are hell bent on putting that right in support of the "Master of Illusion" album which is out on April 28th. Without you guys….we are nothing!

Thanks also to you Jason for the opportunity to have this chat with you and for the awesome album review too. Cheers and see you on tour!


---
Interview © 2008 Jason Ritchie.
All rights reserved.
---