Fresh from their triumphant Bloodstock show and UK dates, Power Quest are gearing up for the release of their new album, 'NeverWorld', the band's second album and first for new label, Now & Then. A former Rising Star, now deserving their own 10 Q's here is keyboard player Steve Williams...
1. What are you currently up to?
Hi Jason. Well we are currently taking a breather after our UK tour and appearance at Bloodstock last week. Prior to that we spent June/July recording the follow up to Wings of Forever,titled NeverWorld.
2. What has been the highlight(s) and lowpoints(s) of your career to date?
The high points have been Bloodstock last week and the recording of the two albums. Low points have been few and far between really, primarily related to band members coming and going.
3. How did Bloodstock go? What were the highlights for you?
Bloodstock was awesome! I can't believe the reaction we got from the crowd. I was utterly blown away by the response we got as we took the stage, during the set, and afterwards. The highlights were hearing the crowd singing along with the songs, hearing the crowd chanting Power Quest once we had finished, and spending time with the fans afterwards signing stuff for them and chatting about all things metal.
4. The UK tour was beset by problems - AWOL guitarist, theft, etc but you carried on and had a great reception! Did you enjoy your UK tour and any plans for more live dates next year? How about the Gods festival and/or some European festivals?
Yes, we had our ups and downs on the road but they paled into insignificance when compared to the high points. We are very keen to get back on the road next year and we are very keen to play the festival circuit as well if we get the chance to do so.
5. The new album, 'NeverWorld' is complete. Could you take us through some personal highlights please?
The new album has a lot more variety than the first album. My favourite tracks are Edge of Time (debuted on the tour), NeverWorld (Power Quest part II) which is a 9 minute epic, and Lost Without You which is 11 minutes long and features Alessio dueting with Sabine from Edenbridge.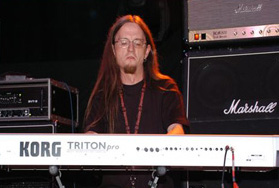 Photo: Sy "Wooks" Seddon
6. Do you think all the personnel changes in PQ have helped make the band stronger? How easy/hard is it to juggle 'day job' commitments with band commitments?
I think the line-up we have now proved that it is a cohesive unit on the road last week. Gav Ward officially joined the band full time yesterday. The important thing is that as well as getting on musically we all get on socially as well. Great friends! So far it hasn't been too bad with the day job although I can see myself having to take some unpaid holiday next year. We are all in different situations workwise and some of us have mortgages to take care of too! Not very metal eh?
7. How would you best describe the music of Power Quest to a new listener?
Catchy melodic power metal with some 80's hard rock influences in places and some progressive overtones as well! Plus a energy packed live show too!
8. Which song(s) give you the most pleasure to perform live and why?
All the songs we played on tour last week were great to play live. It's hard to pick a particular one or two, but at a push I would say 'Wings of Forever'(fast and furious set opener) and 'Edge of Time' with that hard rock vibe a la Van Halen!
9. Do you think that power metal is building in the UK and will it ever reach the popularity it enjoys on mainland Europe?
I don't think we will ever have the same scale of scene in the UK unfortunately. However, as long as bands like DragonForce, ShadowKeep, Mercury Rain, Intense and PQ keep playing shows, making albums etc then I think we will be able to create a reasonable sized scene. It will help if bands like Edguy, Stratovarius, Hammerfall etc continue to visit these shores.and I'm sure all the above UK bands will be more than happy to support! It was refreshing to talk with teenagers at Bloodstock who are into power/true metal as opposed to being led down the wrong path by Kerrang etc
10. Message to your fans...
Sure. I'd like to thank everyone who has bought 'Wings of Forever', visited our website, signed our guestbook or come to see us live around the country of at Bloodstock. It was really cool to meet some you over the course of last week and be able to put a face to a name. Please feel free to email the band with any questions etc you might have and watch out for our new album NeverWorld due out in November through Now and Then records. (Japanese release is 22/10/03 through Marquee/Avalon)
Take care guys, thanks for all and we'll see you soon!