PATRICK KLEIN (The Lizards)
In 1997 Patrick Klein began working as a recording engineer for Electric Randyland Studios and Hyperspace Records. This is where he met Randy Pratt.
After working in Randy's studio for three years they finally decided to jam one day. An already successful partnership in the studio was taken to the next level: The Lizards were born.
Patrick's influences include AC/DC, Kiss, Free and Def Leppard.
1. What are you currently up to?
I am working on the next Lizards projects which are a live DVD from our 2005 tours and also a CD of cover songs.
In addition I am doing some demos of a buch of songs of my own that have been sitting around waiting to be finished. You know, the half completed paintings languishing on the canvas. And the Lizards are always rehearsing and coming up with new stuff.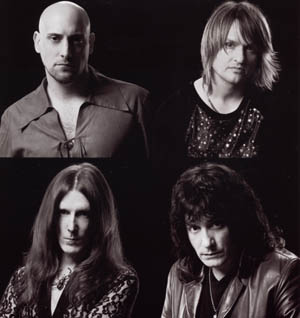 Artist website
Clockwise from top left, Mike DiMeo, Patrick Klein, Bobby Rondinelli,Randy Pratt
2. What sort of reaction has 'Against All Odds' received?
Well, so far it's been very positive! I am very proud of the kudos it's getting for the great sound and production as I did almost all of the engineering and mixing myself.
At the time it seemed like an overwhelming task for me but the band was very supportive and helped to push it across the finish line. From the reaction so far I think we achieved what we set out to do- make a classic rock record that doesn't sound dated or rehashed
3. We've only heard the latest album and we're impressed. How do you think the latest CD compares to previous releases in terms of style and content etc.
Well, if you put them on a chart with a graph it would be a line going up at a 45 degree angle of progress.
I feel like we are getting more locked in with each other as time goes on. The style is pretty much the same. The content gets a little deeper and broader with each CD.
4. What CD would you recommend to someone just getting into The Lizards?

Hmmm, that's a tough one for me. How about all of them? That way you won't feel like you're missing anything! I've been surprised, when I look at our sales, by how many people buy 3 or 4 Cds. Just dive in!

5. Is the present line-up a permanent arrangement? (i.e. with Bobby Rondinelli and Mike DiMeo)

Yes, it's a permanent line-up barring any unforeseen events. My adult teeth are permanent but if one falls out I'd have it replaced.

6. What are your favourite tracks on the new album and why

I really can't answer that question! I have spent so much time with these songs that I'm not objective any more.

7. Your influences are fairly obvious from listening to the album. Are there any particular musicians who have inspired you?

Angus Young, Ace Frehley, Jimmy Page, Matt Wells, John Lennon. And Bobby Rondinelli! I had never played with a drummer that pushed me to my physical limits before the Lizards.

8. How did you hook up with Glenn Hughes, and did you write the 'funkier' tracks with Glenn in mind? Are those tracks representative of the band or are the blues rock riff-based tunes more typical?

Randy has known Glenn since the 90's. Once we started touring I think he (Randy) made some enquiries to Glenn's camp and put it together.

I don't think we wrote them initially with Glenn in mind but we did choose those songs as the ones that Glenn could get funky with.

We gave him a lot of freedom in the studio, as well. He also brought an original song to the table that we are just now finishing. I would love to work on a Glenn Hughes record as a producer/engineer. He's a lot of fun in the studio and a real pro.

If you look at our CDs you can find a pretty good blend of funk and rock. I would say we tend to the side of rock more, though.

9. Best band moment so far (particular gig, album, incident, experience etc)?

We got to meet and jam with Robert Plant in England so that is right up there. When our road manager opened the dressing room door and said Robert Plant wants to say hello I thought it was a joke!

Because there are all of these tribute bands in England. I though it was some guy impersonating Robert Plant from a Zeppelin tribute band. Funny stuff!

Also, we played in St. Petersburg, Russia. That was very special. As we were leaving on the bus, one guy was actually crying as he watched us pull away. And a lot of the fans were asking us to promise to come back. It was very touching.

10. Message to your fans...

Thank you for listening! We will do our best to keep making the kind of music we all love to play and listen to.
---
Interview © 2006 David Randall. All rights reserved.