MONTE MONTGOMERY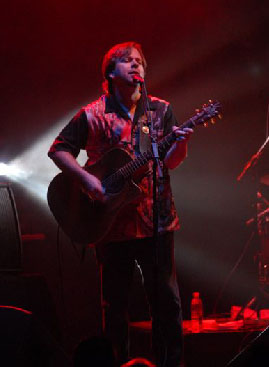 Photo: www.montemontgomery.com
Variously named 'the Joe Satriani of the acoustic guitar' and 'the acoustic shred master', Monte Mongomery is much more than that, being an intuitive singer-song writer in a American roots vein with a rare ability as a song arranger and a warm expressive vocal style to match.
But yes, above all he is an incredible guitarist who rides rough shod over labels and people's expectations of him with some incredible tones, effortless string bends, dazzling slide playing, dexterous tapping and even some unexpected power chords, all on the acoustic guitar.

Raised in Birmingham Alabama, and having learnt his craft in San Antonio, Texas, Monte Montgomery made a name for himself in the competitive Austin musical hotbed, finally breaking out nation-wide in 1999 with an appearance on the influential Austin City Limits TV show.
Monte's ascent of the ranks of guitar players has seen him shift from being mentioned in the 'Top 10 Undiscovered Guitarists in America' by Guitar One magazine, to being included in the 'Top 50 Guitar Players of All Time' by the prestigious Guitar Player magazine.
This is some achievement for a guitar player also voted 'Best Acoustic Guitar player in Austin' for 7 years running. Where once there was a regional star there is now an international guitar star in the making.

Essentially an acoustic player whose sounds traverse the electric-acoustic hybrid (he plays his acoustic guitar through a tube screamer) Monte has long been talked about with great reverence by those guitar players in the know. With his first appearance in the UK for a showcase gig on the back of his debut 'Live at Workplay' DVD and CD, what better time to talk to the new guitar phenomenon that is Monte Montgomery?

In the last year or so you have been the subject of a number of in depth interviews in high profile guitar magazines and the like. Are you surprised at the sudden levels of interest in your career?

Maybe a little but when you have been keeping busy like I have, it all seems pretty much the same. I'm very pleased by the interest but it doesn't feel like it all happened suddenly. It's more a case of being part of what I do, but I'm grateful

How did you start playing guitar?

Well my first instruments were actually trumpet and piano but I started playing guitar 'cos of my mum (Maggie Montgomery). She was a singer and writer in her own right and she has two acoustic guitars so I ended up playing one of them and pretty soon we were playing some small gigs around Texas.
It was really a folk thing, with musicians and song writers. Mum was into a Janis Joplin kind of thing and I'd do some John Prine or Mississippi John Hurt sort of stuff. Pretty soon I started to explore my own kind of leanings and ended up being influenced by the Lindsay Buckingham/Stevie Nicks period Fleetwood Mac.

So your songs come from that West Coast feel?

I guess I was influenced by the classic FM radio, the sense of pop melodies and guitar driven songs. Yeah you could say I was influenced by the West Coast style back then, you know that Eagles kind of style was always part of the guitar driven pop thing.
I started writing when I was about 14 and built up a style as I grew up. I guess you are able to write better as you mature. For me it was the case of a natural development, I didn't wake up one morning and say, now I have to write.

When and how did you decide that the acoustic guitar was going to be your instrument?

Well originally I started doing supports and opening concerts for different people and that was pretty much acoustic. But then I lost my connection with the acoustic for a while as I took on a job playing electric for about a year.
For while I played both but around 1993 I started my own band which was essentially fronting an electric trio. But I used to open each night with an acoustic set and I found that after a while the first set was going down better, and as a result I played more acoustically. Eventually I also thought about the extra gear I had to hump around for the electric set (laughs) and I thought I can do it all on acoustic, though I had to think about how to recreate the electric parts on acoustic, so it took a bit of work.

And now you appear straddle the acoustic /electric divide effortlessly? In fact you front one of the few acoustic power trios in the world?

Some people do identify certain elements in my playing. Though I must say I've never been a shredder, though I did put in the time to learn how to play like guys such as Steve Vai, Steve Morse, Joe Satriani, Michael Hedges etc. But for me the importance has always been with the song and the music rather than just the guitar.

So how do you go about constructing your songs?

Well for the most part song writing does start with the guitar, exploring the character of sound and then working on the melodies and the lyrics come last. I spend a lot of time trying to make the lyrics appeal melodically to the ear.

When did you settle on the power trio format?

The acoustic power trio format goes back to about 95/96. I'd stopped playing electric at the time and played just through the monitors with no distractions and I got into the idea of acoustic amplification, using Trace Elliott amps etc., and then started to discover the new sounds that were possible.

How would you describe your musical appeal?

Well there's really quite a mix going on. There's a lot of rock obviously some very clean jazzy stuff carrying the occasional reggae rhythm, and even folky influences. But overall there are a lot of different influences so people pick up on different aspects of my playing.

What about your influences? Albert Lee once recommended I listen to you, have you ever come across him?

Oh I've actually met Albert a few times. He's a great player and undoubtedly an influence. Then there is Mark Knopfler too on acoustic, I got my finger style guitar picking without a plectrum from him. In fact I do one of his numbers ('Romeo & Juliet') as part of my show. Lindsay Buckingham actually did the same playing rock music without a guitar pick, so I carried over that idea of playing rock finger style into my shows.

You also play 'Little Wing by Hendrix. Was he an inspiration?

Well I just love him and I guess all guitar players get to Hendrix at some point. Though playing 'Little Wing' came about when I was playing a show and someone asked for it, so I decided to feel it out.
It was a big thing at the time but I enjoy playing it and I guess everyone wants to hear their spin on it sometime just like you find your own style.

Being in Texas, was blues a big influence for you?

Actually straight blues was never a big thing for me. I was never a blues guy but I came into it vicariously through other people's interpretation of the style, like Led Zeppelin's first album and Stevie Ray Vaughan later on. It's doubtful I would have made any connection with the blues without people like that, but its all part of your learning experience, and discovering your feel.

Did you feel any special pressure when you recorded your live concert DVD in your home town of Birmingham, Alabama?

No actually it was the opposite. I've been playing pretty much all over the States from art centres and clubs to festivals. So when I was offered the chance to record back in my home town I welcomed that.

Was your appearance on Austin City Limits TV show essentially your big break?

Yes it certainly was. You could hope to spend years building up a following in different parts of various States, but that TV show gave me the opportunity to tour new places and it meant I could go to those places and people would have heard of me, which is half the battle.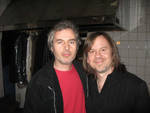 GRTR!'s Pete Feenstra with Monte Montgomery
---
Interview © April 2008 Pete Feenstra
All rights reserved.
---