MILAN POLAK
The Austrian-born guitarist has played with artists as diverse as Falco and Tangerine Dream
In 2001 Milan was asked to join forces with Haddaway, a relic of the dance scene of the 90s, who once had a big hit called "What Is Love" and was trying to re-launch his career.
In March 2005 Lion Music released Milan's long awaited second solo CD "Dreamscapes" worldwide followed by "Guitar Odyssey" in October 2005, which is a re-mastered version of the sold out CD "Guitar 2001" featuring an extra bonus track.
But by this time Milan had already started to write new songs taking a step into another direction. Realizing that playing instrumental guitar music only offers limited possibilities, he decided to write songs with lyrics and vocals to reach a wider audience.
By the end of 2005 he got together with drummer John Macaluso & bassist Randy Coven and flew to NY to record his next album called 'Straight' featuring Milan on vocals & guitar.
1. What are you currently up to? (E.g. touring/studio, etc.)
Hi Jason, thank you for this interview and the great review of my new album 'Straight'!
At the moment I am extremely busy promoting 'Straight' as well as trying to put a tour together with John Macaluso.
Also, I am writing and recording for a gold-selling German act at the moment and I am also involved in another project I have with German actor/singer Fabian Harloff who I produce, play live and write songs with.
So, I guess you could say that I am a full time musician...lol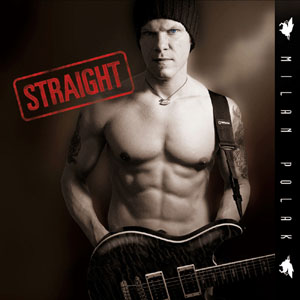 2. Could you take us through the tracks on the excellent new album 'Straight' please (eg ideas behind the songs etc)...
Well, my basic approach for song writing is that I never sit down to write a song. It's always the song which forces me to sit down and write it. My riffs just happen when noodling around on one of my guitars, all the lyrics are true stories, things that have happened to me, things that move me. I constantly absorb and digest, so my lyrics are a direct reflection of that, sort of like my diary or journal.
A good example may be "Crosses" - a captured moment of self-reflection, or "Superstar Mania" - my personal point of view regarding all those casting & reality shows.
3. How did you hook-up with the top notch rhythm section of Randy Coven (bass) and John Maxaluso (drums)? If you tour will these two be in the live band?
John and me hooked up over a decade ago to do a project together but our plans were interrupted when he joined Yngwie Malmsteen. When I contacted him for 'Straight' he was up for it instantly. Originally, Billy Sheehan agreed to play on 2 or 3 songs which eventually did not work out due to schedule problems. So I asked John to pick a bassist and he offered Randy Coven who I happily agreed to.
6 songs were played by Fabio Trentini who is not only a great bassist & producer but also a close friend of mine.
To answer your question regarding a live band, it's always a question of money & schedule. You have to understand that these musicians I have collaborated with belong to the best in the world. They live on making music and they are usually very busy.
But to play live with this line-up would, of course be a dream come true (just as it was on CD).
4. You worked with Falco and Haddaway. What was that like palying guitar in a more mainstream pop environment?
Honestly, to me it's not about the environment but about the personality. I have played huge venues, big TV appearances, had the limousines & hotels you usually only get to see in movies or videos and you know what - it doesn't mean shit to me.
Falco was a great guy and we were also good friends but if you have someone acting like the worst diva in the world like I have experienced with others, the biggest car or hotel suite cannot make it up to you...
A lot of times life on the road is very lonely.
5. Is the internet helping/hindering bands and artists in regards to getting music out there and selling CD's/downloads?
Many times I found myself wondering where I'd be today if I had had today's possibilities 15 years ago. You have all these great platforms like YouTube & MySpace to promote your music and I really think that's awesome.
Of course, the illegal download issue is a problem but then again 20 years ago people copied records to tapes, so piracy has always been a problem the music industry had to deal with.
6. How easy/hard is it to get a decent run of tour dates together for your solo work? Whay have been the live highlights performing your solo material?
It is very hard these days. Basically, you need to get a sponsor and/or the support slot for a big band. I have played a few local gigs and some of the songs are also incorporated into the live set I play with Fabian Harloff.
7. Would join a 'name' band if given the chance or do you prefer working under your own name?
Sure, definitely I would. If I ever get the chance again, I will do it again. But there will always be a Milan Polak doing different things...
8. How did you get your first break into the music business? What piece of advice would you pass onto budding musicians?
Work your ass off, believe in yourself, live your dream, practice hard, always view yourself critically, be a cool guy that's easy to work with but don't betray your goals, stick to your guns and stay straight & modest. The rest is a question of fate & luck. Never give up!
You get to meet some great people but unfortunately, many more idiots & morons, especially the more famous you get, who all try to get a piece of the pie. So you have to be careful as well....
9. What do you enjoy doing in your spare time?
Well, I am interested in a zillion things - believe it or not: scuba diving, philosophy, psychology, serial killers, economy, politics, stock exchange and I also do a lot of traveling. I constantly learn & absorb. My brain always needs to be entertained & exercised and I do a lot of sports, too.
10. Message for your fans?
I hope you like my new album 'Straight' - this is what I will do in the future. Thank you all for your tremendous support. You definitely make all this worth while! I really love and appreciate all your feedback and hope to see you on the road soon.
All the best, Milan.
---
Interview © 2007 Jason Ritchie. All rights reserved.
Artist website
---
| | |
| --- | --- |
| | Print this page in printer-friendly format |
| | Tell a friend about this page |