MICHAEL T ROSS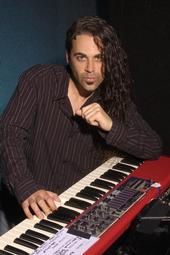 Keyboardist Michael T Ross is a busy man currently touring as part of Lita Ford's band and recording on her new album; the new Hardline album 'Leaving The End Open' is just out via Frontiers after being started back in 2006 and he continues to tour with Angel.

What are you currently up to?

I just returned from Boston playing a couple weeks of shows with Dale Bozzio's MISSING PERSONS. I'm now in Florida in rehearsals with LITA FORD getting ready to start our summer tour. We are doing some warm up shows here in Florida then off to play the Sweden Rock Festival.

How does it feel now that the new Hardline album 'Leaving The End Open' is finally out? What are the highlights on the album for you?

I'm very excited that the new HARDLINE record is out. We actually started the recording process in like 2006. Johnny has been so busy with running his own company and keeping the duties as the frontman for Axel Rudi Pell, I'm just glad the record made it out. The highlight is for sure the two ballads on the record, as I got to record on Johnny's grand piano & have him produce me.

Outside of festival appearances is it hard to get a decent string of tour dates together for Hardline? Any plans to record another album or is it a case that the band will now go on hiatus?

Well, since HARDLINE first released Double Eclipse back in 1992, this is only the third release total, so many years do go by between each record.
I'm not sure what Johnny's plans are for the band but he has said many times he is interested in taking the band out live later this year for shows. Sure it is difficult to get shows in general but we were offered several festival shows already so I believe it is simply up to Johnny.

How did you hook-up again with Lita Ford? How have the live shows been received so far as Lita Ford has been away from regular live gigs for sometime now.

I'm represented by Coallier Entertainment run by Danny Stanton who is the one that called me to audition in New York last year and I got the gig. I would say the response for Lita's 15 year come back has been overwhelming and very special for me to be apart of that. It is a treat to see Lita live because she hasn't been out there on the touring circuit gigging all the time. She still looks and sounds great.

What is the latest with Angel? How did you come to join the band?

Again, Coallier Entertainment booked me back in 2003 to join Angel. We have since played a few festival shows such as Bang Your Head in Germany in 2004, supporting Sebastian Bach who was also with Coallier. I grew up listening to Gregg Giuffria and it was a big honor for me to play with the band.
I really like working with drummer Barry Brandt, who is still an amazing player. In the last couple years, Barry and I locked ourselves in a studio in Burbank, California and wrote about 10 songs, which came out very early Angel, totally Epic, with a twist of melodic rock. I'm looking forward to finally getting into the studio to record the new release. Guitarist Steve Blaze wrote several songs as well and they sound awesome. He brings more of the metal side of the band out.

What have been the most memorable live shows for you and why?

For sure co-headlining with LITA FORD last summer in Houston, Texas with SAMMY HAGAR at Rock The Bayou Festival. It was an amazing show and a lot of fun to play in the States again. Although, I still believe the US festivals are no comparison to the European festivals in my opinion but they are getting better. Rocklahoma last year was a tough show to play because a big storm hit ripping apart portions of the stage and postponing the show by hours. It actually hit when Trixter was playing and they had to stop. We went on sometime after that.

How do you view the current music scene? Have you seen an upswing in interest over the past couple of years in metal and hard rock?

I have heard so many times in the last couple years that rock is coming back. I don't think it ever left. Looking at the most profitable concerts of the year, Bon Jovi & Aerosmith have always continued to do very well, proving the rock fans never left. There seems to be more rock festivals in the US, which has brought a new presence for rock here but I've yet to see one sold out.

In an ideal world who else would you like to work with and why?

For sure Yngwie J. Malmsteen. I love to shred but never seem to get to in the bands I play in. I do get to do keyboard solos at each show, which is nice, but would be cool to do an hour of shred each night. I would also like to play with Stryper one day. I think Oz Fox is awesome!

How did you get your first break into the music business? What piece of advice would you pass onto budding musicians?

I grew up in Hollywood California and being a keyboardist, it actually wasn't that hard to break out.
In 1999, I was reading how keyboardist Derek Sherinian was no longer in Dream Theater, so I went to one of his first Planet X shows, and approached him after for lessons.
I studied with him and roadied for him for several years. During this time, I was introduced to Simon Phillips (Toto's drummer) who I hired to produce my 2006 release with my other group ACCOMPLICE (and Hardline singer Johnny Gioeli).
I had the privilege to do some co-engineering on Derek's 2004 solo release "Mythology", which really helped get my name out there. I was already in Hardline and Angel by that time but the connections I got in early 2000, really helped me break out.

What do you like doing with your spare time outside of music?

I love animals and specifically cats. I have two of them that I really love dearly. I don't have any children so they are my everything. I keep my apartment back at home just for them. I like going to the zoo with my girlfriend. I also like to play chess and go to the beach. I'm not into sports at all.

Message for your fans...

I appreciate being back here again for your 10 questions as it's been a few years. Jason is an awesome dude and love his work! I look forward to seeing you all on the road with LITA FORD this summer at Sweden Rock, Bang Your Head, Metalway (Spain), Rockwave (Greece), Summerfest (US), Moondance JAm (US) and especially Gods of Metal in Italy supporting Motley Crue. For more information please go to www.myspace.com/michaeltross
---
Interview © May 2009 Jason Ritchie.
All rights reserved.
---
| | |
| --- | --- |
| | Print this page in printer-friendly format |
| | Tell a friend about this page |