1. What are you currently up to?
I'm working on a record of original songs that my wife has written. She calls it "Hazey Jane"...
It's Folk/Stoney Country music. Charley Drayton played drums, Greg Leisz played pedal steel, it's going to be a very cool record.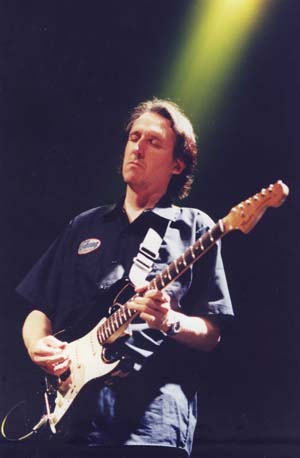 2. Your new live double CD is a blues based one that may surprise some people who know you for your session work. Is this the sort of music you like to play most and how did the band come together?
I've had band's and solo projects starting from the early '90's... This new live record shouldn't surprise people if they have heard my previous records, my music has always been very different than most of the studio work that I do. I grew up on The Beatles, Hendrix ect... these are I guess you could say my "true roots"
3. How has your guitar playing developed/evolved down the years? Any new guitarists out there that catch your eye?
I guess I would say I'm more comfortable improvising over altered chords and changes... I think I play more melodic than before... My new guitar heros are Kirk Fletcher (The Fabulous Thunderbirds) & Derek Trucks... Beautiful players!
4. You've played with some of the AOR legends such as Chicago, Richard Marx, Steve Perry etc Which have been your most memorable and why?
Playing on the Chicago records was a highlight for me. I was really into them when I was a teenager, they were also one of the first concerts I ever saw.
5. Which song(s) do you enjoy performing most live and why?
"The Mighty SB" for the openness of it... "Why U Lie" for getting the aggression out..."Rascal Balls" for the beauty.
6. You have played on hundreds of albums down the years (on the All Music Guide you have eight pages of credits!). Were most a case of just playing what you were given or were you allowed greater input into the music?
I've been called mostly to give sonic and musical input. I'm pretty good at coming up with "hook" parts that you can grab ahold of and remember.
7. If you could create a fantasy band line-up who would be in it and why?
I like playing with a diverse group of people, I like the different interpretation of my songs. I've been very lucky to play with some of the most interesting musicians in the world...
Maybe the fantasy line-up would be Jaco on bass, Tony Williams on drums, Larry Young on organ, Billie Holiday on vocals...
I would be to nervous to play with them though so I would have to just enjoy them from the audience.
8. How did you get your first break into the music business? What piece of advice would you pass onto budding musicians?
Steve Lukather, Jeff Porcaro & Danny Kortchmar helped me to get started in the session world.
Steve & Jeff recommended me for a Boz Scaggs Tour when I was 19, it sort of snowballed from there.
My advice to a budding musician would be to develop your own original music and sound. Please yourself musically.
9. What do you enjoy doing in your spare time?
Having friends over, cookin' up some food, listening to music, playing around the house, getting into trouble...
10. Message to your fans...
I really appreciate you for listening, Thank you.
All rights reserved.