LOST WEEKEND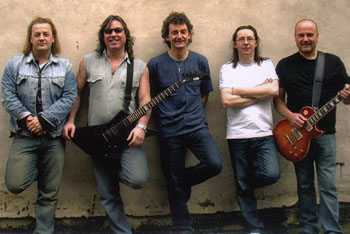 Yorkshire based Lost Weekend were formed in January 1990 by David Thompson who had played in NWOBHM act Rhabstallion from 1977 till 1984.
Yorkshire specialist record store Vinyl Tap suggested the recording of a four song EP and agreed to fund the recording and pressing of a limited album. This came to the attention of Now & Then Records and an appearance at The Gods 96.
Over to Paul Uttley, the band's vocalist:

What are you currently up to? (gigs, recording etc)

We are busy talking to promoters regards gigs, there is no point just playing anywhere we have to try and get in the places that people want to go to and more than that be into the music we play.

We have some profile gigs to be announced once we have crossed i's, and dotted the t's

Could you take us through the excellent new album 'Fear And Innocence' and some of the ideas/stories behind the songs please...

Songs manifest themselves in all kind of ways, sometimes a lyric can pop into my head, or Dave comes up with a tune, then again just looking around reading the papers watching the news they all can inspire you. People in general finding out about there lives, your own personal life we draw on everything and anything to write our music.

Some of the songs on the album are deeply personal others about social comment. Like only the strong survive, thatís about when judgement day arrives who will be saved.

Another Lonely Night in Tears is all about a guy in turmoil with his life and dropping into paranoia. Any subject matter can have a song created from within it.


How has the reaction been so far, from reviewers and fans to the new album?

When you write, perform, dance or sing whatever it is you do it leaves you open to scrutiny, you live by it you die by it really. Over the years we have been fortunate enough to always get very favourable comments, and the new album is following on from that in fact people are saying its our best work to date so thatís very pleasing.

How did you hook-up with Escape Music and is this a long term deal? Looking back do you think the problems you have had with labels going under; having poor distribution etc has hindered the band getting your music out to the fans?

We had the chance to join Escape for Forever Moving On! For some weird reason we picked the wrong label. I would have loved to hear that album get the production this album received, but it all turned out well in the end we got offered another bite of the Escape apple and tuck a big chunk ha ha. The deal is like any other as long as we produce the goods there will be opportunity to release our songs.

In an ideal world which bands would you like to tour with in the future? What have been your stand out gigs to date and why?

Gotthard are a fantastic band that would be a great tour. We supported them at Rock City they are really nice guys. To be honest these days itís getting harder to find the tours, we are ready to drop on to anything that gets offered as long as it is our genre. It is something we are actively looking to do this year, watch this space.

Have you seen any upswing in interest in melodic hard rock music in the past few years especially considering the recent success of bands like Wig Wam, the Poodles and Brother Firetribe?

2008 as been a vintage year I think for our genre, just look at the albums that have been released, Whitesnake, Journey, Ac/Dc all have been huge. I donít think it will really ever disappear and as you say other bands making there mark itís been a good year, hopefully to continue in 2009.

With FM reforming and promising a new album this year do you think the UK may see more interest in bands likes yourselves? Have any other UK based bands impressed you and why?

My only problem with bands reforming is, is it for the music or to put some money in the pension fund? I may be getting cynical in my old age but they seem to come back for one last time then gone until the next tidal wave offers some exposure.
The music stands still and the upcoming bands seem to be left on the shelf again with no chance of getting on those bills to promote there material, If we donít open up our market we will have nothing to offer once these bands finally call it a day. Having said that if they bring something new to the table itís hard to resist if it's good.

What do the band like doing in their spare time outside of music? What do the band like doing in their spare time outside of music?

The band all have different hobbies, ranging from walking, cycling, camping and err model railway! Thatís not Paul, Dave, Robin or Squiz ha ha.

Message for your fansÖ

We would like to thank our loyal fans for continuing to support us and we look forward to performing for them this coming year many times, and we wish them a very happy and musical new year.


---
Interview © January 2009 Jason Ritchie.
All rights reserved.
Band website
---
| | |
| --- | --- |
| | Print this page in printer-friendly format |
| | Tell a friend about this page |