SAMPO AXELSSON (LION'S SHARE/ROAD II RUIN)
Lion's Share/Road II Ruin - two great bands who have two very different musical styles.
Lion's Share go for the melodic metal route, whilst Road II Ruin was formed by a couple of Lion's Share members to record their more melodic songs that didn't fit Lion's Share's style of music.
If you love Rainbow you'll love Road II Ruin!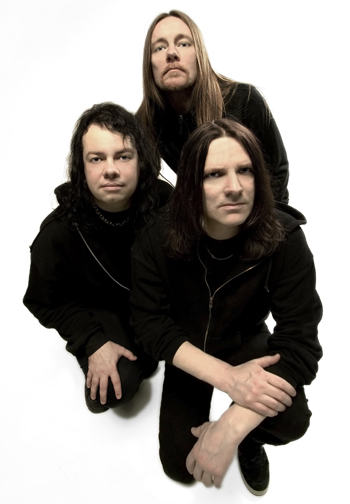 Photo: Mattias Nord

What are you currently up to? (E.g. recording, gigs etc.)

Sampo: Right now we are writing songs for the next Lion's Share album that will be released on October 3rd 2008. "Emotional Coma" will be released in the US on January 29 via Locomotive and Road To Ruin will be released in Japan on January 23 via Marquee/Avalon.

Could you take us through the songs on the new Lion's Share 'Emotional Coma' album (e.g. story behind the songs, song writing process)

The album was recorded on different locations. The drums were recorded at Boo studios in Stockholm by Robert Wellefors (Led Zeppelin, Rolling Stones).
The bass and guitars were recorded in our own mobile studio, LS Studios, just outside Stockholm. When we recorded the vocals we went to a little town called Falun in the middle of Sweden. The mixing of the album was made by Ronny Lahti at Megaphone Studios in Stockholm. Here are some comments on every song on the album:

Cult Of Denial:

Our fans have always appreciated our 6/8 tempo songs like "Sins Of A Father", "Lost", "The Edge Of Sanity", and we're absolutely sure this one will not disappoint either. The lyrics are about how some teens spread the word on different chat sites that they will commit suicide and other chatters cheer them and encourage them to actually do so. Loosely based on a true story. Great album opener!

The Arsonist:

How come some people turn out to be arsonists? What drives those monsters? "The Arsonist" explores the subject, but also tells a fictive story about the pervert lusts of an arsonist. One of the last songs we wrote for this album and is, along with "Clones Of Fate", the fastest LS track ever. Heavy Metal!!!

Emotional Coma:

A new genre is born - Doom Ballads (haha)!! A real strong epic track where we had the pleasure of having Glen Drover from MEGADETH doing the main guitar solo. Your dark future will always catch up with you, sooner or later, and when that happens, you'll wake up from your emotional coma. The brutal and the beautiful meet in this song in a metallic symbiosis.

Clones Of Fate:

A description of a future world's decay and chaos. Machines and technical monsters have taken over. Humanity does no longer exist and man kind isn't worth anything at all. A classic fast and furious Heavy Metal song in the style of Accept and Judas Priest. How crazy is that intro drum fill by the way? Awesome drumming from Richard Evensand and Lars' solo is like a crazy bee flying through the room.

The Edge Of The Razor:

Bruce Kulick from KISS was in Stockholm to do a KISS Expo, so we invited him to the studio to do both the main and outro solos for this tune. Suppose this is the track that has the most in common with the older LS albums. Could have been on any of them, really. Awesome vocal performance by Patrik. The first video track off the album.


Toxication Rave:
Lion's Share goes Thrash Metal or something ... Sampo brought in the basic idea for this one and even included a bass exercise!!! The solo is pretty cool since it has either a harmony part over it or is dubbed all the way through. Even the sweep ...

In a close future, the drugs have taken over the entire society. Respect for other people is gone and the ones who run the show are the drug lords.

Trafficking:
Think this was the first song the three of us wrote together. A catchy tune with loads of energy and a zillion different guitars layers on the chorus. Both aggressive and poppy at the same time... The lyrics are about trading with human lives, humiliation and profit-thirsty pimps.

Bloodstained Soil:
Inspired by the James Ellroy novel "Killer on the Road". About a mass murderer drifting around America killing people. The heaviest and most doomy song on the album. Killer drumming by Richard Evensand as usual (some of those fills are unreal). Lars bought a "BOSS octave" effect halfway through the recordings which came in handy for the outro solo on this one (among other things).

Soultaker:
Classic old-school Heavy Metal at its best! Probably the first song written for this CD and the first LS song ever Patrik sang on. About brainwash and how easy it is to lead weak minds into a certain stage where they perform actions under no self-control. A true metal hymn!

Hatred's My Fuel:
A pretty brutal story. Based on some killings that took place in Sweden a few years ago. Very groovy verse riff plus what many people think is the catchiest and strongest chorus on the album. Great guitar solo by Lars who even sneaked in some Ace Frehley-style licks in there ...

Sorcerers (Angel Witch cover):
About a year ago we received an offer to be included on a tribute album to the great legendary NWOBHM band ANGEL WITCH. For some reason the project got postponed, but we were so pleased with how we turned this song into a Lion's Share song that we decided to include it on our new album. We played around with loops, e-bow, reversed vocals and had a lot of fun coming up with the arrangements. Patrik's favorite vocal performance on the album.


What have been the highlights and lowlights with Lion's Share so far?

We haven't had any real lowlights as long as I've been in the band ... The highlights for me is this summers festival-gigs and especially the magic Circle Festival (Manowars own festival in Germany) We were invited by Manowar to this festival and it was awesome. 10000 head-banging metal-fans and the biggest stage I ever walked on! The organization was great and very professional - really something to remember.

How did Road II Ruin come together and how did the band decide upon ex-Jagged Edge vocalist Matti Alfonzetti?

Sampo: It all started in 2005 when Lars Chriss and I were working with the songs for the new Lion's Share-Album "Emotional Coma". Some of the ideas we came up with, didn't fit the Heavy Metal style we wanted for Lion's Share - but they were way to god to be thrown away. So we came up with the idea of do a full with songs in the style of classic Hard-rock bands like Rainbow, Thin Lizzy, Whitesnake, Deep Purple, Led Zeppelin, Black Sabbath etc. It's like a celebration to the great bands of the 70's and 80's that we grow up listening to.

Who are your musical heroes and why?

There are a lot of bands and artist that I really like but Black Sabbath, Deep Purple, Judas Priest, Led Zeppelin, Kiss are the bands that got me to start playing rock.

How did you hook-up with Glenn Hughes and what was it like working with him?

I first met Glenn Hughes on the famous Swedish weatherman Paer Holmgrens wedding. Paer had known Glenn for several years so Glenn was best-man on the wedding. We had put a band together for this and Glenn joined us on a few songs.
And after that we started to write songs and I also joined his band for a Japan and European tour in 96/97. I wrote songs together with Glenn for two albums (Addiction and The way it is) and you can also hear two songs on the new Glenn Hughes compilation that was released in the late 2007. It was a great experience for me to work with Glenn both as songwriter and as a touring musician.

You've played some Scandinavian dates this year, any plans to take Lion's Share or Road II Ruin on a wider European tour?

Sure! We are waiting for the right tour to come up. The best for Lion's Share and Road To Ruin would probably be to go with a bigger band or in a tour-package with other bands in the same size.

How do you view the current rock scene? Have you seen an upswing in interest in hard rock and is there a future in gigs or will it become mainly studio based bands only?

I think there is a big interest in metal-music today. I also see a lot of younger fans that find there way to our records and live-shows. There are a lot of god new hard-rock-bands coming up. I think gigs will be more important in the future for bands - that's the way to sell albums and merchandise.

What do you do in your spare time outside of music?

I like to spend time with my family and friends. My brother owns Stockholm's best Thai-Restaurant so I like to be there. I also listen to records and watch movies when I'm at home.

But I really don't have so much spare-time without music because we are mostly busy with something in the band (right now we are writing songs) and I also still like to practice on my bass.

Message for your fans...

Sampo: Thanks for your support and thanks for a wonderful 2007! I hope to see you all in 2008!

All the best in the New Year!

---
Interview © 2008 Jason Ritchie.
All rights reserved.
---