Kingdom Come scored big success at the end of the 80's/early 90's. The current line-up only includes Lenny Wolf from the early years and the new CD, 'Indepedent' is out in 14 Oct in Europe.
1. What are you currently up to?
Just finished the new CD called "Independent". Europe release will be October 14th.
2. Who were your influences?
3. Which band would you like to see reform?
Bon Scott joining AC/DC, or Soundgarden.
4.Would you ever consider putting the original Kingdom Come line-up together at all? Do you know what other ex-members are up to at all?
A few months ago I actually got a call from Danny Stag and later James Kottak regarding a reunion tour. The tour almost got booked, but then was cancelled by James, who had to fullfill his obligations to the Scorpions. I have to admit, that Danny and Johnny have been missing a lot of euphoria regarding a possible Comeback, which to me, as a very sensitive loony brain is very important. It's not all about business, at least not for me.
5.Do you prefer studio time or being on the road?
Depends on the time of the day. I prefer getting out of MY bed, but at the same time LOVE rocking on stage with lots of Kingdom Come brains.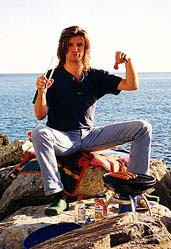 Photo: http://www.lennywolf.com/
6. How do you find time to write so many classic tunes? Have any ever been covered by other artists?
I have no idea, just happens. I actually just write enough to fill a CD and spend the rest of the time reloading my battery by living live and doing lots of "twilight cruising". Several artists have called e.g. Don Dokken. I don't know what came out of it.
7.Who would you like to work with in the future (or would have liked to in regards to dead rock stars)?
The drummer from former Soundgarden. For guitar solos, David Gilmour, Angus Young, U2's "The Edge". On rhythm guitar, Malcom Young or myself. I am always looking for "the tone"! Or an Depeche Mode meets Kingdom Come experience.
8.What do you think abot the state of rock music at the moment? It seems classic rock/ 'hair' band muisc is big news again but only as a touring veichle (eg all the classic rock bands touring the US - Styx, REO, Scorpions, Poison - but no new albums in many band's cases)?
Obviously lots of people like to relive the good old and careless 80's and therefore meet at concerts. I personally do not consider Kingdom Come as an 80's band. Musically our roots are much more to befound in the 70's, and now with the new record in a combination of 70's meets 2002.
9. What was the last thing you read?
The TV guide.
10. Message for your fans...
We're connected through the music, and therefore I treasure you all! I truly hope to see you all very, very soon!