Vocalist LANA LANE has just released an excellent double live CD/DVD 'Return To Japan'. A very talented vocalist who will appeal to a broad cross section of rock fans...
1. What are you currently up to?
We have just started our 2004 European Tour with "Lana Lane and Erik Norlander". This year we are supporting several new releases: my two live titles, the "Return to Japan" CD and the "Storybook" DVD, and also two new titles from Erik: his live "Stars Rain Down" album and his electronic release, "Seas of Orion". We are again touring with two Dutch musicians, Peer Verschuren (guitar) and Ernst Van Ee (drums). Completing the band is Kelly Keeling who plays bass and also sings. Kelly is main vocalist on Erik's solo albums, so he sings most of those songs and also does a great job with harmonies on my songs. It's a truly great band!
Next year in 2005 will be the 10th anniversary of Lana Lane (my first album was released in 1995). So after this Euro tour, we will record a new studio album and then commence a big 10th Anniversary Tour including some big concerts in Japan. I'm really looking forward to all that!
2. What have been the highlight(s) and lowlight(s) of your career to date?
The highlights definitely include travelling to so many fantastic places -- visiting beautiful foreign countries and making friends all over the world. That is certainly one of the great priveleges of playing rock 'n' roll! I've also been lucky enough to play with many fabulous musicians and made some great lasting friendships there.
The lowlights? Hmmm ... maybe sitting on planes for 10 hours at a time. That gets tiring, of course. But hey, it's a small price to pay, and I have no right to complain.
3. The new live album is out now. How did you go about choosing the songs to feature on the album?
Erik and I went through literal piles of tapes and hard drives that we accumulated over 7 years of touring. Erik made good rough mixes of probably 100 songs, and from there we narrowed it down to the ones that made it onto the releases. It took us probably about two months just to make these rough mixes and decide what we wanted to release. Then the mixing work and video editing began!
4. There are some inspired cover choices including Marillion's 'Season's End' - what made you choose these songs and with covers do you prefer to stick to the original tune or add your own styling to it?
Thank you -- I appreciate the compliment! Erik and I always try to seek out covers that are something special -- not just simple pop songs. Songs like "Seasons End" are very powerful pieces, and I only will record and perform covers that I can bring something new to. If I can't bring something new to these great masterpieces, I just leave them alone. That's a big part of how we choose what to cover. I always want to add my own styling. Otherwise, to me it's not a cover -- it's a copy!
5. How did you first meet-up with Erik Norlander? Who else would you like to work with in the future?
I hired Erik to play keyboards in a band that I was in back in 1987. Erik and I had an instant connection, and he convinced me to quit that band and start a solo career. He always says that he is the Yoko figure. ;-) We got married in 1990 and have had a great life and career ever since!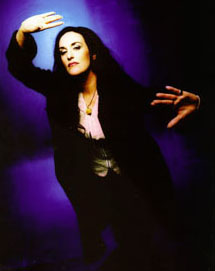 Website
6. How do you view the musical climate now? Do you find more success selling CD's/DVD's via wesbites/shows or do artists still need record labels to promote to a wider audience?
The music business today is a weird one. The internet allows much more access for independent artists like me, but the audience seems to be shrinking at the same time. Not my audience, per se, but rather the music audience in general.
I think that things like movie DVDs, video games, cell phones, etc. have really cut into the music market.
When I was growing up, the biggest purchase priority was always a cool LP record. I don't think that true today with most people. As far as record labels, I think they are important. And artist needs to be an artist first, and business people are always necessary.
I appreciate the business and promo people very much. Without them I would not be able to earn a living playing music.
7. How easy/hard is it to get a decent string of tour dates together? What has been the key to your success in say Japan?
Erik has done an incredible job in creating tours for us all over the world. He has a network of promoters and venues that he uses, and we have made some great friends this way. For example, on this Euro tour that we are on now, we will visit many places for the third time. That's a great feeling, and I hope we will visit many more times to come.
As far as Japan, I think the fans there really have a deep appreciation of melody, and melody is, in my view, a huge part of the Lana Lane music. I also try to put a lot of emotion into my singing, and I think that comes through, even with a language barrier. So with great melodies and strong emotion, we have a universal communication there. That's my theory, anyway!
8. Who has been your main influences musically?
I love big band swing music like Frank Sinatra, Ella Fitzgerald and Tony Bennett. I also love melodic hard rock like Deep Purple, Rainbow and Heart. Erik introduced me to progressive music, and he remains an active influence on that front. So those three styles combined are my main influences.
9. What do you do in your spare time outside of music?
I love to cook, and also to spend time with my two dogs. Erik and I travel a lot with our music, but surprisingly, we rarely get to vacation. When we do, though, that's always a really great time. We enjoy Hawaii a lot, for example.
10. Message to your fans?
I hope you will enjoy these new live releases which were created with love and sincerity. I deeply appreciate your support, and I always hope to see you when we play live in the UK. If you can make a show, please come say hello afterward! Love, Lana Lane.