Urban Tale played the Gods festival last year and released a critically acclaimed CD last year through Now & Then. Seen as a new hope for melodic rock it's over to Kimmo...


1. What are you currently up to?
I've been working with several cover-bands doing gigs in weddings, on a ferry, in bars and in parties organized by different companies. You can say that it's been hell of a summer for freelancer!
With Urban Tale we've been doing pre-production for forthcoming album and I'm still lacking few lyrics and have to record one more new song. In June we took part in NemelRock-festival in Madrid and although one critic shot our two shows down it was a great experience and we had a chance to meet people who liked our first album.
2. Who were your influences?
This is a tough one.... it's hard to name just one... As a youngster I use to listen lots of metal stuff, bands like Dio, Rush, Iron Maiden, Rainbow, Sabbath, Thin Lizzy, Queensryche, Metallica...even Slayer and Celtic Frost! Later on Marillion, Genesis (Gabriel-era), King Crimson, Pink Floyd, Saga, Journey, David Sylvian, Sting& The Police....great music, great singers.
3. Which band would you like to see reform?
Hmmm....to see -75 Rainbow perform or "Foxtrot"-era Genesis....
4. How hard is it to break into the rock scene at the moment? Are some countries easier than others? The UK is notoriously unsupportive of AOR/melodic rock acts.
I think that it's hard and especially if you come from a country that has never been very successful in rock music worldwide. I guess that it's still hard for some people to even find Finland from the map!
Still, everybody has a chance to try and some even can be lucky enough to get their "message" through a wide audience. Melodic-rock scene is very small here so quite few know that we even exist and have an album out...
5. Have you managed to get any radio airplay anywhere? Have you attempted to enter the US market at all?
We know that some stations in Europe have played our stuff in special-shows but I'm sure it's been quite seldom. Our album was released in U.S. but despite few e-mails we know a little 'bout what's happened there.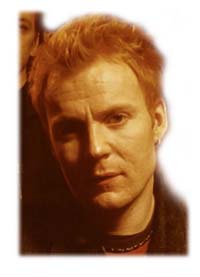 Photo: http://www.urbantale.net
6. Are there any bands you would love to tour with? What has been the highlight of your touring so far?
Would be nice to tour with Marillion 'cause I'm the biggest fan. I think that the Gods-2001 festival was something I won't forget. Great crowd and very well organized happening in general! I hope we get a chance to do it again sometime!!!!
7. Are any of the band involved with other projects outside the band? In the current musical climate I notice a lot of musicians keep a number of projects on the go at one time (eg Jim Peterik).
I think that q.no 1 gives you an answer to this...
8.Who would you like to work with in the future?
Would be nice to work with people who would give 100% of their effort and belief for UT to help us to win the barriers that stand between us and a wider audience.(poetic, right!?)
9. What was the last thing you read?
Last book I read was Anna Karenina by L.Tolstoy. Right now I'm starting the second book from the novel called "Yksinvaltias" (best translation would probably be "The Emperor") by Finnish writer T:Vaaskivi.
It takes place in ancient Rome when Tiberius becomes the emperor of Rome. A great story if you're into Roman history. This is already my second round...
10. Message for your fans...
I just want to wish all the best to everybody and stay tuned for our next release! Details and schedule will be updated ( I hope!) on our website www.urbantale.net. Thanx for your support and rock on!!!