Kevin Chalfant is the vocalist with Two Fires, who have released two albums so far, the latest being 'Ignition'. He was also vocalist in the Storm, which also featured ex-Journey members Neal Schon/Ross Valroy/Greg Rollie and is a bit of a classic! He can also be heard singing on 'America Greatest Hits Live', the live CD just out by Jim Peterik & World Stage. A truly great voice.


1. What are you currently up to?
I have a new touring group called Two Fires. We are doing Midwest dates. You can keep up with Two Fires by visiting http://www.CliqueRecords.com I am also producing several new artists, Jenny Way, Aria Skye, JuJu Kings, and David Bowling.
2. Who were your influences?
Several: I must say that Herbie Herbert has left quite an impression on my musical carreer. He taught me that you are only as big as the effort that you put forward. Also, Gregg Rolie for showing me kindness and direction. Jim Peterik for helping me hone my writing skills. I have some other important people that I can credit for making a difference in my life. Lorretta Condon was my first grade teacher and neighbor. She taught me to sing at a young age. Dorothy Benckendorf for helping me grow closer to God. My wife Judy and my children Jayson Joel and Melinda for being my inspiration to keep movingforward.
3. Which band would you like to see reform?
The Original Storm.
4. The Storm is a classic album and rightly so. Are there any unreleased tunes? Any plans to re-release the CD with bonus material?
That has been discussed. There are unreleased tracks yes.
5. You do a great version of Survivor's 'I Can't Hold Back' on 'Rock America'. Who decided on who sang on what? Was this a one-off or are there possibly more shows in the future?
Thanks for the compliment. I told Jim which Survivor tunes that I liked and we decided together. Yes, I have a gig slated with Jim Peterik in October. I just spoke with Don Barnes of 38 Special a couple of days ago at his Ottawa Illinois show. He is a great guy. He is going to try to make that show as well.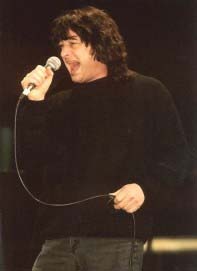 Photo: Ray Ferrer http://www.cliquerecords.com/artists/kevin-chalfant.htm
6. How do you find time to write so many classic tunes? Have any ever been covered by other artists?
Thanks again. They come to me from outerspace, I guess. Cher has covered "Who Ya Gonna Believe" on her Love Hurts CD. Mickey Thomas covered "Keys To the City" on a greatest hits CD. Axe covered "Love Changes Everything" on a ballads CD. I like writing with seasoned writers, then taking them to the band already constructed for execution live or on record.
7. Any plans to bring Two Fires over to the UK/Europe? I would imagine it's cost that puts a lot of US bands off, although Z Rock and The Gods have been very successful with a large band line-up.
I enjoy Europe very much. I have participated in several godfest's. We came in 1999 and 2000. The problem is that the business has changed and it takes a promoter with deep pockets to make a show come off right. Lights, sound, travel, hotels, food and profits are needed to make such a trip possible. In the past, Godsfest would not pay groups for the show, just part of the travel and accommodations.
8. Who would you like to work with in the future?
Paul McCartney, Steve Smith, Jeff Beck, Gregg Rolie, Brian May, Jim Peterik, The Dream Team.
9. What was the last thing you read?
My ProTools Manual...why?
10. Message for your fans...
Fans are my most valuable resource. I can not stay in music for a day without "real fans". Real fans buys records and merchandise and come to shows. Listeners download for free. Real fans stay in the loop to support artists. Keep supporting your favourite artists, they need you...you know who you are!
God bless.