JOHN REID (Strife)
Strife were one of the great unsung bands of the seventies. Best known as a support band, for those in the know they were equal to many of the bands they supported. These included such luminaries as Baker Gurvitz Army, Ten Years After and Judas Priest.
The band's commercial 'break' came in 1975 when they signed to Chrysalis Records and released one album on that label, 'Rush'. They continued to gig solidly until the end of the decade and released one other album in 1978 called 'Back To Thunder' on Gull Records.
These titles have been lovingly reissued, together with a rare live recording of the band in 1976, by the band's main songwriter and guitarist John Reid.
Here he recounts those halcyon days and brings the Strife story up to date.
1. What have you been doing since Strife and what are you doing now in terms of the music business?
I left Strife in 1979 when my son was born and opened "The Gallery" club in Birkenhead and put all the rock bands on I used to work with, like Iron Maiden, Saxon, Alex Harvey and lots of others. I also opened some off licences and had 3 daughters as well.
I sold the club as "Stairways" in about 1983 and it is still going strong today. In 1989 I started another business in property in Marbella and that, and just one off licence is what I mainly do today. With regards to the music business my main interest is in my son "Tony Reid" who I have been helping and has now finished his first album. I formed "Timeline Records" last year to release the old Strife cds "Rush" and "Back To Thunder" and now the "Rockin' The Boat" live CD.
2. How did the 1976 live recording come to light, is there anything else (recordings etc) in the pipeline?
We have quite a few bits and pieces of recordings which we did over the years and people were asking for a live album. The problem was that most of the recordings were on cassette tape and really very bad sonically. So I had this one reel to reel tape, professionally done by Radio Trent and even though it didn't really have all the most favourite Strife tracks, it was interesting, and it did have the main parts of our usual set, so I thought as it was an exact recording of the night, warts and all, it was the most authentic for real Strife fans.
I have also got 3 tracks we recorded in Universal Studios in L.A. in 1973 and nobody has ever heard these songs so I have decided to make a final compilation album of these 3 plus one track which we could not fit on to the "Back To Thunder" album, called "You Don't Know" two of the tracks from the "School" EP which was released by EMI in 1977 "School" and "Go" another demo track called "Unknown" and basically anything else I can find that is interesting and worthwhile.
I also have a short 20 minute black & white film recorded by Swindon Television of Strife at the Watchfield festival, although the quality is not brilliant, it is something I would like Strife fans to have, so I am considering the pssibility of making the final album either a CD rom or a CD plus a DVD, but overall I think it will be an interesting release.
3. What are your favourite gig memories/recollections in the seventies - particular gig, venue, artists you supported etc
One of my favourite gig memories was turning up to play Oxford University and finding a whole load of great gear already set up on the stage, a Rolls Royce and a big artic in the car park and this band sound checking on stage.
One of the road crew said, "Won't be long lads" so off we wandered and noticed the gig posters for the night which said "STRIFE" in huge headlining letters and underneath in small letters "Supertramp"
I hadn't heard of Supertramp at that point and anyway they went on and only played to a handful of people as most of the students were in the bar, so they really did not have a very good gig.
In the dressing room after their set we were talking and they were telling us about their new album "Crime of the Century" which everybody had high hopes for. Anyway we went on to about 2000 people and went down a storm. But what happened to Supertramp eh? and what happened to Strife!
The 70's in general had a great circuit of club gigs and there were some really good bands and we all used to follow each other around leaving messages on the dressing room walls and occasionally bumping into each other in some motorway cafe at some god forsaken hour. I believe we all had a healthy respect for each other even though we were in direct competition and became quite friendly with several of the bands over the years, there were some great venues too, such as the Nottingham Boat Club, The Roundhouse,London, The Marquee, London, The Stadium, Liverpool, The Gardens, Penzance, and many others.
So now to one of my favourite gigs which was the end of a tour we did with The Ian Gillan Band and it was Xmas at the Marquee. One of Gillans road crew had contacted Richie Blackmore who Ian had not spoken to for years, and persuaded him to surprise him at the gig. Anyway because it was the end of the tour and Xmas, Ian invited me on stage in his encore to jam, which I was happily doing when who appeared beside me, but Ritchie Blackmore playing with me, Ian could not believe it, I could not believe it, the crowd went wild but what a moment.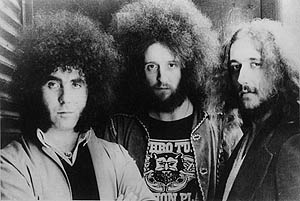 Strife, l to r, John Reid, Gordon Rowley, Paul Ellison. © 2006 www.strife.uk.com
4. Strife were among the most hard-working bands in the seventies - how did you manage to stay sane and sober over that period?
Gordon and Paul did not drink at all, I drank very little, Gordon smoked but Paul and I didn't, we certainly did not take any drugs after being in dressing rooms with people like Hawkwind and Phil Lynott and seeing them so out of it was frightening.
We just loved what we were doing and we were lucky that everywhere we played the audiences loved what we were doing, so every day and every gig was a new challenge, we had some good friends as roadies who we used to have a lot of good times with and basically what else did we need other than a gang of good mates driving around the country playing good gigs, meeting nice people and having a good time, the only thing we didn't have was enough money, but that wasn't that necessary in them days.
5. What has happened to the other band members (Gordon Rowley, Paul Ellison and Dave Williams) - any thoughts on a reunion gig for old times?
Gordon went on to form "Nightwing" and is in Ellesmere Port, Paul is now in Tipperary and Dave is in Palm Springs.
Gordon has been very ill for the past few years and is essentialy confined to his bed as he has had his left leg amputated and has very bad circulatory and heart problems. Paul has been doing various jobs in the editorial and writing field and Dave has been playing drums in various bands in California.
Unfortunately with Gord's health it would be impossible to play live again, but we did do a reunion gig about 16 years ago at The Northgate Arena in Chester, which was quite amazing because it was as if we had never stopped, it all just came back very easily.
6. What/who were your own musical influences and how did this influence Strife?
I actually was brought up with the Beatles and The Stones and I suppose the rock aspect of the Stones was my first influence, then Cream, Hendrix, Pink Floyd, Led Zeppelin, Deep Purple were all bands I used to enjoy listening to but at the same time I was also playing my own songs.
I suppose the energy of the music from these bands plus the complexity of sound from Floyd influenced the way I played and wrote. I realise now with hindsight, that I primarily used to write songs visualising the live performance of the song more than its musical content and that is probably why many people thought Strife were better live and why they enjoyed the gigs so much.
7. The live album features some fantastic playing, do you still play guitar? Who are your own guitar heroes and can you detail what guitar/amp/effects set-up you had in the seventies?
I thank you for that comment but believe it or not I never wanted to play lead guitar, I joined Strife as 2nd guitarist and was happy to write, sing and play riffs and even though a lot of people enjoyed my playing as a lead guitarist, I think it was the fact that it all just felt right in the song, because I really had a passion for playing what I felt and not what was technically great, this is where I really love Hendrix's work because he played what he felt the song needed and not what people wanted to hear.
When I listened back to this album in it's entirety, I am still in awe at what Gordon and Paul played, so much, so good and Paul must have been as fit as any athlete.
I can obviously still play guitar and do sometimes pick one up, but unfortunately my old instincts take over and I end up writing a new song, so I find it difficult just to play for the sake of playing.
I used to use an Orange 120 amp and although I sometimes had a whole load of 4x12 cabs behind me there was only ever one on the bottom that I used, (this is probably why I am not deaf) and this used to have 4 x 100 watt Fane crescendos and was the roadies pet hate because it used to weigh a ton.
I always had a wah wah pedal and a tone bender mainly to boost the volume during lead solos without me having to fumble with switches and volume controls, because being a 3 piece we all had to play more than our fair share in each song and I didn't want any breaks in the feel of the song. I sometimes had a phase pedal for one or 2 songs, but basically any equipment had to be right for the songs.
8. What are the highlights and low-lights of your long career?
The highlights of my career were in fact all the gigs where the people used to genuinely shout for more, because they had just loved what they had heard and seen and that gave me deep personal satisfaction in the fact that something I had created had genuinely pleased people enough to make them happy, no hype, nobody telling them how good or bad it was, but a genuine personal reaction from each and every person in the room.
The low point was when Paul decide to leave as I knew it would lose that certain magical chemistry that the 3 of us had.
Also in general, the fact that a lot of people in the "Music Business" never really responded to what Strife were doing despite all the good gigs and general buzz, it always made me feel low and frustrated when we never got the recognition from this sector and many of the bands that used to support us actually went on to do more than us or were at least given the opportunity to do so, and good on them, but I think this was mainly due to the fact that we did not hang around in all the trendy music places in London and suck up to people, but this was not our style we were very down to earth.
9. What do you enjoy doing in your spare time away from music?
Having a wife and four children, a mother-in-law, a dog, a cat, etc: etc: all living together in our house does not give me much spare time, I have a studio in a separate building and sometimes take myself off to learn how to use today's computer technology which my son Tony has mastered to make his music.
Computers in general give me a lot of enjoyment, making websites and looking at music sites etc: and due to the fact that I had a heart problem 4 years ago, I now have to make sure that I keep it working by going to the gym a few times a week which also gives me time on my own.
I also enjoy going to the office in Marbella when it is dark and grey and freezing here and the thing I enjoy most of all is seeing my son and 3 daughters all growing up and getting on with their lives without any real problems.
10. A message for your fans?
Where do I start? Without the fans responding to our music the way they did, we would never have carried on for so many years enjoying our lives.
So they gave us our youth, they gave us our memories, they gave us our inspiration, and even now they are keeping that youth alive by still being interested, so all I can say is thank you for giving us a major part of our lives to remember and enjoy.
Album review
---
Interview © 2006 David Randall. All rights reserved.