Songwriting legend Jim Petrik who was a pivotal member of Survivor in the band's 80's heyday and now has Pride of Lions, with the vocal talents of Toby Hitchcock. Prior to Survivor Jim Petrik also appeared with Ides of March, who have since been touring again.
1. What are you currently up to?
Well The Destiny Stone album is just coming out now- so we're doing all we can to create an awareness for it. that means alot of interviews and radio ids. we are really proud of this album and want to do all we can. we are very close to confirming some european dates for 05 and possibly even some japanese shows. the record sold 3500 copies in the first week alone in Japan!
2. Could you take us through some personal highlights of the new album, 'Destiny Stone'?
The whole recording process was a highlight. we had a tighter time- frame this time around. we basically had 3 months to write, record and mix the record. ive always did my best work under pressure so it worked well for me. Sometimes I would write a song just before the session- get Toby's vibe on it and have it cut by noon. "The Courage to Love Somebody" came down like that and you can hear the urgency in the track.
ALSO - the title track "The Destiny Stone" is highly personal to me as it reflects some personal feeling of self discovery that I have long wanted to express. Many of the songs are based around the idea of finding our true purpose in life - songs like "Light From A Distant Shore", "Letter To The Future" and "the Gift of Song". These are personal songs but hopefully relevant to anyone who ever searched for fulfillment in life.
3. How did you find the vocal talent that is Toby Hitchcock and any plans to tour this release?
Toby and i were meant to find each other I believe. my niece Kelly Moulik who is a great singer herself discovered him at a talent audition for Dick Clark and insisted he come over to sing for me. I was blown away when I heard him. touring is a must. We have a really strong live rock show - a lot of energy and Toby is one of those rare singers who can really recreate the great performances of the record.
4. Is there likely to be another World Stage tour/album at some point? How did the idea come together for this?
There will be another world stage album for sure - possibly a DVD also. We may be filming the show we are doing on feb 5th 05 near Chicago. My idea was to bring together artist/ friends that I have worked with through the years - toured with, written with etc. I wanted to also expose new talent that I had the pleasure of discovering. we put all that energy on one stage and you see some real chemistry.
5. How did you come to leave Survivor? Any chance of working with the band again sometime in the future?
I left when I felt I could no longer make a difference in the future of the band. When I left they were pulling in a blues direction that I wasn't interested in for the band. as far as the future - I am satisfied with everything I am involved in right now - Pride of Lions - Ides of March and World Stage. and of course my family where everything starts.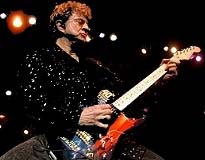 Photograph © 2004 www.jimpeterik.com
6. Which songs are you most proud of from your Survivor days and why?
Eye of the Tiger continues to amaze me- the fact that it finds a new audience every year. people are still finding relavance in the words and music.
I am also proud of The Search Is Over. Many people around the world have been married to this song. It is a real tribute to Frankie and my vision of this song. I can really be proud of all we achieved as a band. For all the typical band dramas, we had a unique chemistry that helped create that sound.
7. You have written many songs for other artists. When you write a song for another artists do you consciously adapt the tune to that particular artists' style?
I always keep the artist's style in mind but I like to inject a little of my vibe also - stretch them a little bit too. The 38 Special Stuff- hold on loosely, caught up you etc - it is very much a hybrid of their southern roots and my midwest pop melodic sensibilities.
8. What have been the most memorable live shows for you and why?
Probably the Meadowlands in New Jersey playing for like 30,000 fans at the height of eye of the tiger's popularity. also the show we did in Tokyo with the crowd screaming out the individual names of the band members.
Most recently, Barcelona with Pride of Lions with the crowd going nuts and singing along with even the new material from the fist POL album- also the 5 minute ovation after we premiered "Black Ribbons" our tribute to the victims and their families of the train bombing in Madrid on Mar 11 2004.
9. What do you enjoy doing in your spare time?
I collect guitars, roller blade, hike. run with my wife of 32 years- Karen, help my 15 year old son and his rock band, take my sister to lunch and write more songs!
10. Message to your fans?
To my old friends and fans - thanks for hanging in there with me all these years and still digging the songs I wrote so long ago.
You truly make it all worthwhile. To the new friends and fans - so glad you've climbed aboard - I know it will be a good ride. I will continue to do my very best to provide you with the best melodies and messages that i am capable of. I hope you enjoy The Destiny Stone - our latest musical child. on behalf of Toby Hitchcock and I- KEEP ROCKING!!! JIM