JIM DAVIES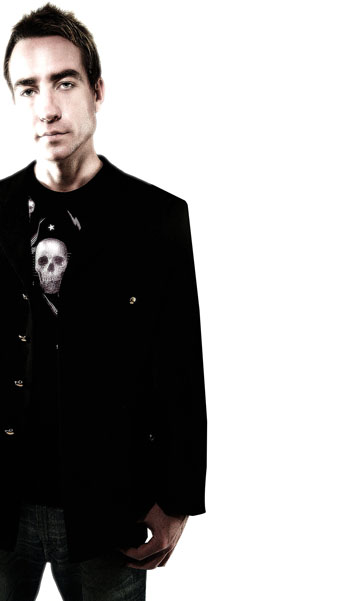 What are you currently up to?

I'm doing a lot of recording at the moment, I've been really inspired by the response to this album so far so its got me fired up to write a new one!I have no gigs planned as yet,I would like to gig this album but theres just soooooo many guitar parts on this album that its potentially a nightmare! I could be doneI just need to work out how,I think as long as I'm honest and say 'lookI can physically play everything on the album live it could work, I'll just play the main parts and have the rest running from a laptop or something.

Could you take us through the new album 'Electronic Guitar'

I've always written instrumental guitar music, from the first momentI could string together a few chords I started attempting to write tunes,I still have the tapes and they are hilarious but its a great way to start developing as a guitarist and writer and I'm gladI started as soon as did.
WhenI was learning to play it was the heyday of 80's shred metal soI listened to a lot of satch and vai.I actually got through to a final of a 'guitarist of the year' competition with an instrumental I'd written and entered but it was pretty different,I used drum machines and loads of weird sounds and was quite industrial,I didn't win, it was too weird! butI did think maybeI was on to something with the sounds I was using and the style I was heading in.


It's always been an ambition to do an instrumental album butI had to find the right angle for it,I wasn't going to do a shred like instru album as that would have been pointless, there are people out there doing that that are far better at that than me, plus I didn't want to do something run of the mI'll.


I think the eureka moment was whenI wrote a b-side for a Victory Pill tune called 'vital signs' it ended up being an instrumental and when it was mixed we realized it was made up of all guitar sounds, drums and bass aside obviously, so it really got me thinking, maybe I could do a whole album of instru tracks like that using nothing but the guitar for the sounds, and that was the angle id been looking for. AlsoI couldn't think of a guitar instru album that had an electronic edge to it, they were all were rock based so again that made me think i might have something unique on the go.

I had to ignore what all the other guitar instrumentalists were doing and just do my own thing, which is creating textures and atmospheres using the guitar, and with a strong sense of melody and catchy tunes to carry the album with no vocals.


I can honestly say there wasn't a sound I had in my mind thatI couldn't create on the guitar for this album, so using a synth never came into it, the only tI'me i needed to use one was for the bass side of things but that was it.


It wasn't a case of rejecting the whole band thing but I do work well on my own. I thinkI reached a point where id done everythingI wanted to do band-wise. I've been touring in bands at a high level sinceI was 21! so I achieved a lot at quite a young age, I really like this new phase I'm in now which is reinventing myself as more of a solo instrumentalist, it feels like a new chapter, I'm stI'll fairly young..ish. Thats not to say I'll never to band stuff again but it will have to be something pretty damn good!


I worked with the same producer who mixed and produced the Victory Pill album, Pete Crossman, on this album,he knows my style inside out so wasn't fazed at all when I'd present him with a track to mix with 60 channels of audio!! There were SO many guitar sounds, any other mixer would have said' thanks but no thanks'!!
Pete co-wrote 3 tracks with so I wasn't entirely alone.


How different was it composing a solo album as opposed to working in a band environment?

Well my writing process wasn't massively different to how I normally approach writing songs with vocals.
I normally write songs as instrumentals first and then add vocals. When I wrote the 'Victory Pill' album last year all the tunes were instrumental first and then vocals added later, but I'd always have the vocal melodies in mind when writing the structures of the instrumental.
With Pitchshifter though I was writing with a vocalist who would have ideas for melodies or would even start with an idea for a chorus and then work backwards. But again with Pitchshifter many tunes were written as instrus first, in fact on the 'Deviant' album there was a track called 'PSI-cological' which was actually much a guitar instrumental track, all the sounds on that were guitar generated so I have always been heading this way I guess!
With Prodigy I was merely adding guitars to pretty much finished tracks, adding icing to the cake rather than starting from scratch. But with that bandI guessI created a trademark sound for myself with 'Firestarter' which obviously opened alot of doors.

Obviously I set myself the challenge to use nothing but guitar generated sounds, i did have moments when I thought amI holding myself back by this? and could I write a better album if I just used what ever equipmentI needed?, ie synths and samples but that would have defeated the whole object of this album which was to try and do something fresh.I spent ages hunting around guitar shops while writing this album, sniffing out weird effects and sounds!


The hardest thing about writing guitar instru music is to keep it interesting to the listener. It was really important to me that this album could be enjoyed by a non guitarist as much as a fellow axeman.
I researched a few guitar instru albums and found them pretty uninspiring, the backing tracks just seems so dull and unimaginative, you could tell they were a low priority for the guitarist and that the main thing was that he just shredded for 3 mins 30 regardless!
WhatI wanted to do was write catchy, hooky tunes that kept the listeners attention, bringing in fresh sounds and melodies as much as possible to make the music interesting.I did shred a little bit but on the whole I held back. there's some tracks on this album that are beautifully dark tracks and it would have been a crime to just shred all over them! I just tried to compliment the music lead wise and be as tasteful as possible, but a little bit of shred did creep in I admit!
I love Steve Vai's 'passion and warfare' album,I dont think there's been a better guitar instru album since, he has an amazing sense of melody and I think we forget how many crazy sounds and textures he uses. Paul Gilbert's 'get out of my yard' was one album I found when I was researching instru albums thatI loved as well, but I've always had a soft spot for PG, he's been a massive influence on me, we're label mates now! if he says he likes my album I cry my eyes out and die happy.

One very cool thing about writing this album was I could go in any direction I wanted and not have to worry about whether was the 'right direction for the band' !!
So I did delve into a few different genres thatI couldn't have before,I love rare groove and funk and theres a track on the album called 'Hotshot' that has that flavour, that track is actually my favourite on the album,I got a great jazz bass player called Mike Edmunds to play on that track, as well as a few others, I'm a fan of jazz, its something I'm slowing learning as a guitarist!. Theres some hip hop grooves in there and even a dub step influenced track called 'Rubicon' which is very slow but pretty heavy as well.
When I felt I'd hit a writers block I'd just challenge myself to write something in a completely different genre, for instance a '4 to the floor hard techno' style track, which was a mission with no synth butI ended up with the 'Rockers verses ravers' track thats on the album whichI really like.

What have been the most memorable live shows for you and why?

I think the Ozzfest tour of America that I did with Pitchsifter was amazing, it was 3 months of playing to thousands of people along side some of my favourite bands like Incubus, Deftones and Pantera.
We really got to see the States from ground level, we had a great tour bus as well so I have fond memories of that. The Prodigy's headline gig at Reading in 2002 was also a highpoint, playing to 60,000 people was amazing,I also did the Big Day Out tour in Australia with them which was basically like doing 7 headline Reading gigs in a row, that was pretty incredible too.

How did you get the guitarist slot with the Prodigy and what were the highlights of your tI'me in the band?

I was at university at the time, I was working loading in the PA for the gigs which meantI got in free to all the gigs! I wanted to see Prodigy as I'm from Essex as well so they were always local heroes. It was at that time that I started getting into dance music and I'd just got the 'Jilted generation' album.
I saw them sound check and was surprised they didn't have a guitarist so I asked the roadie afterwards and he said they didn't have one and to do him a demo, so I ran home and played over a lot of the Jilted album playing guitars on tracks like voodoo people and break and enter and then gave it to Liam Howlett after the gig.
He rang me up 2 weeks later to see ifI wanted to play in Paris with them the next week! which was amazing obviously so I did, and then carried on playing live with them for a year until I left to join Pitchshifter.I rejoined the Prodigy in 2002 for another year's stint.I also played the guitars on the fat of the land album which was a massive buzz!

How did you get your first break into the music business? What piece of advice would you pass onto budding musicians?

Giving my demo to Liam was my break,I think my advice would be to take the bull by the horns, don't wait for people to come to you, they won't. You have to get out there and sell yourself, be fearless, what's the worst that can happen? people can only say no.
I joined Pitchshifter in much the same way,I approached them, said I loved the band and had they considered having 2 guitarists? They gave me a demo of their new album on which I recorded loads of guitar parts. I thought would Improve the album in much the same way as the demo I did for Liam. If you believe in yourself and have confidence then you stand a much better chance of getting a break.

How do you view the current music scene? Have you seen an upswing in interest over the past couple of years in metal and hard rock?

I don't listen to much current music, rock in particular seems to just go round in circles, I'm not really into the whole screamo/emo thing, but I like the fact that the guitar players are playing pretty technical stuff at the moment, rather than just 3 chords like the Nirvana days!
If I listen to rock its bands like the Deftones or Pantera and Helmet,I tend to always go back to my favs. Rock has definitely seen an upturn in interest in it but I think that will always be the case. Nothing really exciting has happened though in the rock scene for ages,I remember when we were writing www.pitchshifter.com it was a genuinely exciting time, we knew we were writing stuff that no one had really done before, crossing that heavy drum and bass style with metal guitars. There were a few other bands doing it as well and it felt fresh and new,I dont see anything like that these days,I sound like my Dad but it does all sound the same!

You've also worked with Pitchshifter and with DJ's. What attracts you to the various forms of music you work in such as rock, dance and rave?

I love playing over dance music, it's what has shaped me as a guitarist,I got bored of rock music very early on when I was learning guitar. I practiced loads and got to the point where I thought where do I go now?? How am I gonna get a break when theres millions of good rock guitarists out there.
That's when I got into electronic music and that gave me a whole new sound really. I love playing over dance music live, you get so much more power than just a 4 piece rock band, I love the sub bass and the heaviness you get from electronic kick drums. It has totally shaped how I play guitar as you have to adjust what you play when you write over dance music.

What do you like doing with your spare tI'me outside of music?

I'm a history buff! I'm fascinated by Ancient Rome and World War 1 and 2! I honestly think if I hadnt got a break in music id be doing something in that area!!! I'm a total geek, all I ever watch is the History Channel. Most of my life does evolve around music though, most of my friends are musos so its hard to avoid it. I read alot, mostly historical fiction like Conn Iggulden or Simon Scarrow, but also factual books about world war 1 and 2.


Message for your fans

I really hope you like the album, its been a hell of a mission to do! Please let me know what you think at my myspace page www.myspace.com/jimdaviesmusic
I always try to reply as often as possible. Thanks for all the support.
Jim


---
Interview © April 2009 Jason Ritchie.
All rights reserved.
---
| | |
| --- | --- |
| | Print this page in printer-friendly format |
| | Tell a friend about this page |