MIKE WILSON
(IVORY TOWER)
Ivory Tower, a band from the late 80's, whose CD trades on Ebay for over $100. The CD will now be re-released by Chavis Records at the end of August. For more details please visit -
Don't forget to pre-order "Heart of the City" while you are there, only $9.99 + s/h USD. The streetdate is August 30.
1. What are you currently up to?
I am currently doing solo acoustic guitar/vocal dates all over the New Jersey - Philadelphia area. I have done a lot of studio dates in recent years with various hard rock country acts---but these days I am keeping busy with my acoustic act. I am also wrapping up and seeking publication on a book I wrote called "50 of Rock's All-Time L.P's." Joe Lam and Duke Franc are still working together in the music biz playing, writing, and producing for various acts in the studio. They had a band together a couple of years ago called Love Revolution, who had a good run of regional success on the strength of the single "Alyson's Imaginary Friend".
2. Who were your influences?
The Beatles were my first and most important influence. My older brothers and sisters' records dazzled me with Beatlemania and then The Stones and Led Zep etc.. finally almost everything rock or pop, I loved as a kid. When I grew up, I found that the basic music principle can still be applied but played loud and hard and fast ,that's when I discovered Black Sabbath, Kiss, AC/DC, and Judas Priest.
3. Which band would you like to see reform?
I would like to see an All-Star band reform with Bon Scott on vocals, John Bonham on drums, John Entwistle on bass, and Jimi Hendrix and Stevie Ray Vaughan on guitars. Other than that I don't care who gets back together, but if they reform and they're still good, I'll find them.
4.Would you ever consider any UK/European dates at all? Tuff are touring in Oct and LA Guns were over here earlier this year.
I would do UK and Europe in a heartbeat. Getting the band and the music together again is the hard part - hopping a plane is no problem.
5.Your debut CD 'Heart of the City' is re-released by Chavis Records. Do you expect further success this time around? Any plans for a new studio album and are all the original members involved?
I don't know what to expect - I can only tell you what I hope. I hope that there's a new legion of headbangers out there to discover and enjoy the music of Ivory Tower. That's why we recorded the music.
Music never goes out of style because of it's sound and emotion. The way it sounds and the production technique reminds us of the things that do go out of style, like clothes, hair, lifestyles, etc.. but emotions like aggression, love, wonder, and the like never go out of style. No, there are no plans yet for a new album - but I rule out nothing in this lifetime.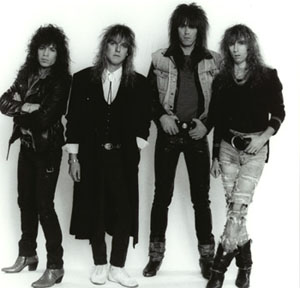 6.Who have you toured with in the past? Who would you like to tour with in the future? Would you take part in a package tour with similar bands such as Cinderella, Britny Fox, Poison?
We played with Cinderella, LA Guns, Britny Fox, etc. in the past and would experience a very pleasant and serious deja vu in a large club/theatre tour with any good band of note who enjoys the finer aspects of road life.
7.Who would you like to work with in the future?
If we could pry him off Shania Twain, I would love Mutt Lange to produce an album for Ivory Tower. A good old fashioned state-of-the-art kickass rocker. I would also like to do an acoustic album with "The Incoherent One" (Ozzy).
8.What do you think about the state of rock music at the moment? It seems classic rock/'hair' band music are big news again but only as a touring vehicle (e.g. all the classic rock bands touring the US - Styx, REO, Scorpions, Poison - but no new albums in many band's cases)?
Rock music is now the minority, the underdog, and it's not really fun. It stifles the amount of music that gets out. You have to search a little harder to find the good stuff. There's no sense in being bitter about it or anything because change is constant, so you roll with it or become a cynical dinosaur.
9.How did Ivory Tower come about as a band? What was the reason to leave the music scene for awhile?
Ivory Tower flourished in the 1980's as a studio band-producing, playing, and writing songs for other artists. We developed our own thing on our own time and took it to the clubs. On the strength of many hot club dates all over the Northeast, and the L.P. "Heart of the City", we became very popular at the time. We recorded material for a second album, (which Chavis Records is considering releasing), but the music biz changed radically, and quickly, leaving us and our second album out to dry.
10. Message for your fans...
Keep on rockin' and I wish I could sit down with each and everyone and have a long talk about the music, "the day", and what's going on now. Contact us through Chavis Records http://www.chavisrecords.com and let us know "what up", we'll get back to you. Thanks to Bill Chavis and all of our fans for believing!!
---
Interview © 2002 Jason Ritchie/
Format and edit: The Music Index.
All rights reserved.