PER SCHELANDER (House of Shakira)
House of Shakira kept the flame of melodic hard rock burning throughout the mid 90's and are back with their strongest album since their classic debut 'Lint'.

What are you currently up to? (E.g. touring/studio, etc.)
Right now we are rehearsing for the upcoming shows in Italy and Spain. We'll go through all our records and select songs for these shows. We are also going through the material from our show at Sweden Rock Festival 2006. The show was filmed with seven cameras so there's quite a lot to go through. It will probably be done and ready for some kind of release next year.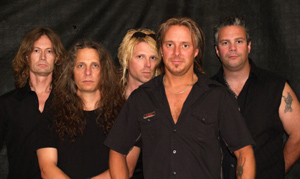 Could you take us through the excellent new album 'Retoxed' e.g ideas behind the songs, song writing process

1. Retoxed - I wrote this one when I was giving my son breakfast around 5 a:m... The melody just came to me and I finished his breakfast pretty quick and grabbed the guitar and recorded it on my phone while I still remembered it.
When we where almost done with the record this idea about opening the record with a soft "intro" telling the background and influence to this album came to us. I went home and wrote the lyrics right away to the melody I already had - and everything fell in place.
2. Small Town - Everyone else except me is born and raised in a small town, with the longing for a bigger and better world. Anders showed me the riff and the basic structure, we worked on it for a while and then handed the song to Mikael who wrote a beautiful melody and a good lyric, really capturing the feeling of growing up in a small town.
3. No Faith - I was in Moscow with Royal Hunt when I switched on the TV at the hotel for five minutes and saw just one scene from the movie "Syriana". George Clooney is being tortured and the bad guys ask him this question: What if you have no beliefs to recant? How long do I have to torture you before you deny you faith if you don't have any?
I thought it was brilliant and this question followed on the whole mini-tour. Is it really possible to say that you have no beliefs? What counts in your life if you don't have any beliefs? When I showed the song for the other guys I wasn't sure that HoS was the right band for the song, maybe it was too heavy. But the result was phenomenal!
4. Crazy But No Fool - This one was one of those that were so easy to make! Mats had the basic idea, we changed some small things in the verse and bang! Just a very good up-tempo song that puts you in a good mood.
5. Life and Death - The riff gives you the feeling that it ends and starts and the same point Which is the idea behind the song - the way we came in, we're going out again. This song is really a good example on how well Mats and Mikael works together. They kind of read each others minds and put life to each others ideas.
6. Gabon Viper - This was a late addition actually. We were almost done with the record when Mats came with this song. Everything was done and arranged so it was just to nail it in the studio. It was fun to record and we worked a lot with the background vocals which is best heard right before the solo.
7. High Above - Mats had an idea for song with a really seventies feel to it. I thought everything was ok but thought the riff needed to be spiced up. The end result was a completely new song, based on the riff I came up with. The mid-part comes from an instrumental song we played on the tour in Italy last year.
8. Red Alert - This one is also a great example of the song writing team of Mats and Mikael. Nothing fancy, just a really good melody line that is carried by the acoustic guitars. This one is kind of connected to Small town lyrically with this longing of getting away for something new and better.
9. Bloodline - Mikael is a genius when it comes to unorthodox vocal arrangements! Here we have a groovy rock song, your basic meat and potato thing. Then you add those harmonies in the verse and it changes the vibe of the song completely!
10. Angel Dancer - Mats kept bugging everyone with this song but we were a bit sceptical, we didn't get the groove going and we threw it away. Then Mikael came down to the rehearsal studio and heard it and one week later he came by with the melody and the lyrics. Suddenly everything fell in place.
This is actually exactly the same story as with "you are" from First Class. Sometimes a song sounds completely different a couple of months later.
11. Turkish Nights - Mats had been playing that verse riff for a couple of years during sound check and so on. When he came with the full version of the song we knew it was going to be a really huge song.
You need a huge song for such a big love story don't you!? It was obvious from the beginning that it was going to be the song that closed the album. It has a positive vibe, leaving the bad behind and looking forward to the years to come.

How have the reviews been so far? Do the band take much notice of reviews or do you respond more to the fans feedback?
We haven't had that many reviews yet but they have been mixed. It's pretty logical we are not getting 10's from the metal zines that reviews it.
Basically it is like this - if you take notice and believe the good ones, you also have to believe the bad ones. I think we actually respond more to our own feedback! If we are happy with an album, we will be that no matter what kind of reaction you are getting, either from fans or critics.

The last album was released back in 2004, what have the band been up to in between times?
We supported the album for almost a year and then I got the gig with Royal Hunt. We started to write Retoxed early 2006 but then Anders and I became a father during spring so that set the process off for a while.
When we where done with all the writing Tony had to undergo surgery and it took like 2-3 months before he was able to play again. So we had our stops during the way.

What have been the live highlights so far and why?
We have only done one show supporting Retoxed so far and that night was great! Check it out on youtube! It's from our release party here in Stockholm.

Who are your musical heroes and why?
There are so many of them! We love Zeppelin, Eagles, Journey, Van Halen, Judas Priest, Pain of Salvation and a lot of other bands and styles. What I see as that main thing with all the mentioned bands above is that they all have a very personal sound.
They work in their own niche and is not comparable with any other band. That is something that is inspiring and something we aim for - to have a totally unique sound!

How do you view the current rock scene? Have you seen a upswing in interest in hard rock and live shows?
Not really actually. I thought that the demand for live acts would grow with downloading but it seems like it doesn't matter.
Even if more people own your record (legal or illegal) it doesn't seem to affect the live scene. What's happening is that downloading makes it more expensive to tour and you can't refund the whole loss on ticket prices. It's pretty expensive to go and see a band today I think.

Why do you think HOS have lasted so long in what is a difficult market?
Because we are stubborn Swedes that don't have anything better to do! We also have a vision what this band is all about, and that vision was never about doing a record by mail, release it and then split when it didn't sell a lot. We are basically doing this to please our creativity.

What do you do in your spare time outside of music?
I spend as much time as I possible with my family, there is no better way to invest your time than in the ones you chose to live with.

10. Message for your fans...

See you in the bar!
---
Interview © 2007 Jason Ritchie.
All rights reserved.
Album review
---
| | |
| --- | --- |
| | Print this page in printer-friendly format |
| | Tell a friend about this page |