HERMAN FRANK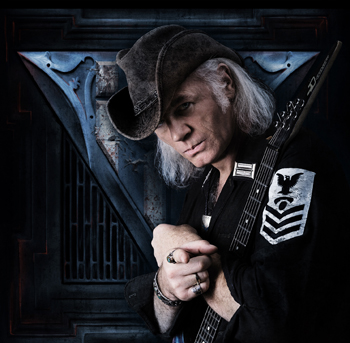 What are you currently up to?

Hi Jason ! Sorry for the delay answering your questions… Too much work on right now…I will do my very best to answer your questions.

Right now, I'm working on four different projects. I am in production with a new heavy melodic band out of Russia called Magustarium. Secondly, I'm mixing the third album from Silent Decay, from Munich. Then, I'm next off to finish the new Victory album…. and last but not least, I'm rehearsing some songs with a band from Hamburg, called Tank Buster Jack.
I will record the guitars for their new album and that will then be produced by Chris Tsangarides in the UK.. In between, I will rehearse with my Herman Frank Band for a week, starting on the 14th., to be ready for some live shows later this year to promote the new record!

Could you take us through the new album 'Loyal To None'

OK. It's a very personal album for me, the first album I've really wanted to put my own name on, you know, so that's kind of difficult in a way, but, I just felt the time was right somehow… I'd started up my own studio back in 2005 (Arena 20)… And I'd started to jam a little bit with my drum machine, my bass, my guitar and finally I decided to put my voice on top so I could hear how these demo songs sounded.
At the beginning, I don't think I thought I would do a solo album – I'd done the Moon Doc records (three albums) and they were kind of a solo record for me, but this was trully my sound, and, after a while, I really started to like the songs…, but as none of my then bandmades (in Victory) was in the mood to record a new album, I decided to give these tunes a chance by themselves.
I called Jioti (Parcharidis) and asked him if he wanted to sing on my solo album. He was ready to go right from the beginning…. And when I heard him singing my melodies with his voice the decision was made. This could be the start of a big new thing, actually ? Finally, I got a chance to write, record and release my music whenever I want to and no more waiting for anybody else.

How did you approach getting the musicians together for your solo album and were you not tempted to perhaps have a lot of guest musicians as some artists have done on their solo albums?

Well, Jioti was my first choice. He's the best singer for my music I could hope to find! Then, Stefan (Schwarzmann) and Peter (Pichl) came on board.., they are really talented musicians…. But the main reason that they are in my band is my long and strong relationship to both of them. Stefan was born next to my hometown. I've played a few shows with him so far and I've known him for more than 15 years 'cause he is also living in Hannover….

I wanted to have a real solid band right from the start. I don't need any guest 'stars'. I just wanted to do the album by myself, so there was no reason for any other "star" really!

What were the highlights of your time in Accept and will you be involved in any future shows the band may play?

One of the biggest highlights was for sure, the 2005 reunion tour. We did several big headline shows and some open airs…. In fact, I enjoyed this time very much, but I don't know if there are any plans for Accept in the future. If so, I would appreciate being a part of it. But this decision has to be made by Wolf and Gaby Hoffmann, so ..,. ? …It's not easy to stay next to 'God' (Nickname of Wolf Hoffmann )…

As well as a top musician you have also produced bands such as Saxon and Molly Hatchett. How did you get your first break into producing and did it make it harder or easier to start producing when you are a musician? Which band(s) did you enjoy producing most?

I stepped into producing step by step really. One thing leads to another. Rainer Hänsel (the manager of Saxon and Molly Hatchet these days) is a good friend of mine, so… To be a musician helps a lot if you want to be a producer. You can help with composing, playing instruments and so on. So far, I've enjoyed every production I've done. You have to, otherwise I wouldn't (and couldn't) have done it. If there are no good vibes you can't do a proper job.

In a recent interview you said you are a big fan of power metal. What bands would you recommend to someone and are there any newer bands out there you would maybe like to produce?

Jason, there are so many good bands out there. I'm blessed with working with just one or two of them. I can't really say!

How did you get your first break into the music business? What piece of advice would you pass onto budding musicians?

The start of my career was Accept. A friend of mine gave me their phone number when he heard that they were looking for a new guitar player…. And it went from there…
Piece of advice: Practice and try to find your own style. Just play the music you like, just what you feel in your body…. Don't lose your vision… just going for, maybe a faster career path 'cause it's maybe 'the up to date fashion' or the type of music which might be "hip" at that moment…. Be yourself, I guess…!!

How do you view the current music scene? Have you seen an upswing in interest over the past couple of years in metal and hard rock?

Yes…There are a couple of new, cool bands out there. Children Of Bodom, Airborne.., for example?

What do you like doing with your spare time outside of music?
What is spare time ?????

Are there any future plans for Victory and what have been the live highlights for you with this band?

As I mentioned before, we are just finishing off a new album. That will definitely be out this year…One of the highlights? Wow.. that has to be the tour with Gary Moore in '89, for me?

Message for your fans...?

Hey, people out there! Thanx for your support! And thanks to you Jason… I'm gonna see you all live with my show later this year!!


---
Interview © April 2009 Jason Ritchie.
All rights reserved.
Album review
---
| | |
| --- | --- |
| | Print this page in printer-friendly format |
| | Tell a friend about this page |