H.E.A.T.
H.E.A.T. are another in the fine tradition of melodic hard rock bands hailing from Sweden and their debut album is a must have for fans of Brother Firetribe, the Poodles and older bands like Europe and Treat.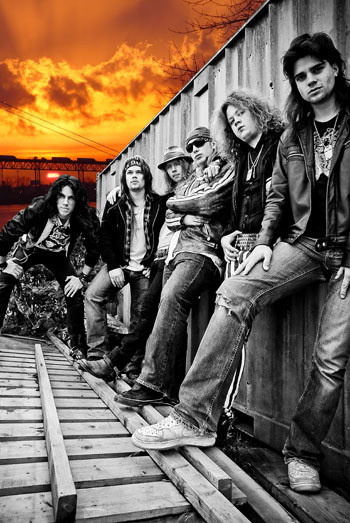 What are you currently up to?
Hey! We are in a gig mode at the moment. Trying to play live as much as we possibly can.
Still we are, as always, working on new songs and we have quite a few excellent ones on the way!

Could you take us through the excellent new album and some of the ideas/stories behind the songs please...

Well. First of all we had to write all the tunes.
That alone is a LOT of work. We came up with about 15-16 songs and selected the ones you can hear on the album.
Then we went into the studio and worked night and day (all the vocals you hear is recorded between 11pm-8am.) for like 4-5 weeks and then we mixed it in L.A. at Titan Recordings.

I can tell you about the first couple of songs on the album for sure.
There for you - It's about the the different conflicts that can emerge when having a band and a relationship to devote yourself to at the same time.
Musically it's quite a melodic song with broken down choruses and verses and the dynamic peaks would be the b-verses. The albums' only keyboard solo is on this one.
Never let go - This one is (quite obviously) about love, the good kind that is.
It has a great rocking riff which was inspired, not entirely though, by the song 'Carry on my wayward son' by Kansas. Big chorus!
Late Nite Lady - LNL is about being on the prowl for the night!
This one is all about the groove. It's a bit bluesy I think. Great vocals on this one!
Keep On Dreaming - It's about following your dreams!
I got the inspiration to the main riff from a swedish song actually.
Ain't gonna tell you which one though, haha! You probobly wouldn't know it anyways.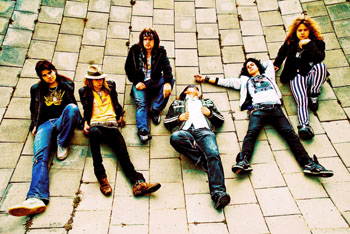 How did H.E.A.T. come together?

Well. We were out riding our Harley's when Kenny slammed into us with...Naw..seriously.
Once upon a time there were two different bands: Dream and Trading Fate. H.E.A.T it basically the merger of these two bands. Kenny was the lead singer of both.

Have you pleased with the reaction to the debut album both from reviewers and fans?

We are fuckin overwhelmed! This is nothing that we expected. People, both fans and media, seem to understand us and how we think and they like the music.
Of course we're pleased!

How did the recent Sweden Rocks show go and what other bands did you enjoy watching/hanging out with?

The SRF show was a blast! The place was packed and we ran out onstage after the intro and delivered about an hour of pure energy! The audience was the best we have experienced this far. Amazing!
We didn't really hang out with that many bands. We were busy hanging out with the fans on the festival!
We did see a couple of bands though. I think we all agree that Def Leppard was the show of the year.
Man! They delivered!

Have you seen any upswing in interest in hard rock music in the past few years especially considering the recent success of bands like Wig Wam, the Poodles and Brother Firetribe?

The golden era is back! And it's getting hip again, the kids of 2008 are starting to love this kind of music! Here in Europe we've had a really big Sleaze trend going on for a couple of years, but that's starting to die out, and melodic rock is here to take over!

In an ideal world which bands would you like to tour with in the future? What have been your stand out gigs to date and why?


Wow, there are so many bands to choose between... But to go on a world tour as opening act for Def Leppard would certainly make me a bit stiff. We opened for TOTO in August, last year, and that was a mind boggling experience!
Just playing in front of 4000 screaming Swedes was amazing, but meeting TOTO and partying with them after the show was extreme! We've had loads of great gigs, but playing at Sweden Rock this year was magical... It was the icing of the cake after a year of hard work in the studio!

Highlights and lowlights so far for the band?

The biggest highlight was to form the band! That was a smart move Smile Opening for TOTO, getting a record deal with such a great company, recording an album you can be proud of, just creating music that you love yourself, and seeing that so many others love it too... H.E.A.T is just one big highlight!

What do the band like doing in their spare time outside of music?

Living the dream baby! Just hanging out, watching good movies, cruise around, we all like playing soccer, some of us work out. But our lives are pretty much based around music, theres not a second that goes by when youre not thinking about a song or playing, singing, listening or whatever. We are all also in to BDSM.

Message for your fans?

Keep on Dreaming, and if you get a chance to see us live, don't miss it for the world!


---
Interview © 2008 Jason Ritchie.
All rights reserved.