1. What are you currently up to?
Currently we're coordinating the release with distributors around the world and spreading the word about the new record doing interviews and speaking with promoters about the possibilities of touring in Europe and Asia.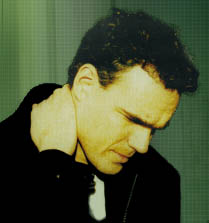 2. Could you take us through the tracks on the new album 'Human Nature' please (eg ideas behind the songs etc)...
In general the record is constructed on a way that would work well with big choruses and lots of multi layered parts. It's hard to just add harmonies in the chorus or throughout a song if it doesn't seem natural. Sometimes overdoing it just confuses the listener and weakens the melodies by putting in harmonies that don't belong. So our goal as a whole was to write songs that we could apply what some may call the classic Harem Scarem sound, big backing vocals and lot's of guitar playing. Lyrically the record goes between basic love songs to political songs to observations of life and the world around us.
Caught up in your world, Hanging on and Give love get love started as piano ideas while the chorus for Human Nature just popped in my head one day and we finished it from there. I would get together with Pete and we would work on parts and develop them into finished songs but I like to start with a strong chorus idea.
3. How have the 'new' members fitted into HS? Darren Smith is still invloved in the new album, will he continue to help studio wise in the future?
Well Barry has been with the band for over eleven years so I wouldn't consider him to be new and Creighton has been with us for around seven years. Darren has appeared on almost all of our records since his departure, we're still good friends and like including him on what was a big part of his life as well as ours.
4. You are not with one of the labels for this new album. How come you are not on Frontiers anymore and do you find that you actually sell more online than through retail oultes nowadays?
We will be selling the c.d online and through traditional retail outlets all over the world. We felt it was time to try a new approach to selling our material and it will be a bit of an experiment but so far it is going very well and the record is being well received.
5. Which song(s) do you enjoy performing most live and why?
I guess the ones that have become fan favorites like: No Justice, Change Comes Around, Honestly, and Saviors Never Cry. I like doing the more up tempo songs live to keep the energy up!!!!
6. Why do you think Harem Scarem have prospered playing melodic rock, especially throughout the 90's, when so many other bands have had low sales and/or called it a day. Do you think there is a resurgence in all things melodic at the moment?
I don't know but I wish we were making records just a few years earlier because it would have been a lot easier than trying to start out in the 90's when everyone was rebelling against everything melodic. I think things are becoming better for melodic rock but quality stuff will have to surface or I think people will get turned off.
7. If you could create a fantasy band line-up who would be in it and why?
Well, I think I would have Brittany Spears on bass, Paris Hilton on Guitar, Lindsey Lohen on Drums and Freddie Mercury singing ( you have to have some real talent in there ) I'd play the tambourine!!! Lead tambourine not rhythm tambourine, that's for losers!!!!
8. How did you get your first break into the music business? What piece of advice would you pass onto budding musicians?
I never really felt like there was a specific moment but looking back I can say that getting a record deal was obviously a big step in the right direction. Before Harem Scarem I started by playing songs I was writing for publishers in Toronto and they hooked me up with talented writers so I really worked on that right from the beginning and it help with networking and getting music to the right people.
My advice would be to hook up with talented musicians ( not just friends ) and really be committed to working hard and writing great songs, without songs that the world needs to hear it doesn't matter how fast you can play or how good you look ( unless you're the people in my dream band ).
9. What do you enjoy doing in your spare time?
I have two kids so other than working on music I try to spend some time at home with the family.
10. Message to your fans...
As usual, thanks for the support over the years and sticking with us through all the changes, we really do appreciate it!!!! See you on tour.
Interview © 2007 Jason Ritchie. All rights reserved.