Fish was the original Marillion vocalist, who left the band in 1988 and has since had a successful solo career. More recently he has been appearing on UK TV in various acting roles.


1. What are you currently up to?
Just finished mixing the material for the next live DVD due out at Christmas on mail order through our website. "Fools Company" is a double DVD set in 5-1 surroundsound taken from the fan club conventions in Enschede earlier this year. It features Fish solo material and Marillion material including the first full performance of "Misplaced Childhood" for over 15 years.More info on the site.This follows up the release on DVD of "Kettle of Fish" (the promo video collection) and "Sunsets on Empire - live in Poland 1997".All DVD's have extra interviews and other features and ae available in NTSC and PAL formats. Just about to start writing the new studio album "Field of Crows" intended for release in April 2003 on mail order and on the subsequent World tour which kicks of in Europe in early May. I am recording the album with Elliot Ness as producer here at the Studio in Haddington.
2. Who was/is your biggest influence on your career?
Over all the years it's hard to pinpoint individuals but in the early days it was Floyd, Genesis ,Yes as well as the Faces, The Who and Zep. Since then a lot more have been added to the broth.
3. You have successfully appeared on various TV productions. Any plans for more TV appearances? Would you ever be interested in writing a drama for the TV?
With touring and album etc the acting takes a back seat as it's difficult to manoeuvre projects. 2004 is allocated for acting and writing projects out with the music side of my career.
4. If you could pick any musicians (live or dead) - what would be the line-up of your own personal supergroup?
Phil Collins drums, Chris Squire- bass, Lowell George - rhythm guitar, John Martyn- lead, Jon Lord- keyboards, to name but one line up:-) .
5. Who would you like to work with in the future?
Roger Waters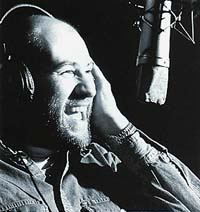 6. Marillion - would you be interested in a one-off tour with the band again? If nothing else just to keep these sort of questions from being asked! Waht was the highlight(s) and the lowpoint(s) of your days in the band?
No.Highpoints and lowpoints are well documented elsewhere and my typing is slow and painful:-)
7. How easy is it to come up with new song ideas? What has been your inspirations as regards to songwriting throughout the years?
Greatest experiences are from travelling and most of the inspiration comes back in the suitcase on film and in memory.Starting a new album is difficult every time. I freak out at blank pages of white paper. Once I have crystals of ideas it comes together quickly.
8. How did you come to work with the SAS Band? After many years touring do you still enjoy live work?
I still enjoy live work but under my terms. The days of 12 months as a one part tour are long gone. Not good for my health, mental and physical and not good for the soul. The SAS band is a fun project and gives me the chance to play with other musos I wouldn't get the chance to play with otherwise.I knew Spike from Queen days and he offered me a gig at a charity show. Since then I became a regular.That was nearly 10 years ago.
9. What was the last thing you read?
War Junkie by Jon Steele (ITN cameraman's memoirs)
10. Message for your fans?
Lots of exciting things planned for next year all over the World.Very "up" for the album and looking forward to getting out there again.Thanks for supporting me this far and for all the support you continue to give my career.See you soon.