ERIC RAGNO
Eric's one of the busiest melodic rock keyboard players and has worked with Ted Poley (Danger Danger), Steve Grimmett (Grim Reaper), David Readman (Pink Cream 69), American Angel and Lec Zorn.
His work with Takara, featuring Jeff Scott Soto (Journey, Talisman) and Bob Daisley (Ozzy Osborne) was reissued in 2007 and this year has seen collaborations with Tony Mills and the China Blue album.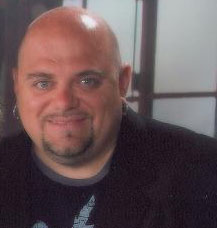 What are you currently up to?

Hey Jason! Right now I am up to my ears in press for the new China Blue album, as well as promotion for the Ramos/Hugo album we put out a few weeks back. It's been nuts.
I'm also working with Pete Newdeck on songs for the new Steve Grimmett record, and writing new songs for the next David Readman solo release. Finally, Iím working on this great Savage Paradise album with Mario Parga & Tony Martin (Black Sabbath)! There's a lot happening, and you can always check out the latest on my website at www.keyboardplayer.net
What does it feel like to finally get the China Blue album released and how did you get Tony Mills on vocals?

It is so great to finally see this album get packaged and ready to ship! Itís been a long road, Iíve really paid my dues these past few years and this record is the crowning achievement!
As for Tony, we were very fortunate to get him! He knew we were looking for a great AOR singer to round out this killer line-up, and contacted us. Tony is such a great guy and has an awesome sense of humour!
I stayed at his house last year and he got me hooked on British comedies like The Black Adder! Some say that his work on this album is the best of his career. He really kicks some serious ass.

Could you take us through the China Blue album?

What Do You Need but Love - I originally wrote this with Jeff Scott Soto in mind, but he kindly declined as he already had too much material for his new record. We retooled it and Tony performs does this subtle, mysterious vocal phrasing that soon goes full throttle!
The "outro" of the song came to me in a dream - I woke up at 4 AM, demo'd this part out in the studio and went back to bed. I'm so glad I got up...This song defines the album and captures everybody at his best.

I Feel Like Dying - I never really heard Tonyís work prior to him contacting us. I checked out his work with Shy and was seriously blown away! I was so excited that I wrote this song in two days with him in mind, and this was the first song he worked on with us. He returned this amazing track, and I knew he was the guy. Fabrizio did some production on these first four songs he really helped this arrangement in particular.

Changing Ways - Michael Riesenbeck presented the initial idea, but it needed work so I filled it up with keys - a LOT of them! Zane Petersenís drums and gave it more of a Separate Ways feel, which was totally unexpected and people seem to love it. It's the only song I took a keyboard solo on - I had to do it on Michael's song, as it felt self-indulgent to do it on my own! : )

So Wrong - I used to endorse the Williams Keytar, a guitar that frets with keys instead of a neck. I wrote this song to demonstrate all the cool features of this instrument. I play the guitar lines in the verses on the Williams Keytar. Tony put down this killer layer of harmonies in the breakdowns, giving them a wildly British, Yes-type feel! It's one of my favourite things that I've ever written and Tony truly shines on it.

Don't Be a Stranger - I wrote this in the 80ís with the original incarnation of China Blue. Tony made it his own and wrote new lyrics, and asked me to add a bridge. Don't Be a Stranger is something I always say to friends, instead of saying goodbye. Tony fleshed it out with this whole new meaning! Doug Odell plays some great bass lines in this one. The song brings back happy memories.

Crimes - the intro again comes from that original incarnation of the band. So does the primary riff, which appears in both Crimes and Passions - theyíre companion pieces, like bookends. I wanted to sequence the album that way but everyone wants the 'singlesĒ at the top of the record.
This song is a bit on the prog side; I thought Iíd use it on a Vox Tempus record until the band went on hiatus. We got some amazing performances out of Josh on this one. Ron Smith also contributed heavily in pulling this one together - that whole guitar breakdown is Ronny & Bob Specht (both from Xenon) weaving this amazing tapestry. I canít play any guitar at all, so having these amazing guitarists who compliment each other is a real blessing for me.

Passions - again, the companion piece to Crimes. It was a piano piece I wrote in 1988. Phil Vincent wrote the lyrics for this during the same period as Crimes - again, itís great to have guys who will stretch the boundaries and try something like this. Pete Newdeck & I worked out a drum part so we could do this with the full band. Ronny Smith plays acoustic guitar and all these subtle guitar parts, and then Josh adds his own layer on top of that. And we call it art. : )

Movin' On - I wrote this for a girl that I had finally had enough of. Tony called it Movin On. And I was.

Twilight of Destiny - the title track, an instrumental that I wrote to showcase the original bass player - he did such a great solo on this. Sadly we had a falling out, and it gave me a chance to let Josh stretch out a bit. Itís a sad, moody piece.

Lost - another idea that started with Michael Riesenbeck. Again it needed some structure, and when I get a challenge like that I fill it out with lots of interesting keyboard parts! Phil Vincent wrote the words and Ronny does this Zeppelin-esque guitar layer. I love the way JK Northup mixed this one; he nailed it the first time and validated my trust that he could carry out our vision.

Take Me as I Am - this was a last minute addition, we did this on Joshís final day in LA last December. D.C. Cooper originally wanted the track for his new record, but then he got busy with the new Silent Force. We needed one more track for the album, and everyone came together to knock this out over the holidays - it was finished in about ten days. Thanks guys.

A Last Goodbye - a moody instrumental piece that I wrote in 1992. Itís very personalÖI was visiting a girl in my hometown, and on our last night together we stayed up all night. I flew to LA once the sun came up...it was tragically romantic. This song captures a moment, and Joshís magic really brought it to life.

Passions (Reprise) - is a bonus track for the overseas markets. I was listening to Joshís work on the original version of this track, and I uncovered these extra layers he did that that reminded me Journeyís more experimental work on Dream After Dream. I cut and paste the arrangement and Tonyís vocal passages over a moody string backdrop. This song and the last one are definitely 'Josh momentsĒ.

Donít be a Stranger (Acoustic) - another bonus track for the overseas markets. Ronny Smith suggested we try this, and Iím like 'man if you want to take a crack at it, go ahead!Ē Itís the stripped down campfire version, and includes a bonus verse from Tony that didnít make it on the original version. Ronny did everything over Dougís bass track, and I recorded a more organic piano to go with it. Itís a breath of fresh air.

What have been the live highlights for you this year? How did the Graham Bonnet & Taz Taylor Band European tour go?

The tour with Graham was really amazing, as much from a personal level as it was professional. It was a challenge to master Grahamís classic tracks, and playing them in front of crowds of devoted fans is something I wonít soon forget.
And exploring Eastern Europe was something I wonít soon forget! Graham & I shared some difficult experiences during that tour, and found we have a lot in common. We still get together from time to time just to chat over pizza. I have a huge respect for the man.

I also got to play some shows this year with American Angel, Ted Poley and Eric Martin. They are all great guys that Iíve been privileged to work with from time
o time, and itís fun to fly around the country and do shows with these guys! There is video of these performances up on You Tube, and on my site at www.keyboardplayer.net
How do you view the current music scene? Have you seen an upswing in interest over the past couple of years in melodic/hard rock?

Weíve experienced a resurgence on multiple levels. With advertisers now targeting 'ourĒ generation, weíre seeing more rock and metal songs on TV commercials and in marketing.
Weíre also seeing exclusive deals with retailers - so Wal-Mart is not only carrying the new AC/DC album but also AC/DC t-shirts, dog toys, etc. I didnít make that up! Add to this the popularity of Guitar Hero, Rock Band, etc. which all focus on classic rock - and the kids love it! Everybody wants to be a guitar hero now, and letís face it that means the 70ís & 80ís.
You have satellite radio dedicating entire channels to our music, as well as Internet radio and classic concerts on cable TV. And now weíre finding many classic influences in todayís music. Kids just want to rock out!
This has brought many of the old school artists out of retirement for reunion albums and festival dates. And their new albums are quickly accompanied by releases from newer artists in the genre. Itís a domino effect and if we support it, it can become really huge.

You also have the Vox Tempus album getting a full release via Angel Milk Records in December. How did you hook-up with them and why do you think this album has had such a tough time in getting a proper full release?

This album is cursed, I swear! I just heard this morning that itís now being pushed back till January! It makes me crazy. The album never received a proper release when it first came out in 2004 - the sound is incredible but it was poorly distributed.
The label owner Andy Bramhall is a huge fan of the band and signed us a little over a year ago. Weíre thrilled that Angelmilk offered to give the record a second life, so it will finally get exposure to the international markets. It will come out soon, it is done and packaged and just waiting for the label to wrap it all up.

Youíve played on many albums through the years. What were have been the highlights and how much input composition wise do you have in the albums you've appeared on?

In the beginning, I used to receive lots of very specific guidelines and would follow them closely. But by now most bands have heard my work, and they know that a little bit of freedom goes a long way.
I can experiment with new ideas to make the songs really special, ideas that will compliment the song and not take over. I still get guidelines sometimes and Iím happy to follow them. I do most of this work from my home studio, which is a great environment for trying out new things. A good example is the recent Tony Mills record, Vital Designs. It is heavy and stronger than a lot of stuff out there, and the keyboards have gotten some great reviews.

If you could join any band which one(s) would it be and why?

You know, up until a year or two ago I would have said I would love to join Journey. I have looked up to that band all my life, but in recent years I really got to the see the inner workings. So now Iím not so sure. I love playing with classic artists and will continue doing so. But Iíd love to put together my own group of star players and make great music together. Thatís where the idea for China Blue came from, and I hope we can do more of that.

What do you like doing with your spare time outside of music?

Interviews! HAHAHA I really donít have much spare time. I have a wife and two kids and they require a lot of my attention. Other than that, I just love doing what I do. Last month I took a complete vacation from it for a week, and I REALLY missed it.

Message for your fans...

Thanks for your continued support! Please check out the new China Blue album Twilight of Destiny at www.chinabluemusic.com. And stayed tuned for the latest at www.keyboardplayer.net


---
Interview © November 2008 Jason Ritchie.
All rights reserved.
Artist website
---
| | |
| --- | --- |
| | Print this page in printer-friendly format |
| | Tell a friend about this page |