DOMMIN
The origins of Dommin can be traced back to 2000, when Kristofer Dommin formed the band in San Dimas, just outside of Los Angeles.
He added Billy James to the fold as keyboardist two years later and the band's line-up began to take shape as James eventually switched to bass when the pair found Konstantine in 2006.
Dommin's vision was becoming fully realized. By this time, Kristofer had already written many of the songs that would comprise 'Love Is Gone', the band's debut album release for Roadrunner Records in February 2010. The last ingredient in Dommin's sonic stew came in the form of drummer Cameron Morris, who joined in 2007.
Kristofer Dommin answered our questions...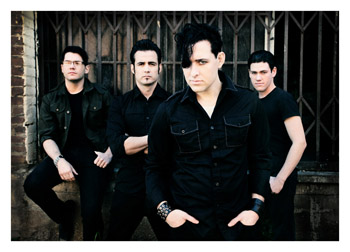 1. Could you tell us please what are you currently up to?

Aside from always writing and working on new material, we've got a little time off before we head back out on the road to do a week of headlining shows to get us from Los Angeles to New York where our support run with Volbeat will take place.

2. Could you take us through the songs on the new album 'Love Is Gone' (e.g. ideas behind the songs, songwriting process etc)?

The songs are autobiographical snap shots of moments in my life. I started with some of the most tragic experiences with love that I've had and the strength that got me through it all. I usually go off by myself and write the music and lyrics and then show the band what I've got. Luckily the other guys contributed to a few songs this time around.

3. This is your first full album for Roadrunner. How did you hook-up with the label? Have you been pleased with the reaction to the debut album from fans and reviewers?

We've had a relationship with Lucas Banker and Logan Mader going on five years now. They produced our independent release and Logan, who had a relationship with Roadrunner from being in Machine Head would show the label what he was working on. I'm certainly pleased with the reaction. People are really connecting with the music emotionally. It's becoming the soundtrack for their lives.

4. How did your Download show go? Did you get a chance to see any of the other bands play on the day?

Download was good. It was definitely interesting to be on the same stage and in the backstage with some of the biggest names and the most legendary faces.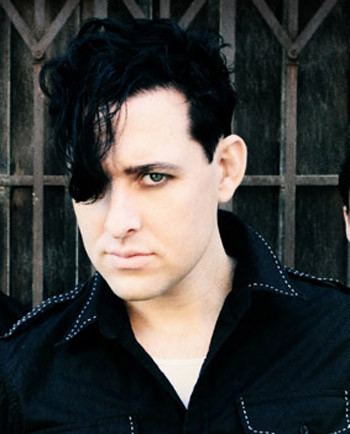 5. What have been the most memorable live shows for you and why?

There have been so many shows that stand out in my mind. They are always the ones with the biggest crowd reactions. I guess I'm always surprised when we are so welcomed and loved, I'm not sure why.

6. Your website/blog/Facebook are used a lot by the band to keep in touch with fans, update them etc. Does being more accessible to the fans than say bands were back in the 80's and 90's help raise your profile more?

I don't know if it helps raise our profile. I know it's appreciated and I think when there is this mutual appreciation going back and forth, it really puts an added value on the music we do.

7. Are there any other newer bands out there who have impressed you?

No, but I'm hoping and waiting to be impressed.

8. Have you seen an upswing in the interest in metal and rock over the past couple of years? Has the internet helped get your music out there or in some ways e.g. illegal downloads has it made matters worse?

I don't know about any upswings. Metal and rock have always been around whether it's covered by media or not. You've always had people going to watch and listen to their favorite bands.
The internet has both helped and hurt us. It helped because through social networking sites, it has allowed us to reach people that we otherwise would have not been able to afford to reach. We've essentially toured from my computer to theirs.
However, illegal downloading has hurt us and everyone else in our shoes. We've had more than triple illegal downloads than actual sales of our album. It's unfortunate that a convenient crime has lowered people's sense of right and wrong.
It's forced record companies to take more from the bands in order to keep their doors open and it's forced many bands to break up and quit because they can't afford to stay together.
So when we get people that complain that all they are getting is fabricated nonsense in music, they're doing it to themselves.

9. Who are the band's main musical influences? What made you all want to be in a band?

I owe KISS and Metallica as my motivations for wanting to be in a band. From there I've been influenced by Danzig, Type O Negative, Depeche Mode, Rammstein and a host of other bands and singers.

10. Message for your fans...

We'll see you soon.



---
Interview by Jason Ritchie, June 2010
All rights reserved.
---